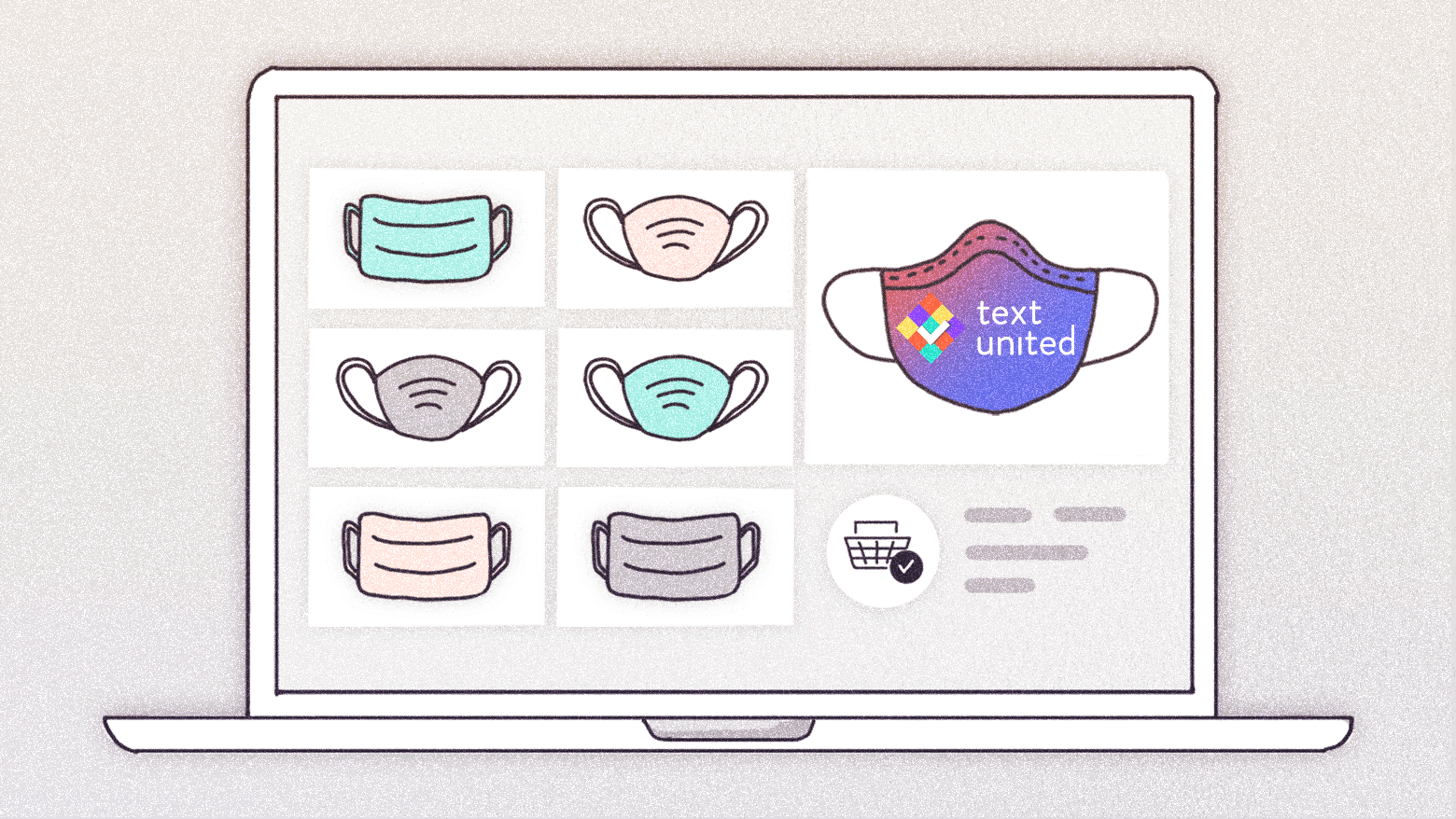 While many industries have taken a huge hit because of COVID-19, there are industries that are trying, and to a large degree succeeding, to mitigate this crisis.
Companies that can sell their products online have given a tremendous boost to the e-commerce environment, allowing people who are stuck at home, or not ready to go to physical stores, to buy anything they can think of, and more.
The new world, online
It's only natural that the whole world moved online. Entire companies switched to work-from-home setups, and we needed something to fill the gap made by the lack of social events, and our desire to spend our hard-earned money.
However, how big was the real impact, did it affect the whole world equally, and is the new normal here to stay? Today, we will give you some insights into actual numbers, so that you can make up your own mind about where online stores are heading and how the pandemic influenced the state of global e-commerce. 
How much has global e-commerce grown?
While e-commerce is on the rise compared to previous months, it has also increased compared to the same time period last year: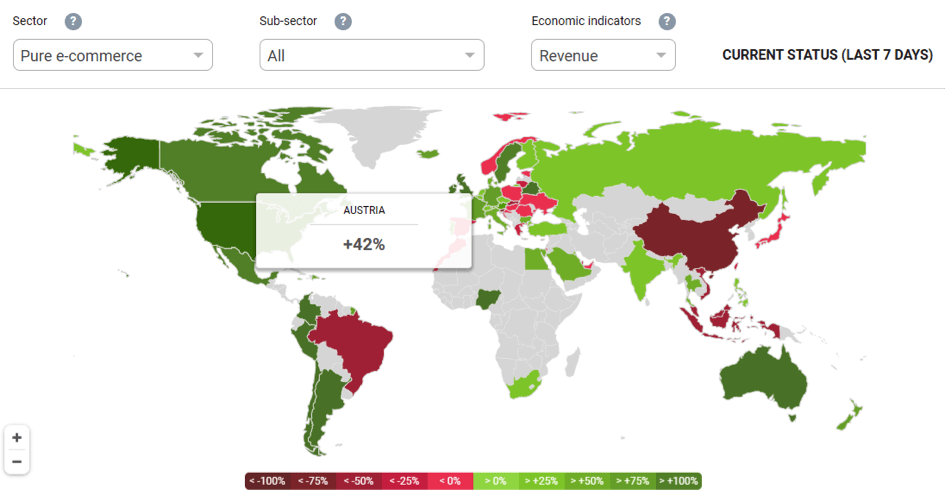 Currently, Austria has noted a 42% increase, Germany and France have a 52% increase, Australia a 125% increase, and the US and Canada have an increase of around 90%. The biggest drops can be seen in Indonesia with 60%, Brazil with 70%, and China with 80%.
Looking at the regional trends as shown by COVID-19 Commerce Insight, an Emarsys initiative in cooperation with GoodData, you can see that e-commerce has even hit numbers similar to Christmas/New Year holiday levels.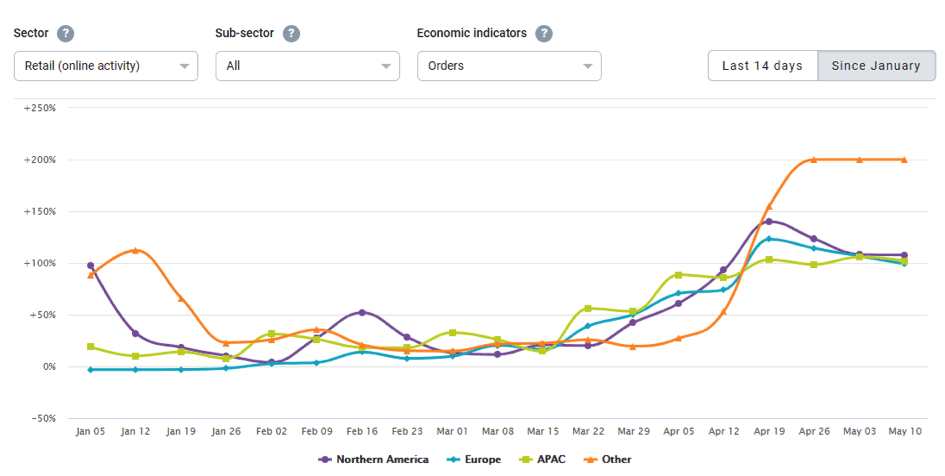 What is being bought online?
If we analyze the type of products that are being sold on a global e-commerce market, things are shifting compared to the beginning of the pandemic.
Initially, back in April, home appliances were the hot merchandise, with dishwashers, washing machines, and microwaves all experiencing positive trends compared to 2019.
This is now switching to a sportier version, with footballs, roller skates, and basketball shoes, reaching the top 10 (although the dishwasher is still number one with a 4387% year-over-year increase). Take a look at this week's top 10 below.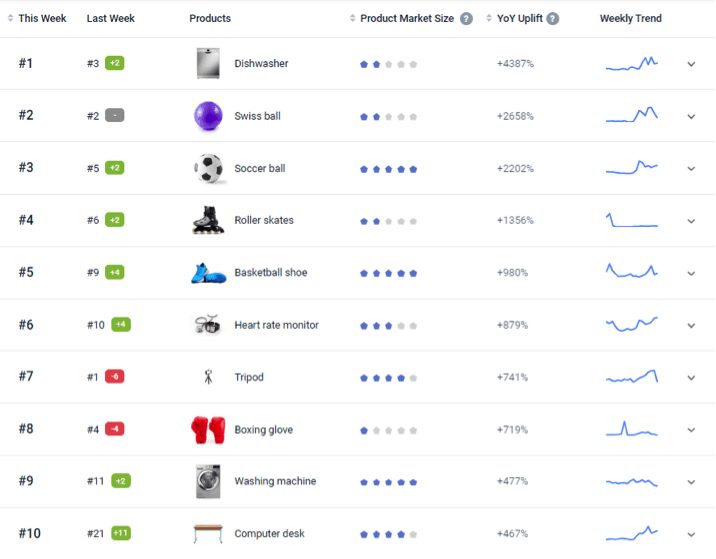 Is the new reality here to stay?
This is a very complex question, which cannot be answered with complete certainty.  Although we have a lot of data, and although many have been investigating how people feel about the future, we can only make educated guesses.
Mid-April, Morning Consult published a poll conducted among 2.200 US adults. The results clearly show that people are still unsure of what the future normal will be, and how they will approach it.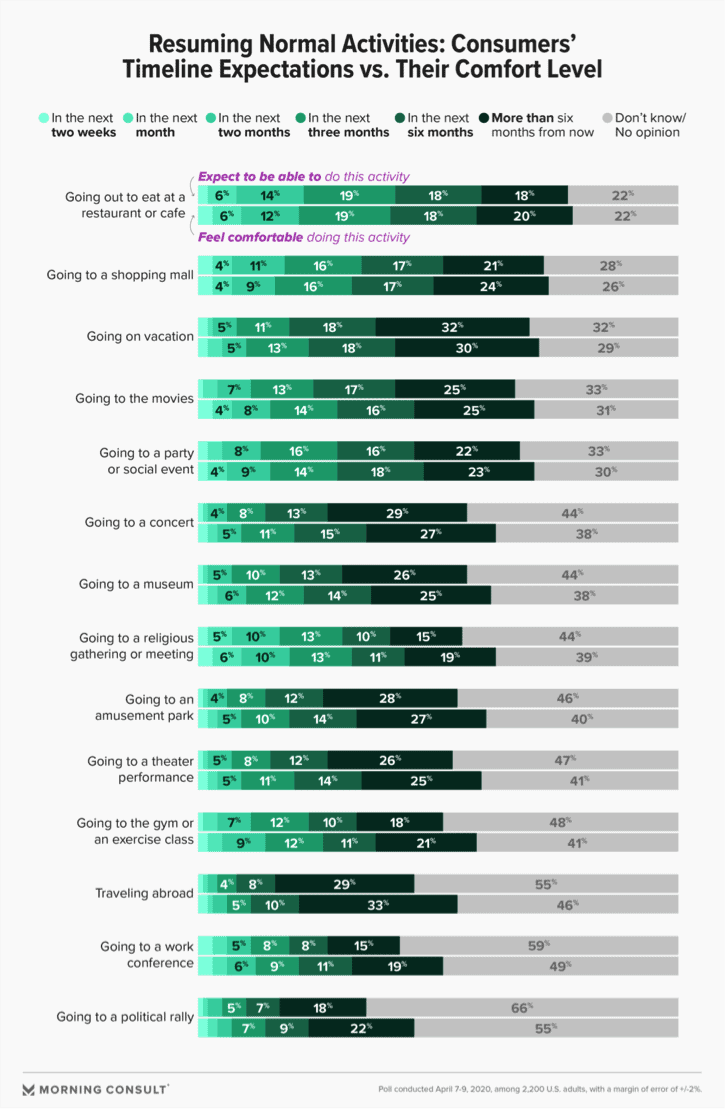 Looking at these numbers, 20% would eat at a restaurant, 24% would go to a shopping mall, while 30% would go on a vacation, but more than six months from now. Even with small sample size, these can be considered indicative numbers.
A similar attitude can be seen in the Nielsen article on the impact of Covid-19 on FMCG and retail. There, it is expected that most markets are moving to a rebound exit scenario, followed by Reboot and Reinvent.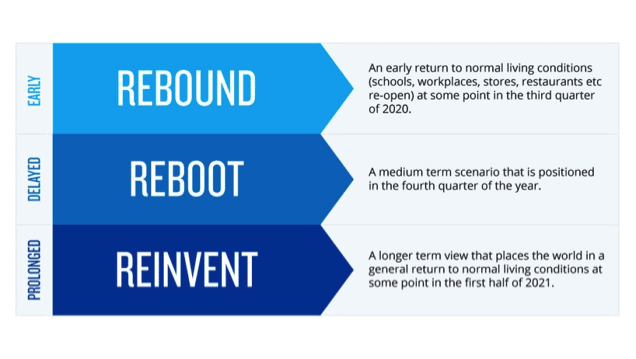 Looking at the trends in France, we can clearly see that consumers now prefer ordering groceries online. Keep in mind that the data below shows an increase compared to last year, so this is even more indicative.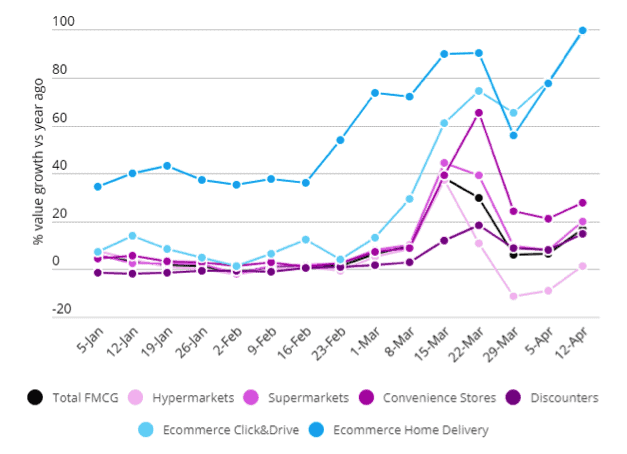 Will people return to shopping malls, cinemas, and restaurants soon? Does it mean that e-commerce will naturally see a decline because of people returning to the new normal?
We need to remember that life will not return to normal overnight. The pandemic will influence how people eat, travel, and shop for months and years to come.
New habits have been established, and the convenience of having things brought to your door, instead of going to buy things yourself, will ultimately help the global e-commerce to grow steadily. If you are thinking of translating your e-commerce shop to get in on the action, let us know.