Translation system

for demanding companies
---
Text United's system helps you automate, manage, and professionally translate content all in one place. Use the power of automation and upgrade your translation processes to enter new markets full of confidence and without any hassle.
A system that has everything inside, and more, to elevate your localization
A full-feature professional translation system to help you organize and translate
projects in a streamlined, yet powerful workflow.
Connectors
Stay in sync with your content systems. One-click setup for continuous software localization can be integrated with GitHub and Bitbucket. Connect cloud drives to automate file translation.
Translation technologies
Full-featured professional language tech with translation memory, propagation of repetitions, fuzzy and context matching, concordance search, terminology extraction, glossaries, and terminology management.
Languages and formats
Our super experienced localization team is guaranteeing professional translation from any language into any language, and for any file type you send our way!
One very advanced and collaborative system
Modern translation requires non-friction collaboration between machines, professional translators, and domain experts, who may not be linguistic specialists, working together to deliver content at the right quality level, semi-instantly.
Only a dedicated, centralized translation system like Text United can orchestrate such an effort.
Text United breaks down traditional and rigid step by step process, translation-review-proofreading, and replaces it with a collaborative translation environment. An environment where the following tasks are performed simultaneously:
Glossaries preparation, enrichment, and sign-off
Combination of machine and human translation depending on matches from the translation memory
Review and proofreading are done by professional translators together with in-country experts simultaneously
Project-level on-line communication for all project stakeholders
Automated check on translations syntax to prevent the integrity of the translated content
On-demand language quality reports
Up-to-date project status information for project managers with options to live changes in the ongoing project.
Translation project management made easy
With a Translation Management System that is automated, instantly synced,
and brilliantly easy to use, everyone will start managing projects.
Experience an intuitive and beautiful web-based interface to ensure hassle-free implementation and simple everyday use.
Translate organization-wide: break department silos and re-use translations, reduce costs, and increase linguistic consistency in many languages
Upload Files or connect cloud storage, code versioning systems, and marketing automation platforms. The automated delivery estimation guarantees your projects will get filed on time.
Control and optimize the translation costs by using insights that show how your budget was spent.
Create translation teams with permissions and roles, and customize project workflows to scale your localization.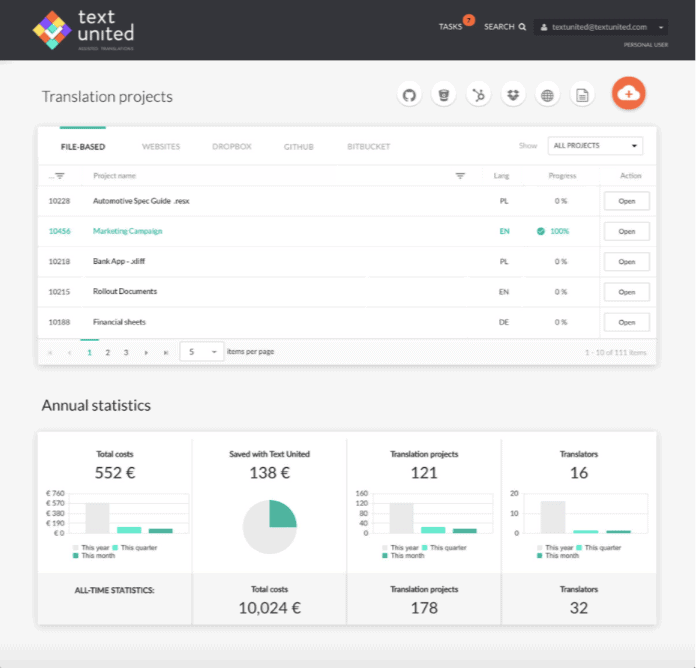 Translation Management Service
Professional services, including Project Management and Translation, are available
for customers who need more than just a Translation Management System.
SINGLE POINT OF CONTACT
Personalized service, including a dedicated account manager, ensuring you peace of mind.
PROJECT MANAGEMENT
Hands-on end-to-end service for customers that are new to the nuances of the translation process.
SELECT SERVICE LEVEL
You can choose your staff, our freelnace professional translators, machine translation, or MT + Human Review.
NO ADMIN OVERHEAD
Compliant with policies, bound by NDA, and free of paper handling that is known with translation agencies.