Translation software

to increase productivity
---
Join SMEs on their journey to becoming well-known international companies, translating and localizing your digital content for your international employees, clients, and leads. You will be able to bring your products to international markets, talk to clients in their language, and strengthen your brand on a global scale.
Text United's translation software comes packed with powerful features
Wrapped in a simple UI for a worry-free learning curve, our software includes the most powerful features that will enhance your translation process and will not cost you an arm and a leg!
Translation Memory technology
Terminology Management
Built-in Quality Assurance
Support for over 3 dozen file formats

(can be further extended with customized content-processing filters)

Automation of workflows
Rest API, Integrations, and Connectors
Scaling to a global level starts with content translation and localization
There's a new and innovative way of achieving this: it's automated, instantly synced, and very intuitive
We believe that creating multilingual content should neither be a burden nor should it be time-consuming. And if you are looking for a solution that can be adapted to your needs, we're a match.
Let us either improve the translation processes you already have in place or present you with our vision of how translations should be done: fast turnarounds, shortening review cycles, and ensuring high-quality delivery!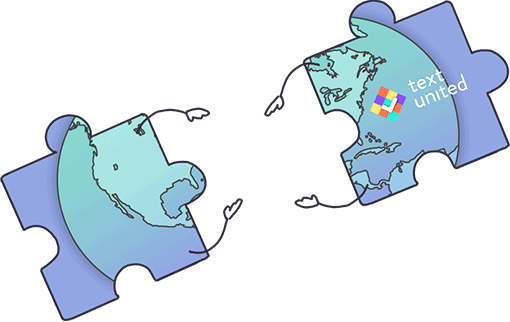 Choose how you want to translate
Public or Private
Machines Translation
For instant translation, use the machine translation engine of your choice, such as Google Translate, DeepL, etc. More info on Machine Translation can be
found here
Machine + Human
Post-Editing
To reduce translation costs combined with human-quality translations, deploy a workflow that involves translations provided by machine translation engines and corrections by a native human, who will review the output.
Human Translation
+ Proofreading
Send translations to thousands of vetted expert freelance translators or to your team, for translations that need to be entrusted to humans only, such as marketing content.
Providing support every step of the way
Text United not only provides companies with the right tools for localization projects but also support and service to accompany those tools. Built-in technologies like Translation Memory and Machine Translation, translation becomes much more efficient. Outsourcing the project management to us, and you got yourself an end-to-end translation provider.
With us taking care of the project management, you will still have a full overview of the progress of the project, as every little detail in the translation process is transparent. The project details page will contain all the information you need to track the progress and keep in contact with the translation team.