Translation Software. Cloud-based Software Stack.
Text United Translation Software features robust Translation Memory technology, Terminology Managment with Quality Assurance robots, a reach set of content processing filters and an automation engine with connectors for friction-free translation workflows.
Translation Management System
Intuitive and beautiful web-based interface to ensure no-effort implementation and easy every-day use.
Translate organization-wide. Break department silos and re-use translations. Reduce cost and increase linguistic consistency in many languages.
Upload Files, or connect cloud storage, code versioning systems and marketing automation platforms. An automated cost and delivery estimate guarantee that your projects get filed on time.
Reports to optimize translation cost by using insides on where and how your go-international budget is being spent.
Translation Teams with permissions and roles. Customize project workflows and drive localization at scale.
Free Desktop App. Go pro and download the installable workhorse, once only available to translation agencies and industry insiders.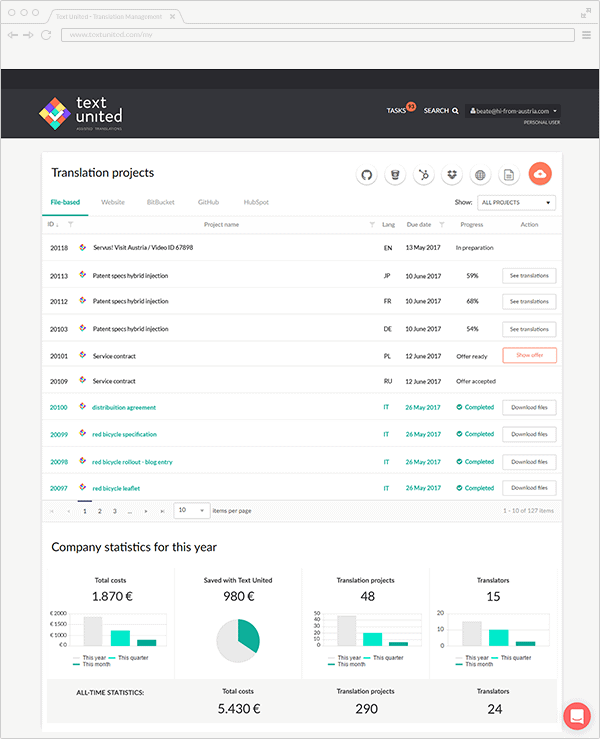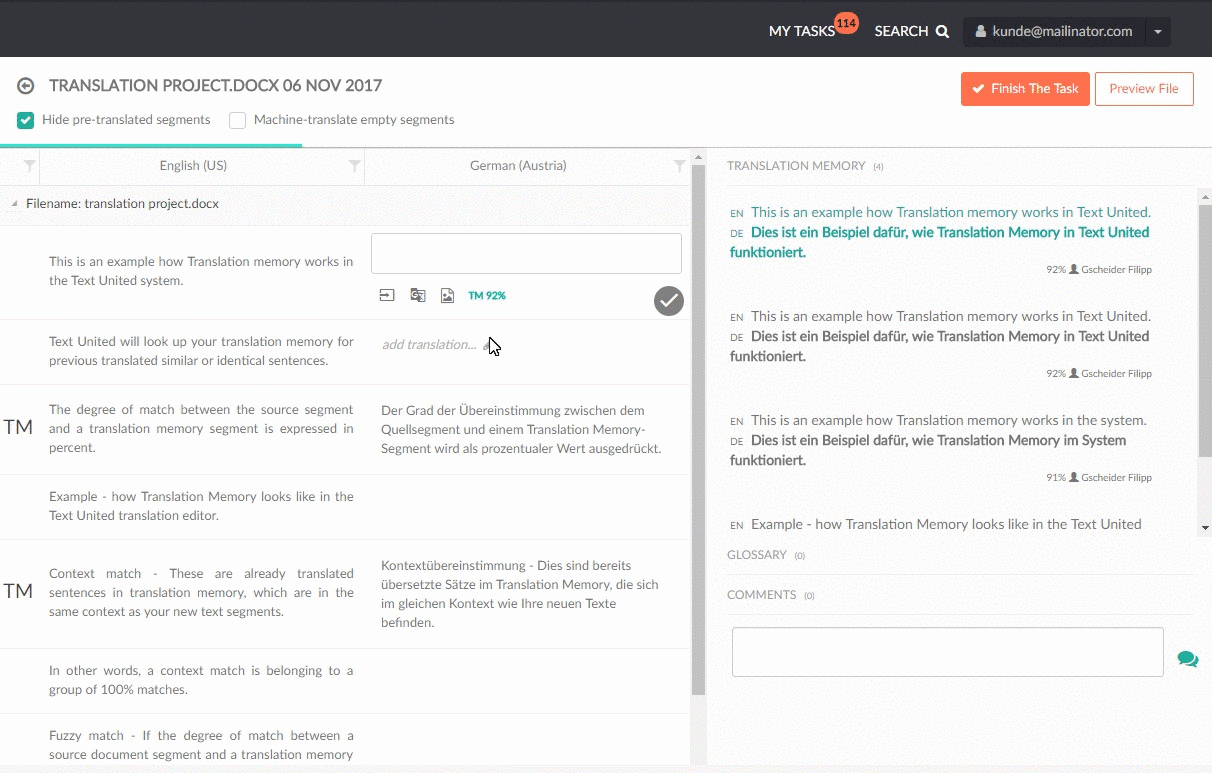 Translation Memory
Your private, in the cloud database that captures every translated sentence and stores it for future use.
Text United Translation Memory engine can reuse the stored translations, even if your new content is only similar to the one previously translated.
This means 40% or more in cost savings, faster deliveries and better language consistency between various content and products.
The engine is integrated and fully automated in the translation process running on auto-pilot, scrupulously reducing the cost for each new sentence being translated.
Terminology Manager
A central tool for the whole team to ensure consistency and accuracy in translations.
Keep consistent vocabulary, specific for your content and products in many languages, and to apply it during translation easily.
Rely on automatic quality control checks, which warn translators and proofreaders of any errors in used terminology.
Use an advanced terminology functionality available for power users in the desktop app, to centrally maintain your term base and keep it up to date.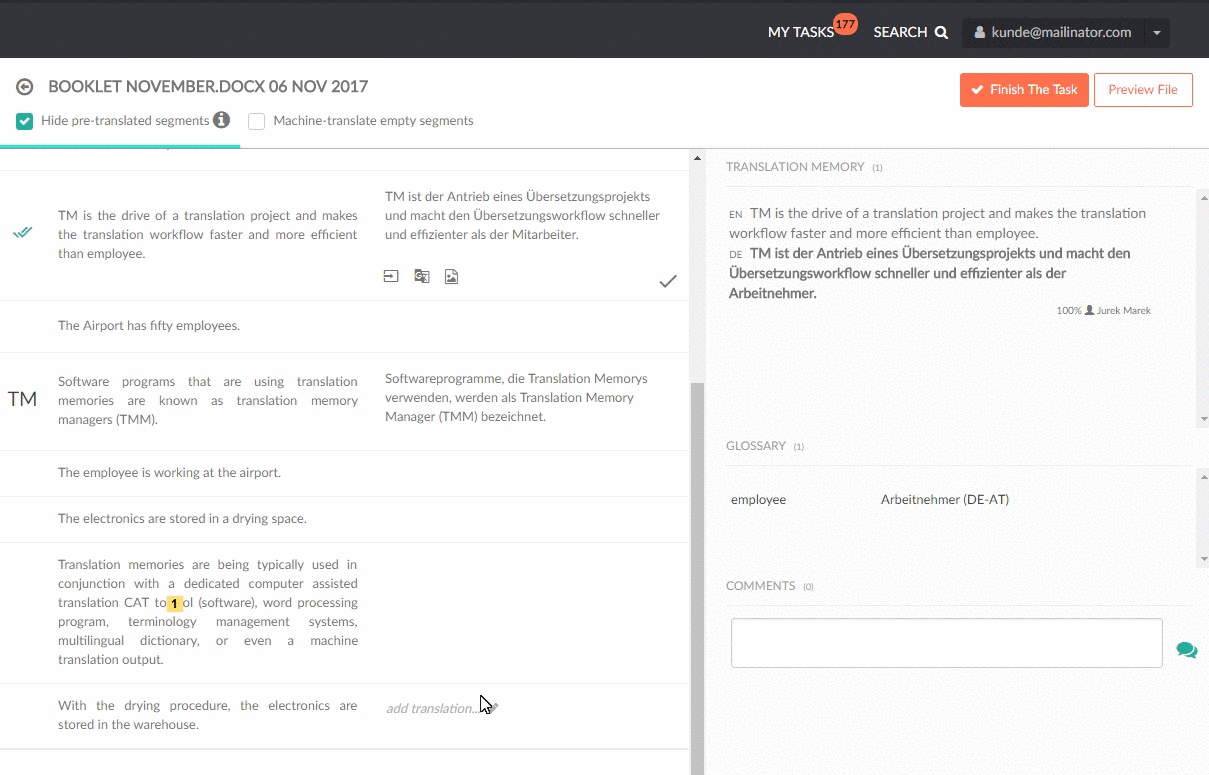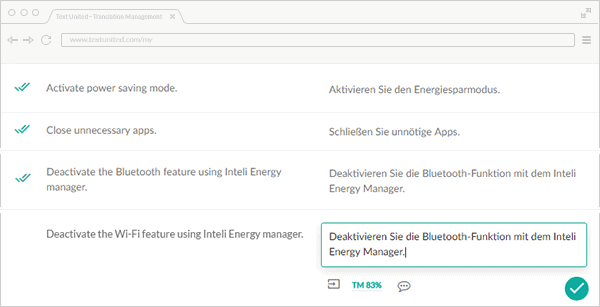 Translation Productivity CAT tool
Text United computer-aided translation (CAT) tool is a free collaborative desktop app which smoothly connects to your Text United platform account.
Translators, proofreaders, terminologists, as well as project managers, use the app to tap into the full power of Text United platform.
For more straightforward and faster access, Text United users can use a web version of the app which offers all the necessary functionality for the most common tasks in a simple and beautiful web interface.
Website & E-commerce Robots
Scan websites and smaller e-commerce systems for new content, send it for human or machine translation and publish automatically in many languages.
Content Filters & Connectors
Get the text for translation from 20+ file formats; software code kept in Github or Bitbucket or content from CMS systems. After translation, your files/code/content is returned in the same format.
REST
API
Embed translations in your company intranet, product design & development, content marketing and SEO, help content creation, customer support, HR, legal & business docs processes.
Human Translation + Proofreading
Send translations to your team for high quality, full cycle professional translations, or access hundreds of Text United expert translators specializing in domains ranging from Marketing, Software, Games to Technical and Business & Legal.
Public + Private
Machines
For instant translation, use one of machine translation engines available from our partners or use a neural machine translation from Text United.
Machine + Human Post-editing
To reduce translation cost even further, deploy a workflow which involves a machine translation and a human which will correct the output generated by the machine.
Try Text United Software now!
30-day Free Trial. Unlimited Features.