Website translation
made easy
Text United's solution for website translation will put you far ahead of the competition. Creating a multilingual version of your website is just the tip of the iceberg. Best thing is you won't have to write even one line of code.
Text United's website translation methodology allows you to harvest powers of Neural Machine Translation to reduce translation costs, and at the same time, to engage translators and your proofreaders to obtain the perfect result: conveying your brand and values intact to foreign audiences.
A very flexible attitude towards website translation
Let us adapt to your needs and not you to ours. Based on your specific requirements, our system is flexible enough to adapt to your desired approach.
Regardless if you prefer to translate content directly from files, send strings via API, or use our system to crawl your website and collect the content for translation, we can help. You decide what works best for each section of your website.
Nevertheless, we will work with you on finding a solution that will combine the most effective and most natural approach with your wishes. The common trait with all three translation approaches is the smooth, automated process enabled within the collaborative environment.
We can make your website international and boost your bottom line
Our team has extensive experience with website development and localization. This means that we can advise you on how to take advantage of the many features we offer, giving your company access to our full-service consultancy.
Progressive website translation features:
Quick setup
In-Context translation via our Overlay Editor
Shorter review cycles through online collaboration
Is not reliant on frameworks used to build the website
Combination of different workflows (including machine translation)
Get your free trial
CLICK HERE >>
Who can benefit from website translation?
We cater to small marketing teams or very large agencies alike
Perhaps you are a freelance web developer that would like to go the extra mile for your clients and offer them a multilingual website to provide an extraordinary full service!
Whether you are a Marketing Director or part of the Marketing team, you know that going global starts with a multilingual website. Let us be the ones that make this happen for you.
Many businesses are now recognizing that customer experience is a top priority. What a better way than to provide additional personal experience and make your or your client's website translated and localized. A small effort for such a great reward.
We can translate your website, no matter the framework


With Text United you can translate not only your website, but the whole digital experience for your users: 
Dynamic and slow-scroll content
Web-app behind your log-in page
Campaigns' landing pages
Blog and knowledge based entries
hat and support tickets
Promotional e-mails
Now, it's your turn to try
Translate your website in an instant:
1. Type or paste your website's URL
2. Select language to translate
3. Edit yourself, or with professional help,
in-context using the overlay editor
4. Publish your translated site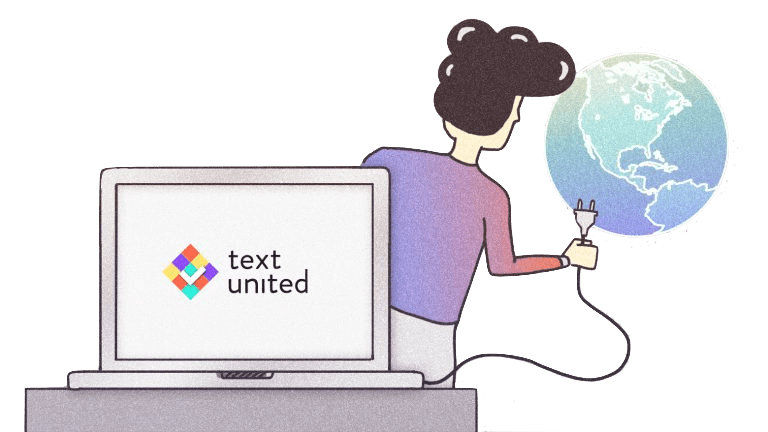 Website Translation with
The first step to translating like a super hero
We're are preparing your website in
Some tricks up our sleeves
Overlay Editor allows your translators to edit
translations fully within the context of your website
Remembering and reusing your content thanks to
Translation Memory. Making your translations
better and cost saving over time.
Translation and publishing of new content on your website
will be done automatically with Auto Detection.
Your webiste. Your decision.
Translate it with your team or hire freelancers. You decide.
We also have a turn-key solution to fit your needs.
We created Text United to take care of problems that can't
really be solved another way.
"It's not who I am underneath,
but what I do that defines me"