The Translation Management System (TMS) is the epicenter of effective Localization Management. It allows you to set translations into content creation processes and, either manually or automatically, set up translation jobs. Language technology, including translation memory, terminology management, files handling, etc. is smartly deployed in the background, so you never have to worry about it in your everyday work.
Translation Project Management
Confidently execute translation projects for your entire organization thanks to features that allow for team work, cost savings, speed of delivery without loss of quality, and transparent oversight of deadlines.
Project Dashboard displays every pending and completed job, divided by type (document, website, application, video, API request) and language pairing.
Turnaround Time Reduction with lossless quality gives you an edge over the competition. This is possible thanks to automation features and our unique no-agency workflow.
Cost Reduction is driven by our supply chain, the shortest in the translation industry, but is also enhanced by our TMX-complaint Translation Memory engine, deployed automatically to all jobs.
Vendor Management functionalities help you assign preferred translators, proofreaders and partnered, foreign organizations to help with translating anything you submit to the TMS. Alternatively, use our managed services which include project management, DTP services and language quality management.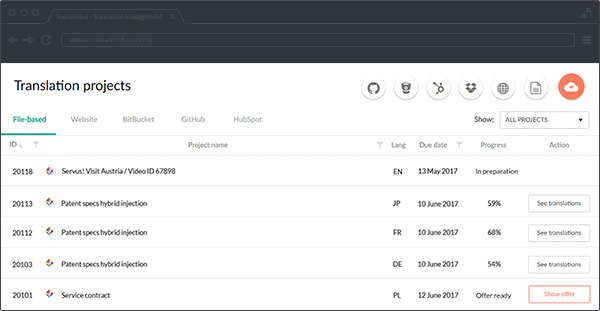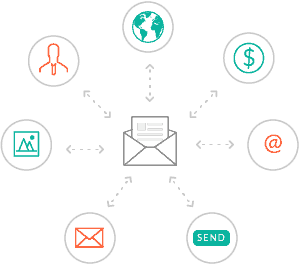 Automation Features
Spend less time preparing, and more time putting translations to use. The TMS automates most of the menial tasks that would traditionally require you to contact multiple people in person.
Real-Time Estimates of costs and turnaround time allow you to act accordingly in a fast paced, demanding work day.
Automated Project Setup makes preparing and executing translation projects that involve multiple people as simple as a few clicks.
Project History working in combination with the Translation Memory technology ensures that you and your translators can easily look up linguistic data from past projects.
Reporting in real-time gives you a constantly up-to-date overview of your translation jobs and performance of your teams, and calculates the cost savings stemming from translating with the help of Text United's Translation Platform.
Localize your business, start translating!
Free 14-Day Trial. Unlimited Features.