A Translation Memory, or a TM, is technically a database that contains all sentences translated in the past by human translators. Text United puts them into the context of new projects, and automates how they are used by translators.
Technical and business content is, by its very nature, often repetitive. Leverage that quality with Text United Translation Memory and get translation projects completed faster and at a 40% cost reduction!
Matching phrases are automatically identified upon project setup. Repetitions need to be translated only once, reducing the total cost of translation projects.
Translation proposals from previous projects are displayed to translators and proofreaders in real-time, based on a similarity of earlier translations, allowing for a highly contextualized, productive workflow.
Context-sensitive propagation of repetitions occurs automatically, and accounts for the fastest possible human translations.
Commenting is available so that collaborators can readily suggest changes or correct potential errors stored in previous translations.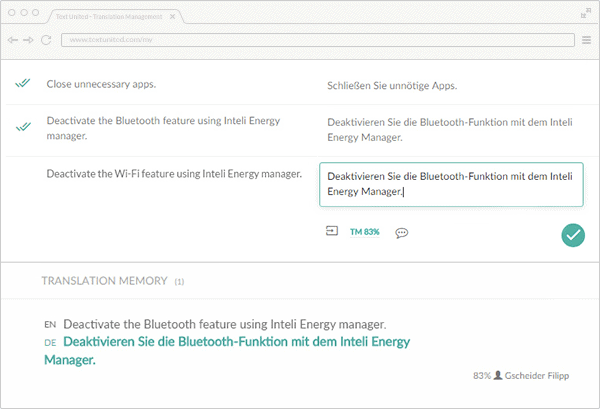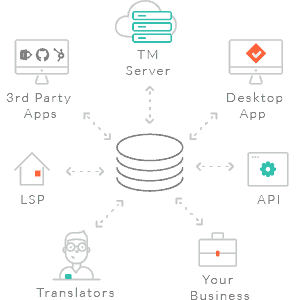 TMX Interoperability
Cloud-based, always-up-to-date translation memory, which is integrated and fully automated in the translation process, regardless of a TM's origin.
Automatic TM creation and propagation happens in the background, in real-time, allowing translators to benefit from a translation memory without any effort!
Reusable TM and TMX format support means that Text United both creates its own industry-standard TM and accepts imports from any other CAT Tool.
Global TM means that all of your translations are stored privately and are analyzed as new projects are being set up. This massive amount of data contributes to shorter turnover times and lower costs.
Terminology features run simultaneously with Translation Memory core functionalities, ensuring that multilingual content is delivered with 100% accuracy.
Localize your business, start translating!
Free 14-Day Trial. Unlimited Features.