Great news: we've updated our Zendesk translation plugin! Not only this, but we've also made it available on our free accounts, helping you bring your Multilingual Customer Support into the 21st century. Your journey towards better serving your customers all over the world starts here.
So, what does this actually entail? Well, you've likely already heard of Zendesk as one of the leading CRM software providers. Recently, we explored how a multilingual CRM can increase revenue, and we want to help you do just that. That's why our Plugin allows you to translate support tickets quickly and accurately in over 170 languages. 
Why choose TextUnited's Zendesk translation plugin?
We've built this tool with you in mind. We know that one size doesn't fit all; that's why we're giving you a choice of translation methods! Depending on your business needs, you can opt for either full machine translation or a combination of machine translation and human review. 
And it doesn't stop there! Other key features include:
One-click language recognition
Click to automatically detect the language of each ticket that arrives before you translate.
Intuitive UI/UX
Designed for instantaneous usability, everything takes place via the internal notes or the sidebar app.
Translation memory
All of your translations are saved and can be reused again. 
How does the Zendesk translation plugin work?
Time and again, reports show us that customers don't want to wait for solutions. With our Zendesk Translation Plugin, you'll have an answer ready for your customer within a few clicks. What's more, your agents will get to grips with the software in no time! 
No hassle, no confusion.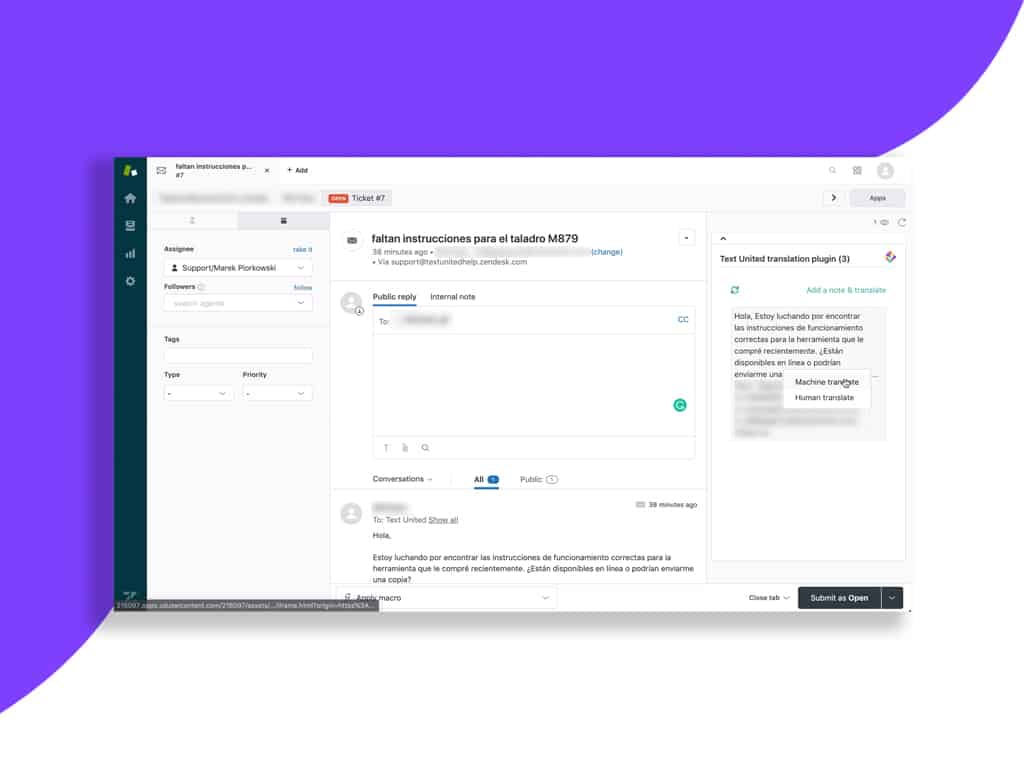 Boost Customer Satisfaction
With Multilingual Customer Experience (MCX) fast becoming a key differentiator in global markets, there really is no excuse for not providing high-quality support in your customer's native language. Looking after your customers beyond the point of purchase is a sure-fire way to improve customer satisfaction, increase brand loyalty and maintain an excellent customer retention rate. 
Start translating your support tickets today with Text United's new and improved Zendesk translation Plugin. Installation is easy! Simply create an account with us, then look up our Ticket Translation app in Zendesk's Marketplace, where you'll find clear instructions on how to get started.