Let's address the elephant in the room… what really consists of successful translation project management? One could say that it's the careful time management as well as a lot of planning and organization of micro and macro tasks. Another person could add that these are the essentials, but nothing would really work without carefully chosen tools, such as the best Translation Management System.
We agree with both, but from a project manager's perspective, there's one thing that is missing – and that's the measurement of progress and how it is presented to the ones that manage the project. Let's put it that way: every successful translation project needs a perfect translation project details page!
Translation project details page should be your road-sign to success
A perfect translation project details page should show you all the important information about your project at a glance. Like this, you know the necessary details that can help you evaluate the timeline of this project as well as your next ones.
The truth is that advanced translation project management is key to every successful translation project, and this cannot simply happen without advanced means of progress measurement.
What information should a perfect translation project details page include?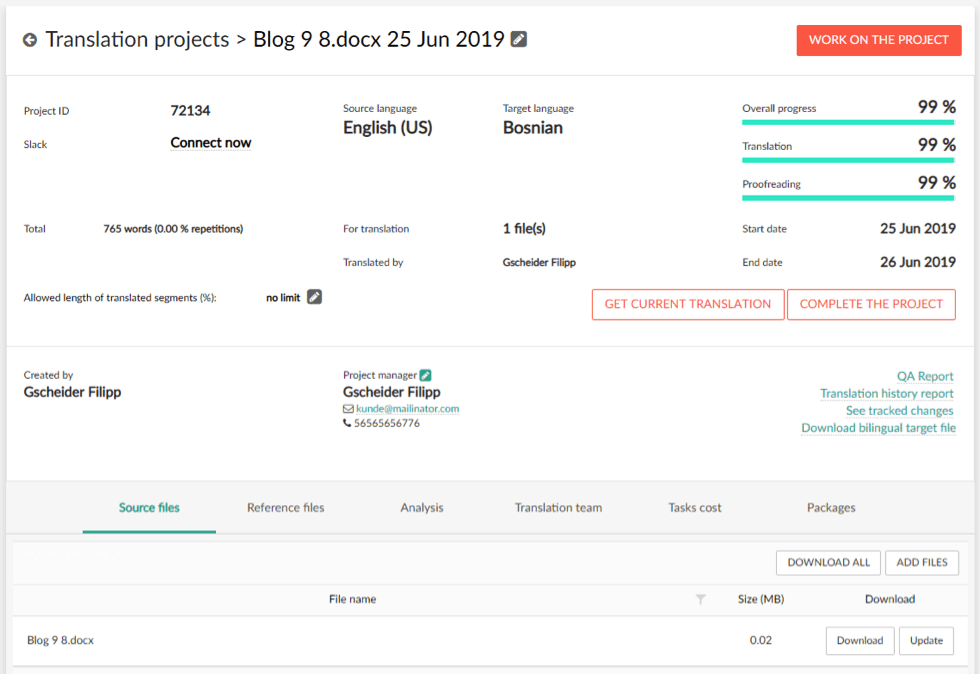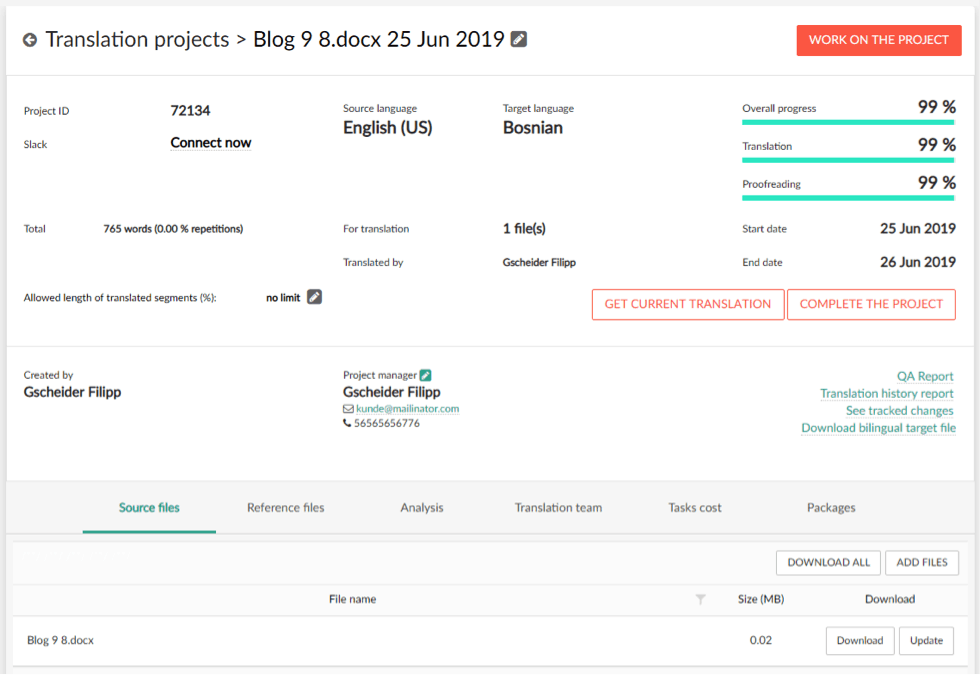 We have a few suggestions!
Thanks to overall progress, individual progress for translation and proofreading info bars, you will see which part of your project is proceeding as planned and which one could use a little bit of a speed-up
This information is available and always transparent, even when using paid services for translation. It's important because you will need the contact information of your project manager and translators
We pride ourselves with transparency and that's why task cost and analysis of your project are super transparent as well. These two tabs will show you all the cost and analysis details
Here you can see Translation Quality Assurance report with errors, terminology use, and translation consistency
Thanks to this option, you can see the details of the changes that have been applied by your translator or proofreader in a new Microsoft Word file
Thanks to this option, you can quickly upload reference files for your translators
Current translation download
Even if a file is not yet translated, you can download what has been translated so far
Bilingual file download (new!)
From today, you can also download a Microsoft Word file with the source and target segments side by side! Thanks to this option, you can easily send the file for review or reference
If you are the project manager, you can immediately finish the project
Switch to advanced translation project management!
Do you think our translation project details page includes all the necessary info for successful project management? Maybe, as a translation project manager, you have some suggestions about what other info we should include?
Or maybe you would like to try to use our advanced translation solution and see how easy it is to manage translation projects with our platform? Either way, feel free to reach out to us – we will be glad to help you!