You may know theoretically everything about #l10n field, but you have to admit: Translation Management System is like a Holy Grail for those who occupy themselves with localizing living digital content.
To make it more obvious for the ones starting their journey in the industry, let's explain! Translation Management System enables the automation of the whole translation process happening in front of your face. It eliminates repetitive and laborious manual tasks while enabling control collaboration and delivering greater efficiency.
Its main features include workflow management, translation memory management, Terminology management, integrated machine translation, a database of industry-specific translator and project management services.
And these are precisely the ones we will discuss to show you that you absolutely need this essential in your stack. Ready?
Workflow Management


It enables you to organize your whole translation project flawlessly from start to finish. As simple as that.
You can use the system in two ways:
 For internal translation projects (projects that are created by the user and translated by the user himself or from another user that is part of the team)
 Send projects to Text United (projects are sent to Text United, translated by our Professional translators and managed by our Project Managers)
When you already click that 'Create a project' button,  you'll be able to choose what type of project you want to create:
 File upload: choose and upload files from your computer
Website translation: connect your website, choose individual pages for translation or all of them
 Upload files from Dropbox: choose files and upload files from your Dropbox cloud storage
Hubspot Integration: connect to your Hubspot account and retrieve content (such as Blogs, Landing pages etc.)
 BitBucket Integration: connect and sync your repositories from GitHub
 GitHub integration: connect and sync your repositories from GitHub
After you've chosen a source of your files, the next step in creating a project is choosing the target language. You can choose multiple target languages as well!  A new translation project will be created for each language combination separately.
In the final step, you can add reference files for your translators, enter a deadline and add additional notes. After creating the translation projects, members of your team will receive the notifications about the project via e-mail and they can start working on it, too!
Translation Memory Management
A translation memory is a database that continually captures translations as translators are working on your projects.
Whether you are translating yourself or ordering a translation from Text United professional translators, translated segments will be saved in your private translation memory. As a user, you can export and import translation memory files (.tmx).


By using the online translation editor and the Text United app, translation memory proposals are offered on the right side on the screen. The proposals are pulled from your translation memory in the form of previously translated segments.
Translations of 100% identical source segments will be automatically placed as targets (translation) in your current project. If a source sentence is similar to the one translated in the past, you can see a degree of similarity and you can insert the proposal to the target segment and edit it.
For users, companies who translate technical documentation, which contain similar content, Translation Memory really improves the speed of Human Translation and makes your everyday workflow easier.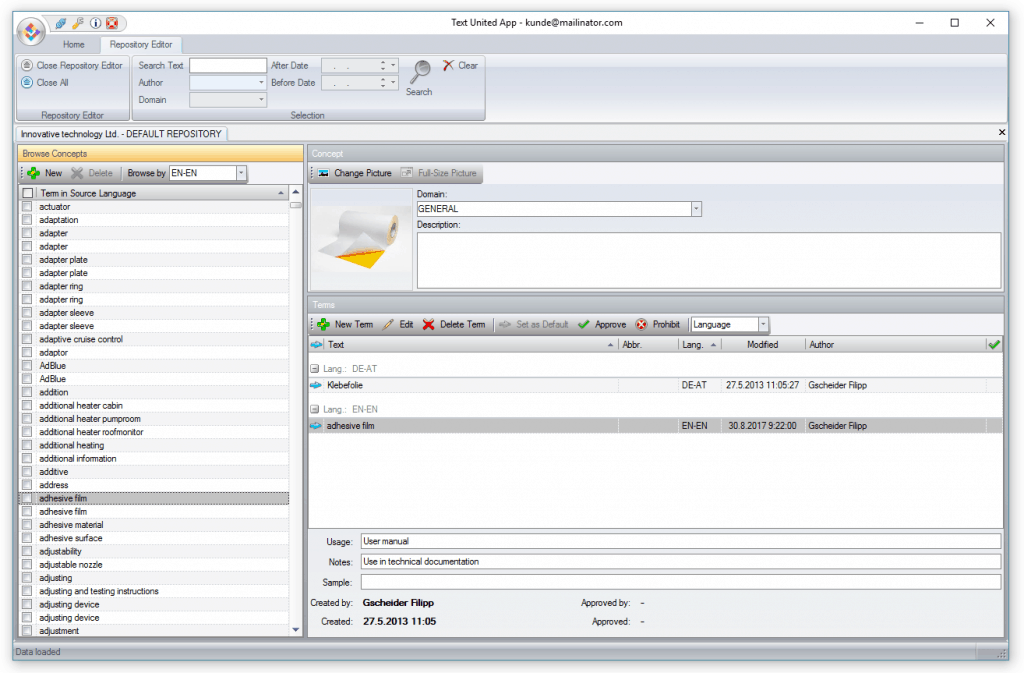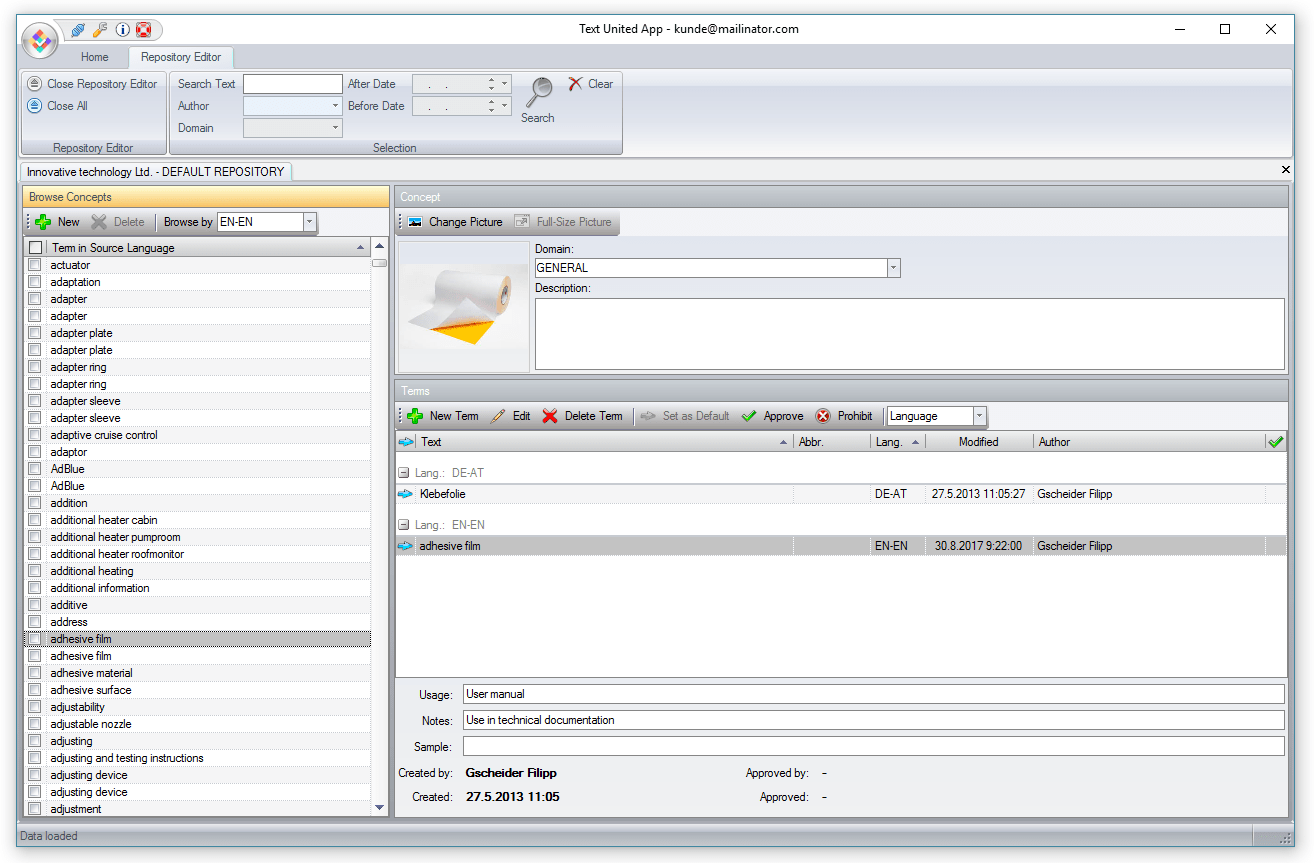 To most of the people (both tech-savvy and not), a standard terminology list would look simply like a dictionary as it consists of words, phrases and technical terms used to create sentences in a translation solution.
While working on a translation task, the terminology proposals come from two sources:
The first source is the terminology repository which contains all the terms from all the previous translations. These terms are mostly checked and approved (or rejected) by the client.
The second source is the project's glossary. This glossary contains only the terminology translated by the translator and/or proofreader during the current project. It is, therefore (in many cases) not reviewed and confirmed by the client yet.
If a translation of a term in a glossary differs from a translation of the term in a terminology repository, a translator/proofreader can leave a comment or check this with a Project Manager.
The user is able to import and export his own terminology repositories to Text United and make them available for all future translation, translators and users.
Integrated Machine Translation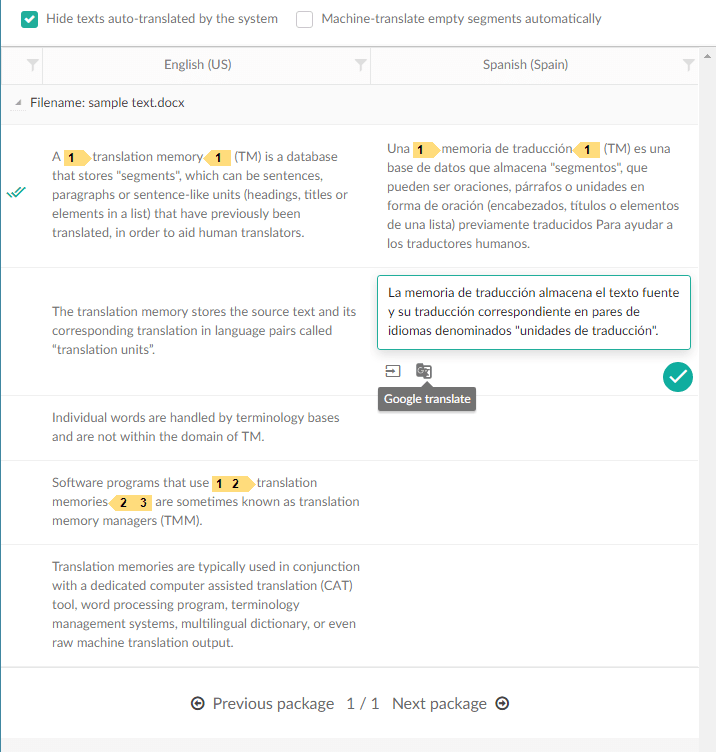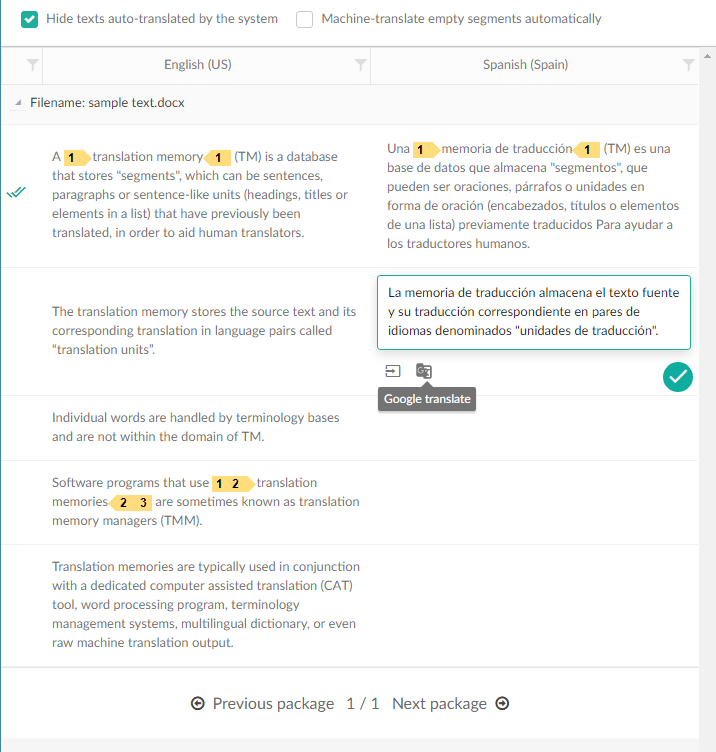 Machine translation is simply an automated translation. It is the process in which computer software is used to translate a text from one language to another. You know – Google Translate or Bing Translator? 😉
We have integrated Google Translate into our system, so any segments that are not translated by Translation Memory can automatically be machine translated for a translator to review, edit and confirm.
If you choose this option, you can machine translate all empty segments instantly!
Project Management Services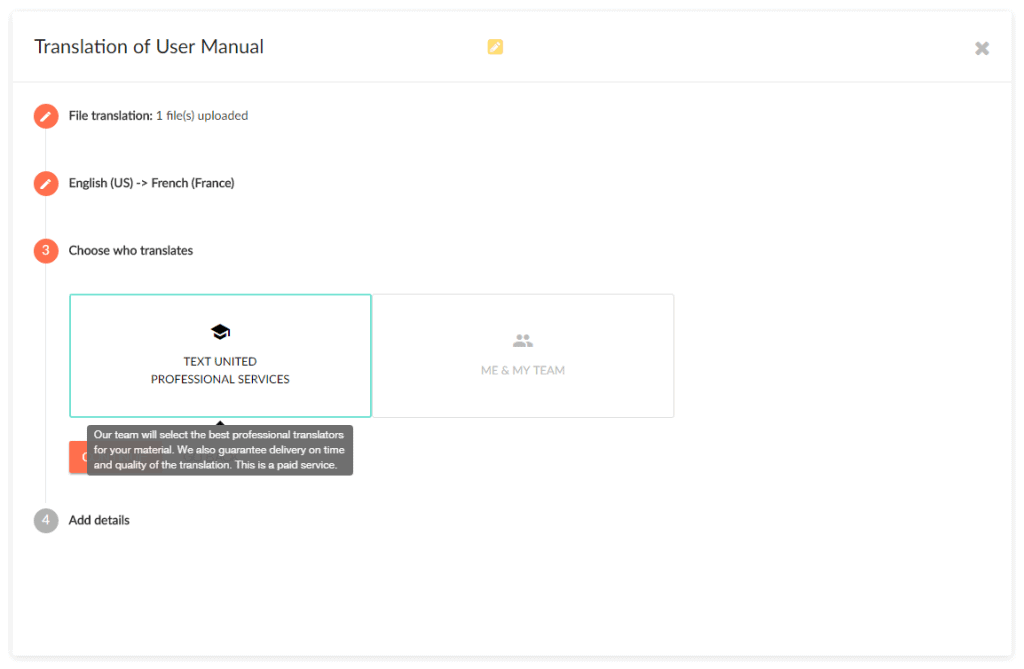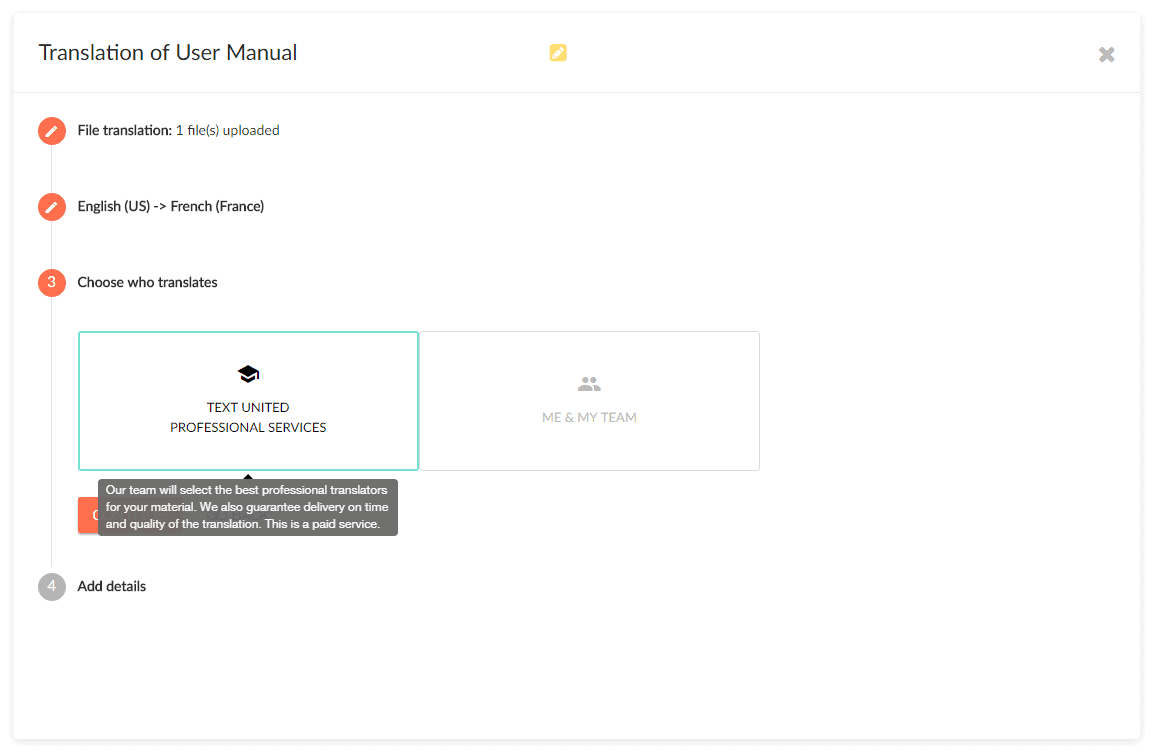 You can choose whether to translate your translation project by yourself or send it to Text United and leave the rest up to us.
Our project managers will handle your translation project with care and handle every aspect of the process: from finding the right translator, leveraging technology solutions to implementing process changes. They are flexible and willing to make adjustments for every client's needs.
When creating a project and submitting it to Text United, you are able to define all necessary project details in the mentioned Translation Management System. These include:
Adding reference files for the translator(s)
Adding notes for the project manager
Suggest a deadline
Request a formal offer first (we won't start translating immediately if this option is chosen by the user)
Accept or reject an offer from Text United from your dashboard
Monitor the translation project's progress in real-time
leave comments and suggestions for the translator
Are you convinced yet? 🙂
TMS= Totally Manageable Stuff!