You may think you're ready to get your localization project started. We hope you are! Just remember that beyond any project, there should be a team of committed people. And when it comes to a localisation project specifically, the collaboration of translators, project managers and proofreaders is simply essential to the outcome.
Let's say it out loud: a localization project requires a dream team that will make sure that all practices are conducive to localization. How can the team members co-operate to make the process as productive as possible?
We wrote this blog to answer that question and show you what does this cooperation look like in Text United. Just keep on reading!
We should all agree that collaboration is the backbone of every translation project for a simple reason: it is extremely convenient! Let's not forget, though, that platform that enables multiple people to work on a translation project has to provide a possibility of an adequate collaboration of features, as well as insights of the progress.
Imagine that you enter the translation in the project, another person opens it and reviews the translated segments, leaves comments, works live with you.  If you're a project manager yourself, you can invite a person to review the translation and they can accept or reject individual segments and leave comments.
Did you see that? Yes, your localization project workflow just got an upgrade. Remember that you should choose a platform where all participants of a translation project can interact on a professional level, for each translation segment they can exchange comments and reference material, and the Project Manager can interact with them as well.
How To Build a Dream Team For Your Localization Project at Text United?
We want to make every tool collaborative at Text United, hence we dedicated a great deal of our time to enable you to organize localization projects for your company internally.
For a localization project organization, you will need to have a team of translators, proofreaders and reviewers. There are four types of users in company accounts:
#1. Administrator: has all permissions in the system, upgrading and downgrading users, managing subscription and payments.
#2. Power user: that's another name for a project manager, who can order paid translation projects and edit terminology in the company dictionary
#3. User: can only receive translation projects and create projects within the company
#4. Freelance translator: the ones from our translators' can receive tasks, not order projects. Even though they are not part of your company account,  you can still add them to the list of your team members!
Creating your team and inviting them is extremely simple; you just invite the users to your team from the My Team section of the portal. As soon as you enter their mail and invite them, they will be registered to Text United as 'users' of your company account. Invited users receive a confirmation link that activates the account and a temporary password that allows them to log in to the system and start using it right away.
What Does the Workflow of a Localization Project Look Like? 
After the project manager creates a new localization project, they are able to choose whether they want to create an internal team or outsource the task to Text United. When they choose the internal project option, they have to assign a translator and a proofreader for each target language. As soon as the project is launched, team members receive notifications and have to log in to the portal – they can start working on the translation task right away!
The project manager can preview the translations, accept them and reject individual segments of translated text. They usually keep track of the progress and leave comments on individual segments; however, they can influence the progress of the translation by uploading reference images to segments which translators and proofreaders open and preview. When it comes to reference files, they can be uploaded in the project setup or afterwards. They are available for translators and proofreaders as well. As you can see, everything is under control.
The Project Manager Role
As you could read above, both the project manager and administrator have a lot of control and insight of the project at any time. They can monitor the progress of the project and interact with the translators and proofreader by previewing their translations and leave comments. This sets the tone for the whole project progress and completion.
To sum it up for you,  the project manager has the following options: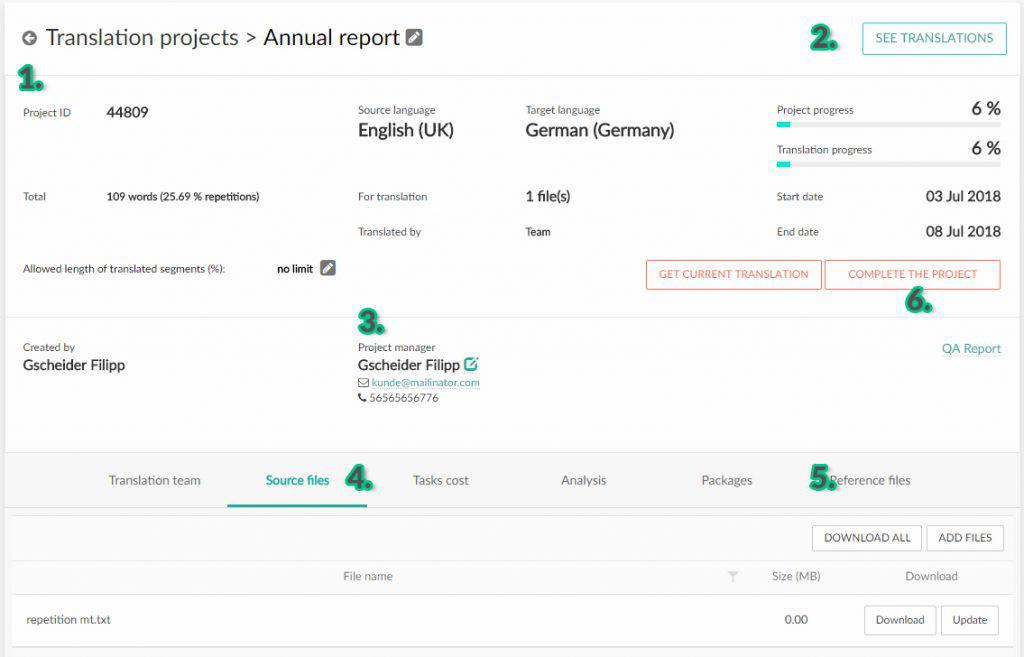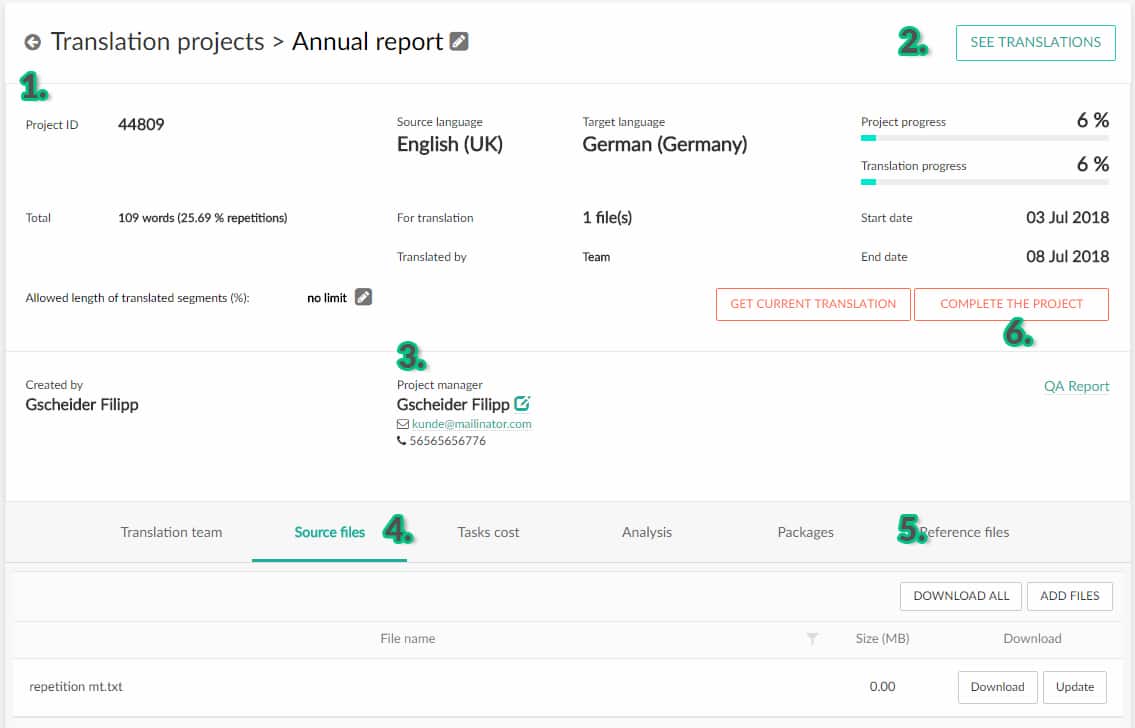 1. Preview project details and basic information
2. Preview translations, leave comments, upload reference images
3. Change the project manager (choose and change the person who will be in charge of the translation project)
4. Change source files (add new files to the project or change existing files with the 'Update' option )
5. Add reference files to the project
6. Complete the project (when team members have finished the task or if they want to abort the translation and archive the project)
Benefits of Company Accounts
All the company users share the same Translation Memory and Terminology Repository. That means one thing: everything that is translated is also kept consistent! Your translators will have access to the same terminology and translation memory entries.
If new terms appeared during the translation process, they will be saved to the project's glossary.
After the project's completion, everything from the glossary is saved to your default terminology repository and both administrator and power user can review, edit, accept or reject individual segments in the Company Dictionary. You got it sorted!
Are You Ready To Build a Dream Team For Your Collaborative Localization Project?