Thanks to the new methods of translation, we can avoid the chaos of the spreadsheet mess and exchanging 50 000 e-mails to get a translation project done. Years of experience with the inconveniences of working with traditional translation agencies led us to question the 'industry-specific' manual process of translation. That's why we dedicated all of our experience to create better, faster and cheaper translations, by automating the process itself.
Questioning of the 'industry-specific' ways also led us to come closer to our users. We decided to share tutorials and technology-savvy texts directly with you, so you can understand how our system works. For now, we have explained how to clone and delete a project, how to use approved and rejected terms in a company dictionary and shared an API code to play with, along with a tutorial. Today, we will explain how to use tags in our translation editor, focusing on why are they important and how translators should use them. Are you ready?
Tags in Translation Editor
All documents contain textual data and formatting. During file processing, formatting information is separated from the actual text, and the text is separated into individual sentences by the system of Text United. Tags, on the other hand, contain information about the formatting and structure of your document.
To make sure that you can get your translation in the same format as the original source document, Text United hides the formatting and structure information within tags. This enables the system to re-build your translated document in its initial format, but with the translated content present.
We remove as many tags as possible from the text for translation, leaving only those that are necessary for translators. Fewer tags make translation easier for translators, and help them avoid linguistic mistakes.
How Should I Place Tags in the Translation Editor?
In the Text United Translation Editor, tags are displayed with yellow (online version) and green (desktop app) icons and numbers.
To place tags in the online editor, use the following three functions:
Right-click and insert tags individually
Copy Source to Target when editing a segment – this will copy all the text from the source segment into the currently open target segment, including all tags.
Drag and Drop – you can simply drag tags from the source segment individually to the target segment.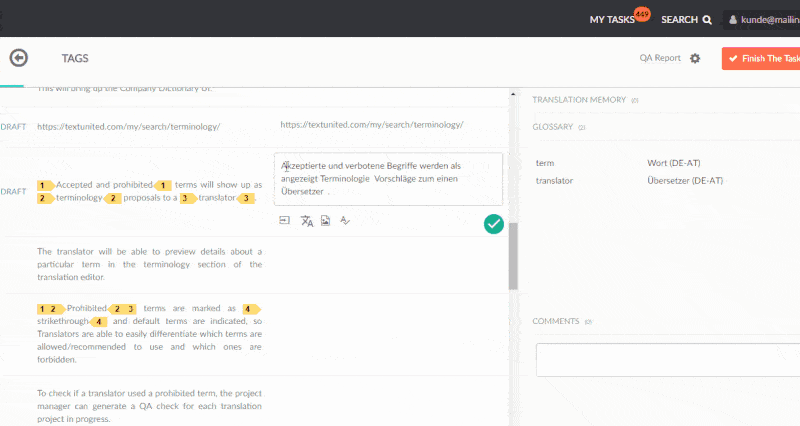 Why Is It Important to Keep Correct Tag Order While Translating?
It's extremely important to keep the tags in the correct order and replicate their position as they are displayed in the source segments. Because inline tags can be freely moved within a segment, translators can accidentally distort the formatting or structure of a file, which will slow down the whole process of translation. This can cause various errors within the translated file – especially if you translate files that are used for software localization such as xml, .properties or xliff. And this is what we try to avoid!
Simply pay attention when inserting tags into the translated segment. You can easily guess what meaning a certain tag can have and place it in the right position. Hint: Use the Copy Source to Target function in the segment editor to place all the tags from the source segment in the original order.
Tags Can Be a Good Thing – Especially In Translation!