This Story Begins Like This
A few years ago Text United launched Shorten Chrome Extension that instantly became a hit. To be honest, we were observing our product gaining hundreds and then, thousands of users in complete awe! At the same time, we were not surprised as we were one of the first on the market to launch such a product that works smoothly with a slick UI and clean, simple design.
Shorten was one of a kind Chrome Extension that worked directly with the text of choice. Its function was simply to scan a text that you opened in a browser window, be it The Guardian article or Wikipedia, and then let you shorten it with exactly two clicks. Remember that content is king and at that time, people were in need of tools that help to work on it in a simple and effective way.
Free Resources by Text United Gain a New Member
After a huge success of Shorten, we launched another free tool, Website Translation Chrome Extension that became an instant success as well (it has over 5,200k of users when I'm writing this blog), showing us that sharing free tools that increase the productivity could never be outdated. Website Translation Chrome Extension grew and developed, drawing all of our attention. But because we work with people who work with text and content, we realized that Shorten still gains new fans and users and we owe it an upgrade. That's why we decided to update it with a new functionality that we hope all of the current and new users will love.
At the very beginning, you may think it's simply a hybrid. When you think about it more broadly, though, adding the possibility to translate the text that you've just shortened directly from your browser gives you a whole new set of possibilities, especially when gathering information and preparing it for quotation. Shorten & Translate is really extraction of key points of any text and its translation in an instant.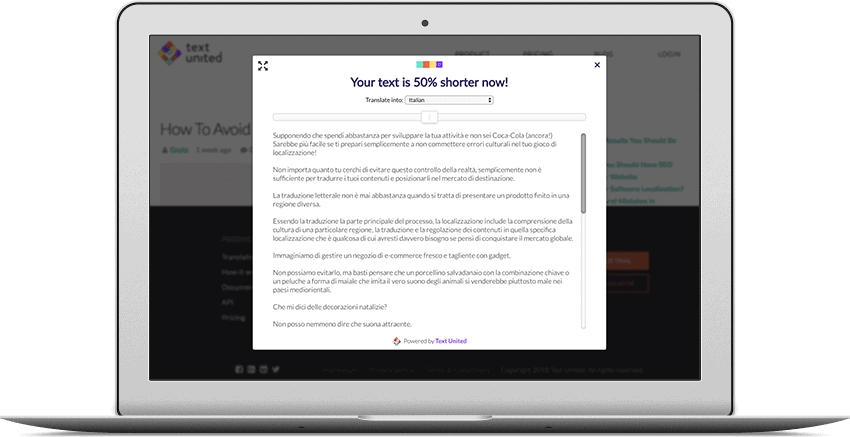 All you need to do to:
1. Add Shorten & Translate to your Chrome browser.
2. Open your text of interest in Chrome.
3. Click the Extension icon and choose your shortening ratio.
4. Machine Translate it with any language from our list of supported languages.
5. Voila! Your text is now shortened and translated into your language of choice!
How Does It Work?
#1. Shortening Mechanism
When we were developing Shorten, we based our mechanism on natural language processing algorithms, making sure you get a summary of your text without any loss of information in the process. We customised for you to choose whether you want your text a bit more compact or you need to reduce it to just the key points. You can decide to make your text 25%, 50%, or 75% shorter – all you need to do is just slide the bar and choose your preferred shortening ratio.
#2. Machine Translation Available
Shorten and Translate allows you to translate the shortened content using machine translation. While you work on your content, you can focus on post-edits, paraphrasing and quote the text of your choice in a foreign language. All the information you need is available in the shorter form and in your language of choice. This makes Shorten and Translate a perfect tool for Translators, Marketers and Content Marketing Managers.
#3. No Ads Policy
Shorten and Translate automatically excludes ads from the selected text.
We believe that these three features make Shorten & Translate a tool one of its kind!
Do you think the same? You'll never know until you try 😉 Try Shorten & Translate Chrome Extension by Text United here.