The world's most popular collaborative platform, Sharepoint, offers a bunch of apps that increase your productivity. It has literally everything: Word, calendars, e-mail, and even Yammer! However, finding the right app for everyday Sharepoint translation project management can be a really big challenge.
However, let's not forget that Sharepoint exists for empowering teamwork. If you add Text United to the mix, it has to result in empowering translations!
Experience SharePoint translation project management that feels like it's Microsoft-made
We've extracted bits and pieces of our core service and allowed them to become an integral part of SharePoint. Now, as you use the Text United translation for SharePoint add-in, it'll create a special interface that looks and feels like it's part of your usual MS platform.
By integrating Text United with SharePoint you will be able to send your company documents and files directly to Text United. Translation projects are created in a matter of seconds, and the best part is that you can monitor the progress of your Sharepoint translation project and receive the translated files back without the need to login to Text United.
You can translate pretty much anything your Office 365 suite can export, then return that back directly to your cloud drive, making it a truly single-platform experience. If jumping from app to app is your thing though, that's great! You can translate with Text United autonomously, even if you're a SharePoint add-in user. This is to ensure you'll be able to get your Sharepoint translations even after hours when you're locked out of SharePoint.
Connect Fast and Easy
All you need is your personal API token and Company ID from the settings menu. Paste it in the settings in the SharePoint app, and you're already connected to your Text United account.
How Does It Work?
After you install Text United add-in and connect it to your account, you can start sending files for translation without the need to login to Text United. This will expedite your workflow – you can manage your translations directly from SharePoint.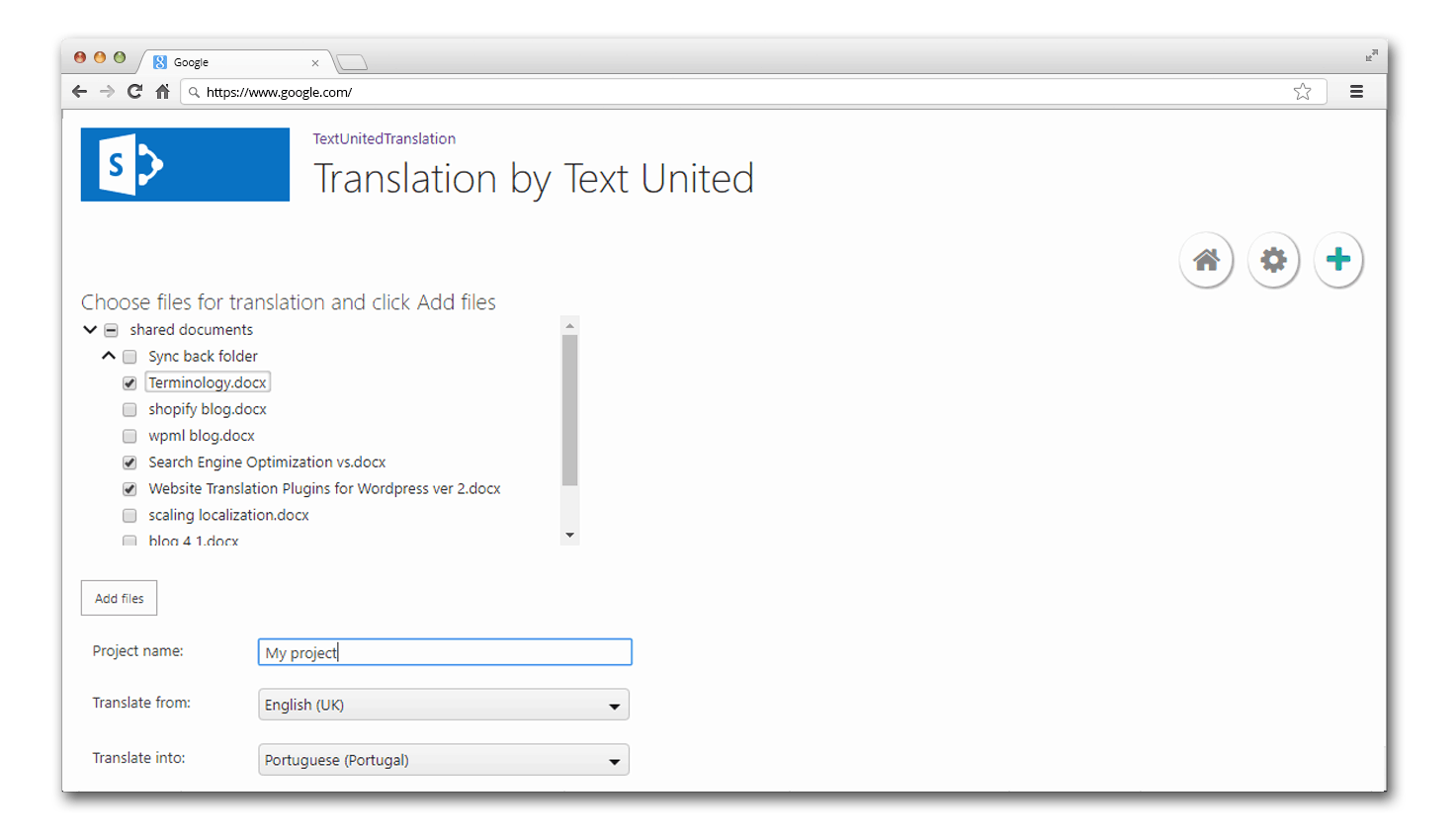 After you submit your files, a translation project is automatically created in Text United and assigned to a translator. When the translator finishes the task, all you need to do is to sync your files and the translated files will be saved to the desired location. This destination folder can be changed in the app settings, too!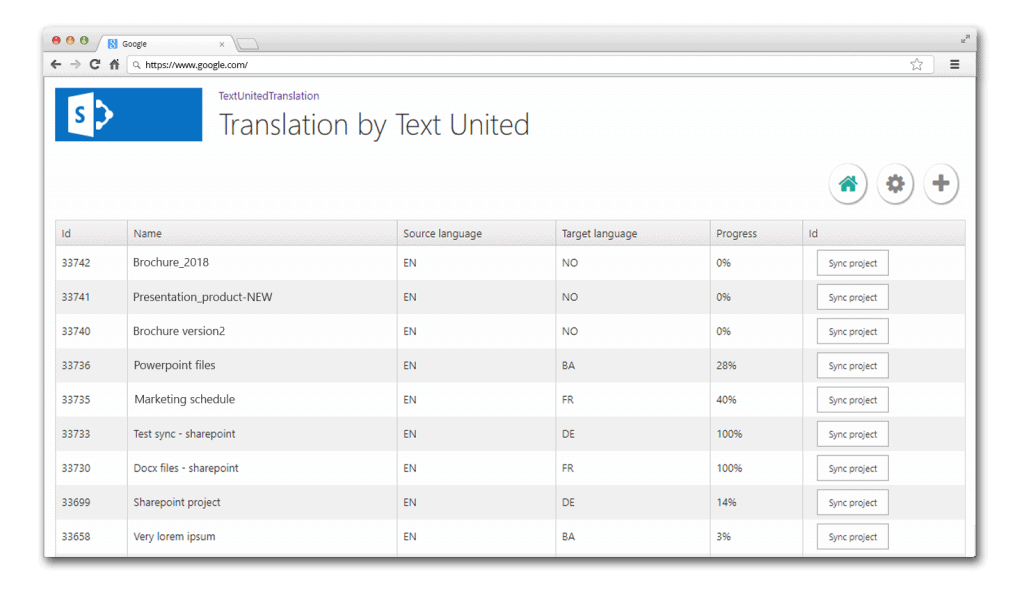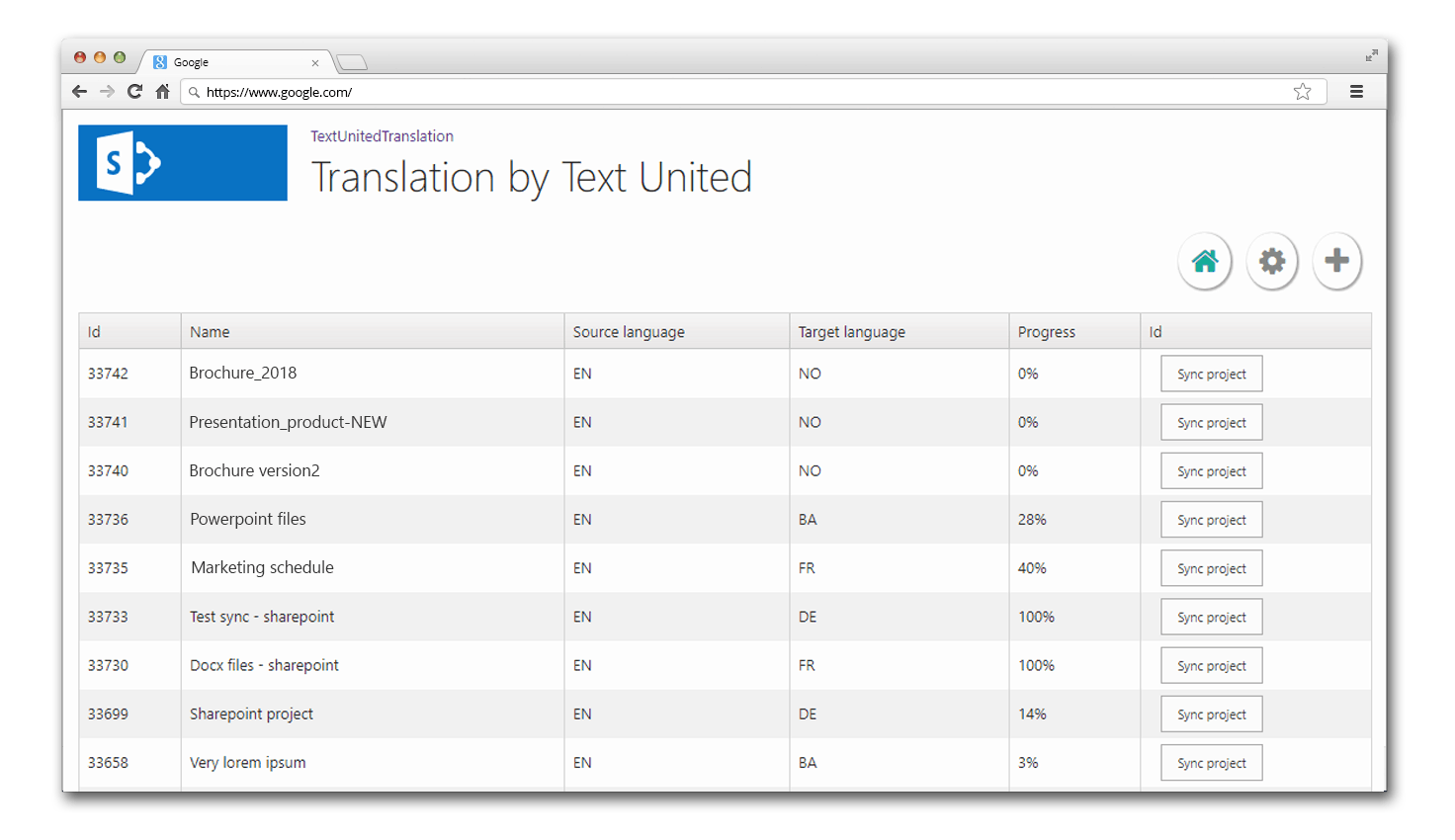 Managed and In-house Projects
Now you can organize your own Sharepoint translation projects within your company. Assign individual files to people that are already team members of your company account in Text United. The option to outsource to Text United's professional translators is also available – our project managers will take care of the project.
Supported File Formats
Text United supports a variety of file formats –the list is pretty long. Microsoft Office files are most commonly used in SharePoint, and all of your company's files and spreadsheets can be sent to translation and processed by the system.
Why Use The SharePoint Plugin?
Companies store and organize a lot of their material on SharePoint because it's such a powerful collaboration tool. However, Sharepoint translation projects seem to be always done separately and we are convinced it's high time to change it!
Using our plugin for SharePoint is the easiest way to have your files translated and delivered back to your company's collaboration platform.
There you can continue editing the files, immediately after the translation is done – you skip a whole lot of manual steps, like logging-in to Text United, creating new translation projects, downloading files, uploading files and storing the files in SharePoint. All of the above is done automatically using the app!
Empowering international enterprises with Sharepoint translation project management
No, you can focus on getting the work done without organizing and managing the project on more than one platform. It's a clear connection between the tools you use at work and translators you need to get the job done!
Do you have questions about Text United and Sharepoint translation project management? If that's the case, don't hesitate to contact us – we will gladly have a chat and help you with any challenges you face!