You might have probably heard this already, but if you are not selling internationally you are missing out on a lot of potential customers and revenue. To remind you why you should be bringing your business to other markets, we have compiled this shortlist of the 3 major reasons to start selling internationally.
#1. The rise of e-commerce
The first major indicator is the rise of e-commerce in the past couple of years, as well as the indicators for a bright future for e-commerce. Let's have a look at retail e-commerce sales worldwide from 2014, arriving at the prognosis for 2023: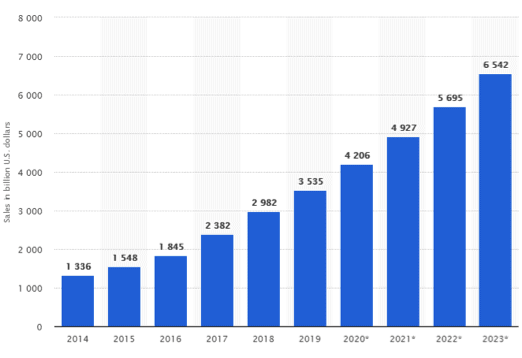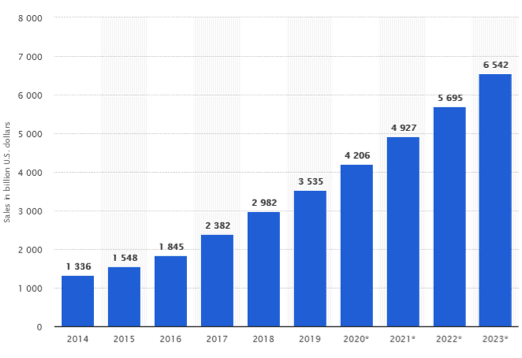 As you can see, e-commerce has seen an increase of nearly 300% between 2014 and 2019. It is predicted to nearly double in the next four years and as we know, over 75% of global shoppers prefer to buy products in their own language. What are you waiting for, and why are you not tapping into this great potential? It's time to really start selling internationally.
#2. Celebration time
Yes, it's always sunny in Philadelphia, but there's also always a holiday celebrated somewhere. Companies mainly focus on the major global Western holidays, such as Christmas, proceeded by Black Friday and Cyber Monday, but there are plenty of other holidays to keep in mind if you want to sell internationally or globally.
If you want to start selling internationally, first, you have to research the markets which you want to be successful in. In order to get a better insight into what you are missing, have a look at this calendar (albeit for 2019). Many of you will notice that there are many great days for e-commerce missing from this list.
Although it includes Single's Day (appropriately on 11.11.), which is the most important date for e-commerce in China, and the most lucrative one. Most countries have important dates on which the local population tends to spend the most, such as Les Soldes in France. Make sure to check your target markets for such important dates.
#3. It's easy!
This might be the reason many of you don't expand to foreign markets – you think It's difficult, as your e-commerce site is large and you don't know if it is worth the trouble. After all, e-commerce sites have a lot of content, and you don't know how to tackle such a task.
The good news is, this hassle is the thing of the past. Nowadays, there are cloud-based Translation Management Systems designed for the sole purpose of handling complex translation and localization tasks, to make your life easier.
The content can now be quickly collected for translation, analyzed for repetitions to lower costs (like re-using translations for all instances of your dropdown menus on all your pages), and sent out to translators. You can keep track of the progress online, check translations live, communicate with all stakeholders, and wrap up translation tasks in a fraction of the time it used to take companies to translate such content.
 You can start selling internationally in a matter of days!
If that's your plan, reach out to us. We can analyze your content together, propose a tactic that will not bankrupt you, and talk about different possibilities. As always, there are no strings attached, and we are always glad to talk!