How we perceive ideas and perspectives depends mainly on the language we use. We are social animals, constantly subjected to space and time stimuli that affect our interaction with the world that surrounds us. In fact, when we look at anything – the vast majority would not make any sense if not the good, old … context!  It is simple and clear and yet, we repeatedly seem to fail in this matter. Especially in translation.
In fact, translation is valuable only when it's done in the right context, and what I mean by 'context' is that a phrase cannot be interpreted without considering the environment in which it is used.  In short, context really matters! That's why you should always translate in-context.
Because you wouldn't translate 'state' the same way if you meant Ohio state or a state of payment. They simply don't mean the same things. What about translating websites, social media, entire businesses, then? How to make your business go global without making yourself go dumb?
Translate In-Context 
Well, let's have a look: the usual translation of websites consists of exactly three steps:
Step 1: Extract the text from your website or web application using either resource files or the complete website in HTML files
Step 2. Send translators strings in a translation tool format.
Step 3. Bring the translations back into your website/application and hope the translations make sense (and fit properly with your layout).
Can you spot the inconvenience here? Translators receive the website content out of the context. And when the translation is done out of context, contextual errors are extremely more likely. Against popular opinions, it is not an unusual issue with web apps and other types of digital content as well.
So again, does this "state" mean a nation or territory or does it mean the particular condition of something? Does "cancel" here mean "close the form" or "cancel my account?"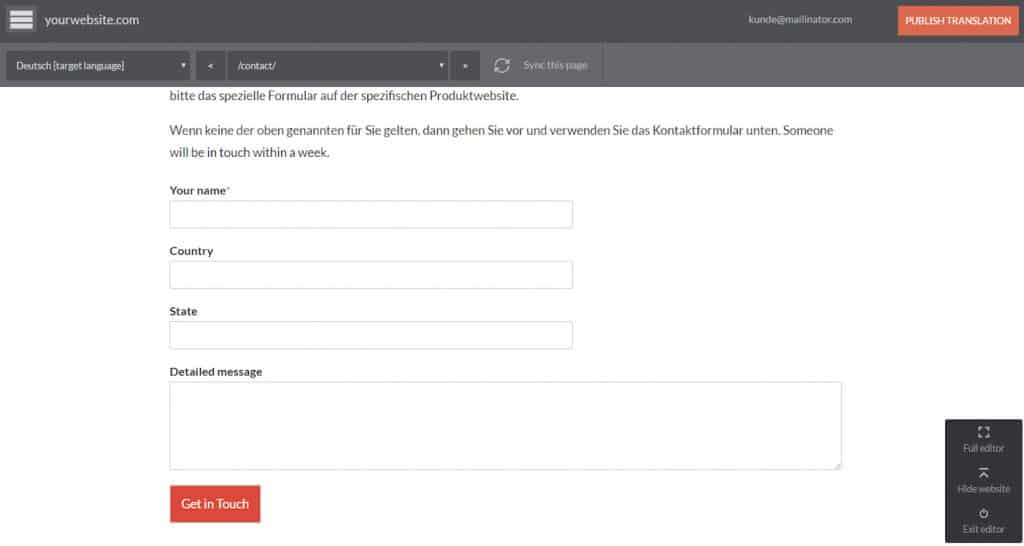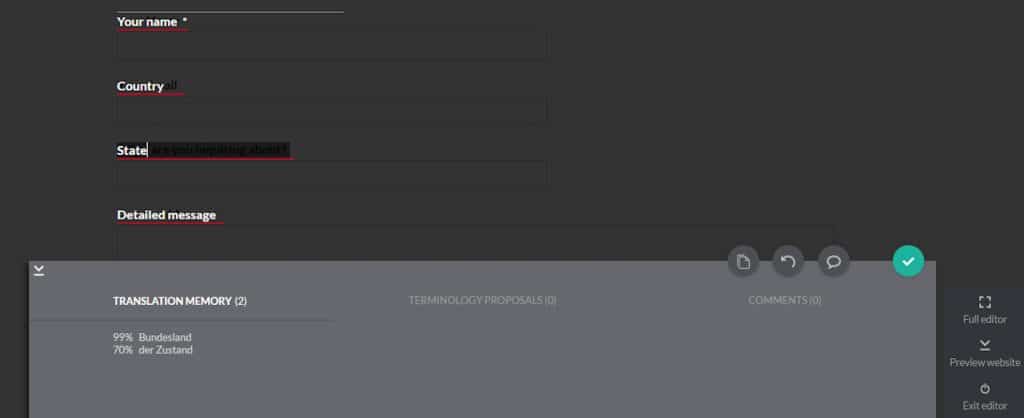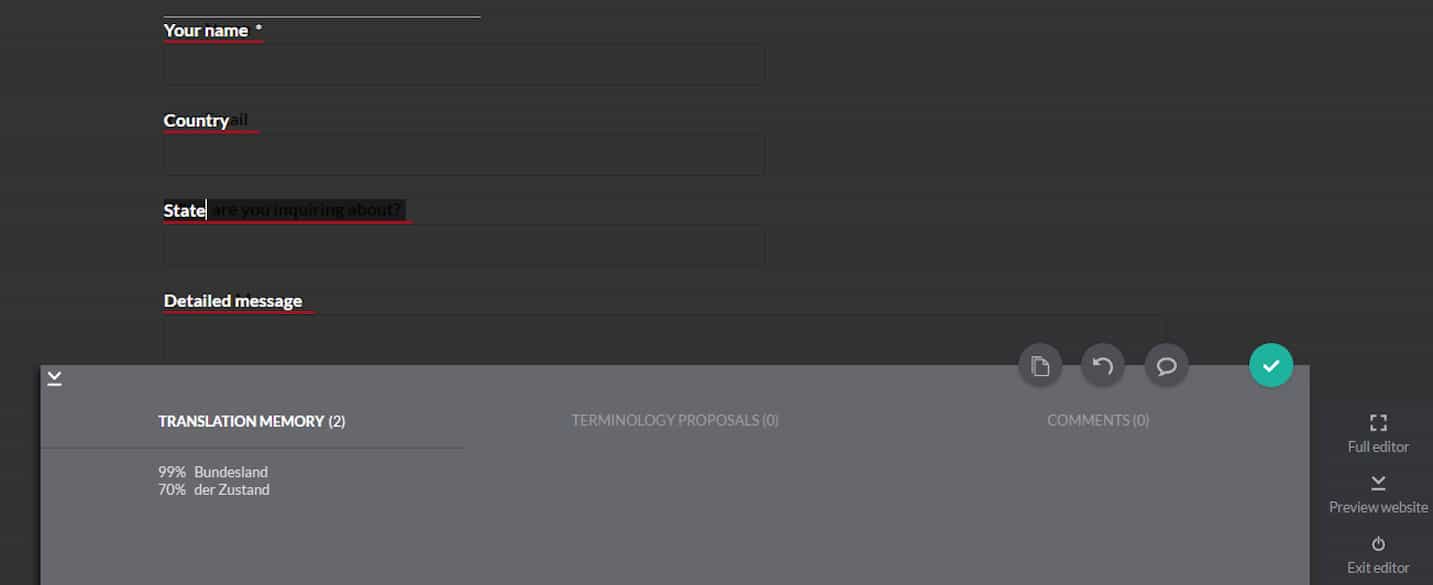 In this example on the website's contact form you can clearly see the context of the word "State" is referring to a territorial area and which one from the Translation Memory is the right one to use.
Translate In-Context and create Translation Memories
 Text United Google Chrome extension lets you change your browser to a website language editor in seconds, but most importantly, allows to translate texts directly within the actual website, too! In this way, you maintain the best translation quality, as you see exactly what you translate.
While traditional CAT tools offer comprehensive and professional tools for translators, it's required to have a separate reference file to see the context of your document in order to better understand the content of the translation project.
Here, using the website translation tool, it's possible to translate in a traditional translation editor but translators can see when a translation will "break" a site's design with the overlay which enables you to enter translations on top of your content.
German text, for example, is often much longer than the original, so the translations can "spill out" of design elements like boxes or sidebars. But because they're working on the page itself, translators can see this issue right away and often suggest a shorter translation that will fit, or in the worst case, identify the few specific areas that might need additional attention from a developer and point them out right away.
When you Translate In-Context, The Perks Are Clear:
You get a clear view of the layout and design and how the translation will fit with the UI
You know right away where to adjust the layout and design of the website if needed.
And frankly it is much more fun to translate in an environment like this: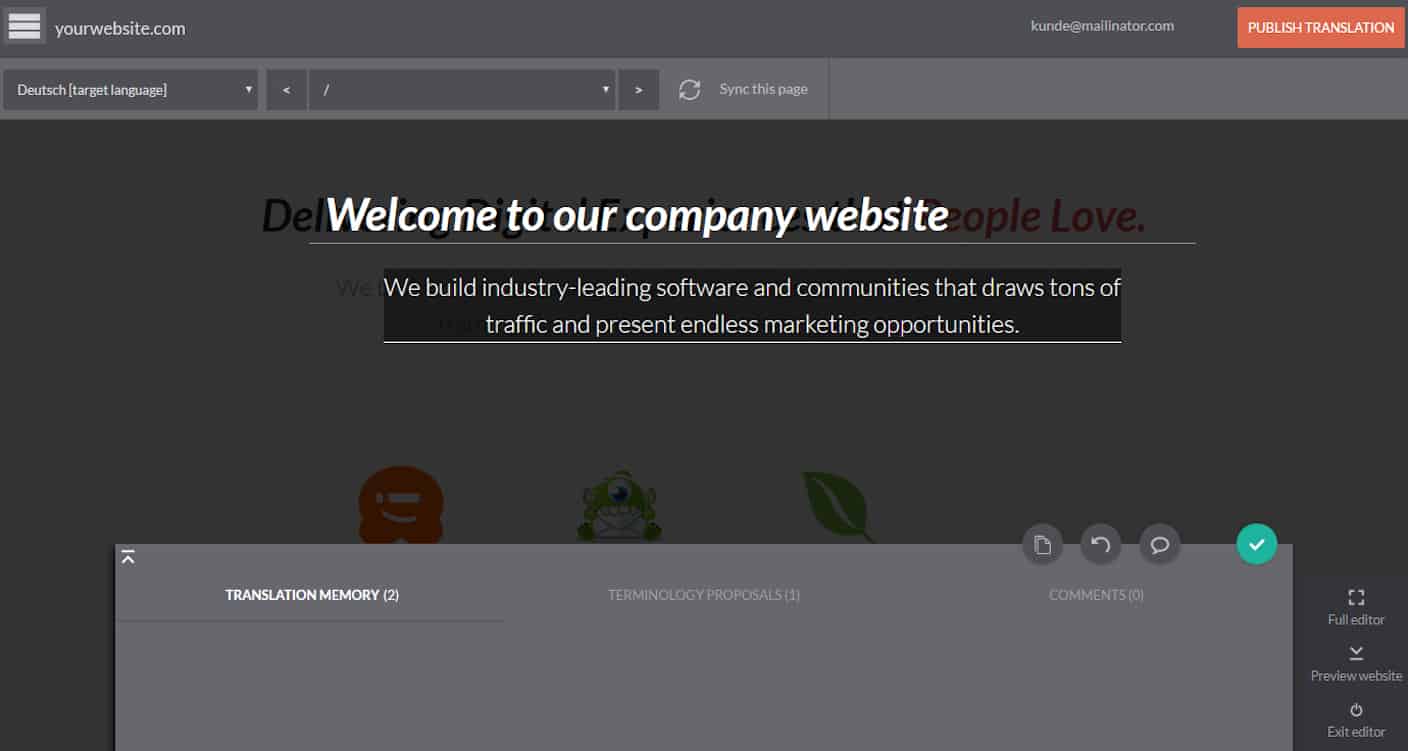 You can get the Beta version from here. To install it, download the extension and follow the instructions. After completing the installation, go to your website, fire up the extension, and do the work. When ready there's one last thing to do…
The extension has a User-facing Language selector. To install it on your site and actually enable the languages you'll need to add your website's address to Text United and copy a bit of code to your website. Here's documentation that outlines that simple process.