It's thanks to new methods of translation that we can finally avoid the chaos, resign from spreadsheets and fully benefit the continuously decreasing time we spent on translation projects. One of the absolute essentials that helps to achieve all of the above is the translation editor. Today, we are very happy to present our new translation editor to you, along with its features, new look, and a long list of improvements!
Our new Translation Editor with a fresh, new look
Let's start with the fact that the updated version of the Translation Editor is now available with a brand new look, redesigned to be simple and easy to use – even for people who never used translation software before!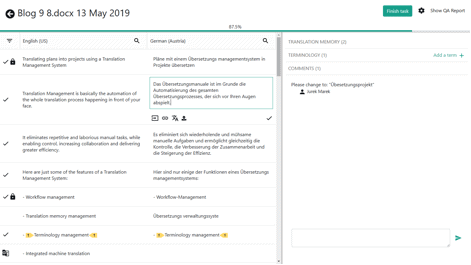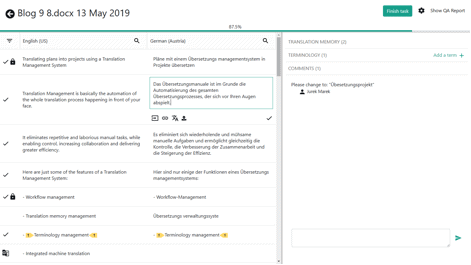 Completely different architecture
It's built using ReactJS and powered by Redux and Typescript. This means that it's more resistant to possible errors while improving the overall performance. The changes don't end here. Our new translation editor is designed to be upgradable in the future, which means even more new features are coming to surprise you!
Performance
The new translation editor is faster, smoother and more responsive. Many more tasks are performed in the background. This enables a very smooth translation experience.
Improved mobile support
It's more scalable than the old version and it has better support for mobile browsers – even if you are using it in portrait mode!
Smart Suggestions
When you type translation inside the segment with Translation Memory and/or Terminology Proposals, our new translation editor will suggest you words that contain the structure of the currently written word. You can insert this word by navigating with arrows to it and pressing enter (or just clicking on it).
Improved collaboration with links for segments
Each segment has a link that can be used to share a particular segment with your team. It will lead them directly to the part which you want to show.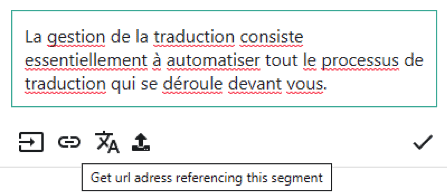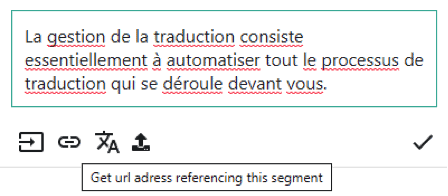 Intelligent tags
The new insert tag button allows you to click on the button (or press ctrl + space) and the system will insert the tag in the exact place where you want it. It recognizes how many tags are already present in the segment, so you won't be able to insert a tag two times accidentally.


Smart Search
It's possible to search the source and target columns now. The segments list is being filtered while user types phrases to be looked upon in Source and/or in Target. The found phrase is marked in orange color.


Summary: main advantages of the new translation editor
It's faster. ReactJS makes the UI more responsive and has a more optimized response time.
It's more reliable. We have developed a special mechanism for automatic code checking, so it's overall a more robust experience.
It's more responsive. ReactJS allows hiding many functionalities in the background like processing times for different tasks that are performed while working in the editor. All these little improvements make the whole translation editor noticeably faster
The new translation editor is built for the future. The code and design are customized to support even more features. This means that adding new features and enhancements is easier, takes less time and will not have a negative impact on the overall performance.
Other new and improved under the hood features:
You can now navigate through the whole project without the need to reload when a new file is selected for translation. When switching between already loaded packages, the change is done instantly.
RTL languages are handled more easily
Reference images now load in an instant
Users can define how much space the side window panel and the list of segments take – there is a vertical line between those panels allowing to adjust the width of them
Filtering is smoother – you can filter out untranslated or segments containing errors faster and easier
We hope you're as excited as we are!
Does using our new translation editor sound exciting to you? Or maybe you have some questions about specific features and doubts about its functionality? In any case, reach out to us – we will gladly talk about all of the above and more!