We live in a culture of instant results and as much as there is room for discussion about its consequences, we seem to love it, at least for the major part. We have instant news from around the world, instant international product launches, instant communication and instant customer reactions on their social media that they post on their smartphones while going back from work. We live a global life on a local level, available to almost anyone and anywhere.
As a consequence, the Internet is constantly bringing more and more consumers to its wide circle. What follows is the ever-growing mobile app market that seems to never stop its expansion. Nowadays, there is literally an app for everything – from saving money and organizing time through a workout routine planners, body hydration control and sleep monitoring to meditation and advanced face-altering filters. Trust me, if you'll start the subject of lily-gardening among your friends, there will be this one friend who'll say 'But there is an app for that!'. DayTranslations.com went a step further in categorizing them in their article about the importance of mobile app localization – check it out here.
If you're reading it, high chances are that you have a mobile app that is doing relatively good on your home market. Now think: living in our culture of instant results, why would you make the world wait for your app? Look at the biggest brands around the world (think Coca-Cola, Nintendo, Google), both from the mobile app world and not only – what do they have in common? Apart from a great product, of course, they absolutely rock the globalization-localization co-relation. They target people around the world. If you already did great at your home market, what's your point of waiting for the right moment to make it available to everyone?
I know it's easier said than done, but as the culture of instant results requires being constantly up-to-date, the process of your mobile app localization doesn't necessarily have to take as long as you imagine. We have already created detailed descriptions of both Android and iOS app localization processes, but down below you'll find the ultimate guide to mobile app localization that will make it clear how to prepare, begin, manage and finish your global conquest with mobile app localization. Keep on reading!
Namely, the one that already supports .strings or .xml file format. Like that, you are sure that it will filter out your textual content. Text United is one of them! On top of that, professional translators will translate it without touching any of your code – unless you want to do it yourself. Our solution also integrates and syncs with your GitHub and BitBucket repositories seamlessly.
#2. Prepare Your Resource Files
To start building a multilingual app you need to collect the content from your app into resource files. For Android apps, resource files are usually saved in the .xml file format and iOS apps use the .strings extension.
These files have to be organized in the structure of your project. Translate your resource files and create a new folder appropriately to the languages you translated your content to.
Text from images and banners will need to be extracted in a separate file. Images will need to be redesigned again by your graphics designer and Video material should be transcribed and provided with subtitles.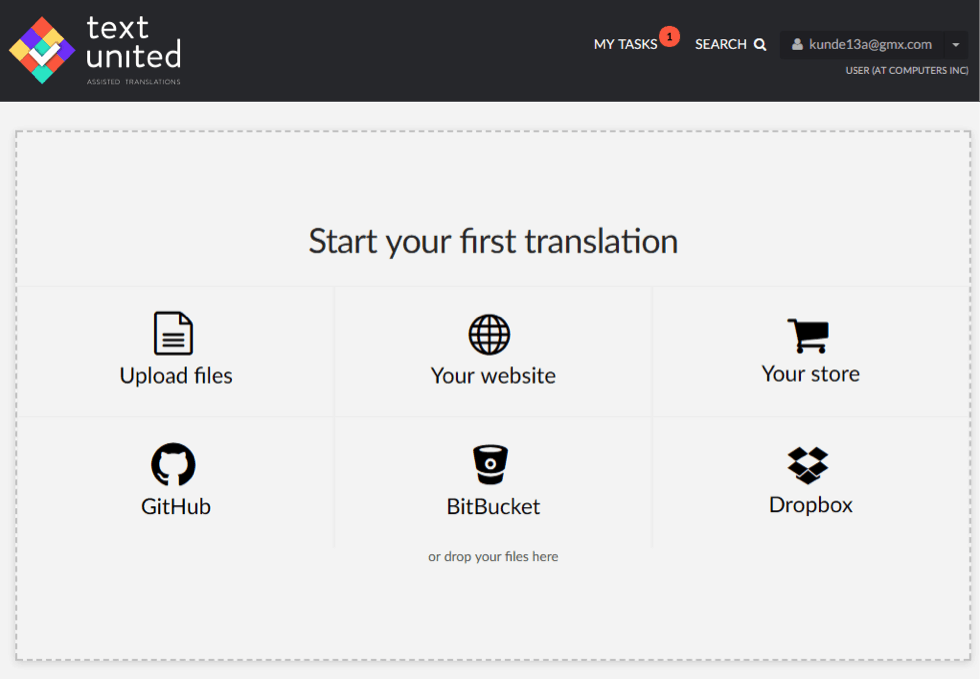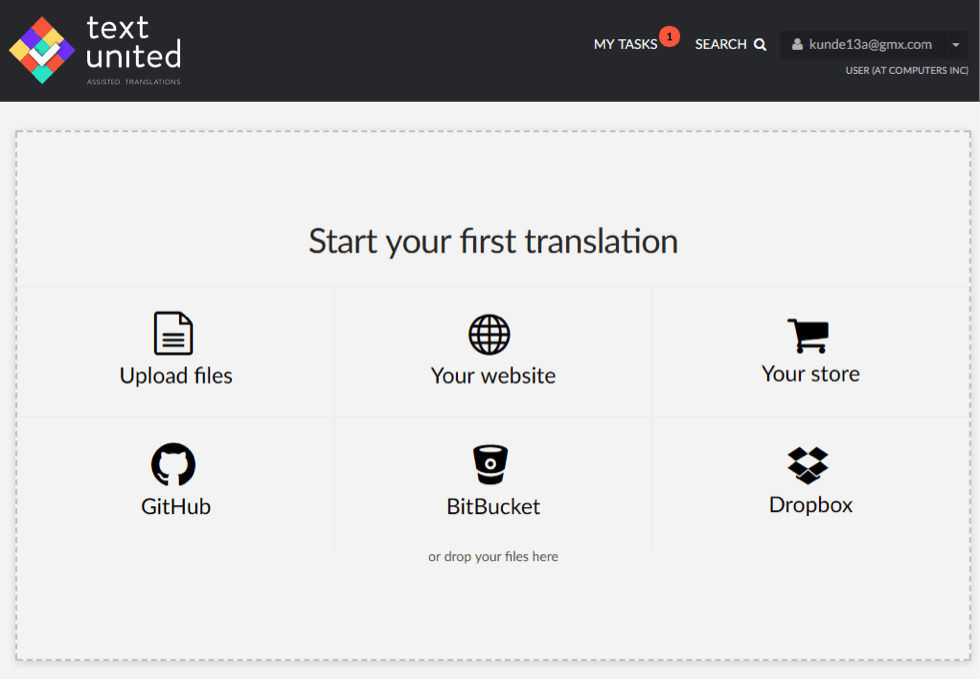 Your resource files can be imported to Text United in multiple ways. From a simple upload file-based project to integrating with your GitHub or BitBucket repository. Additionally, for advanced localization users, we also allow API integration.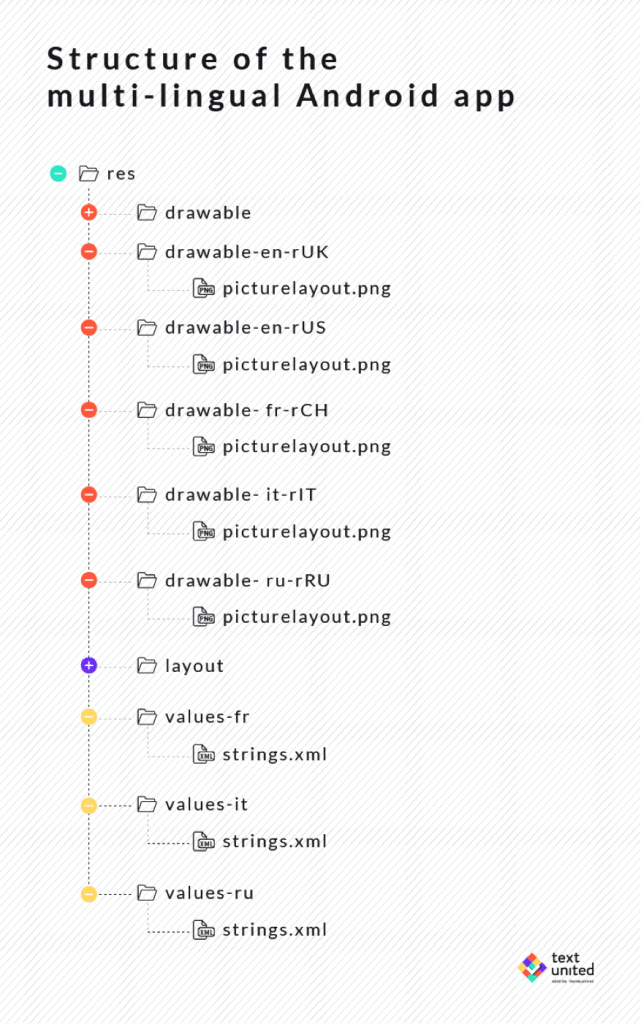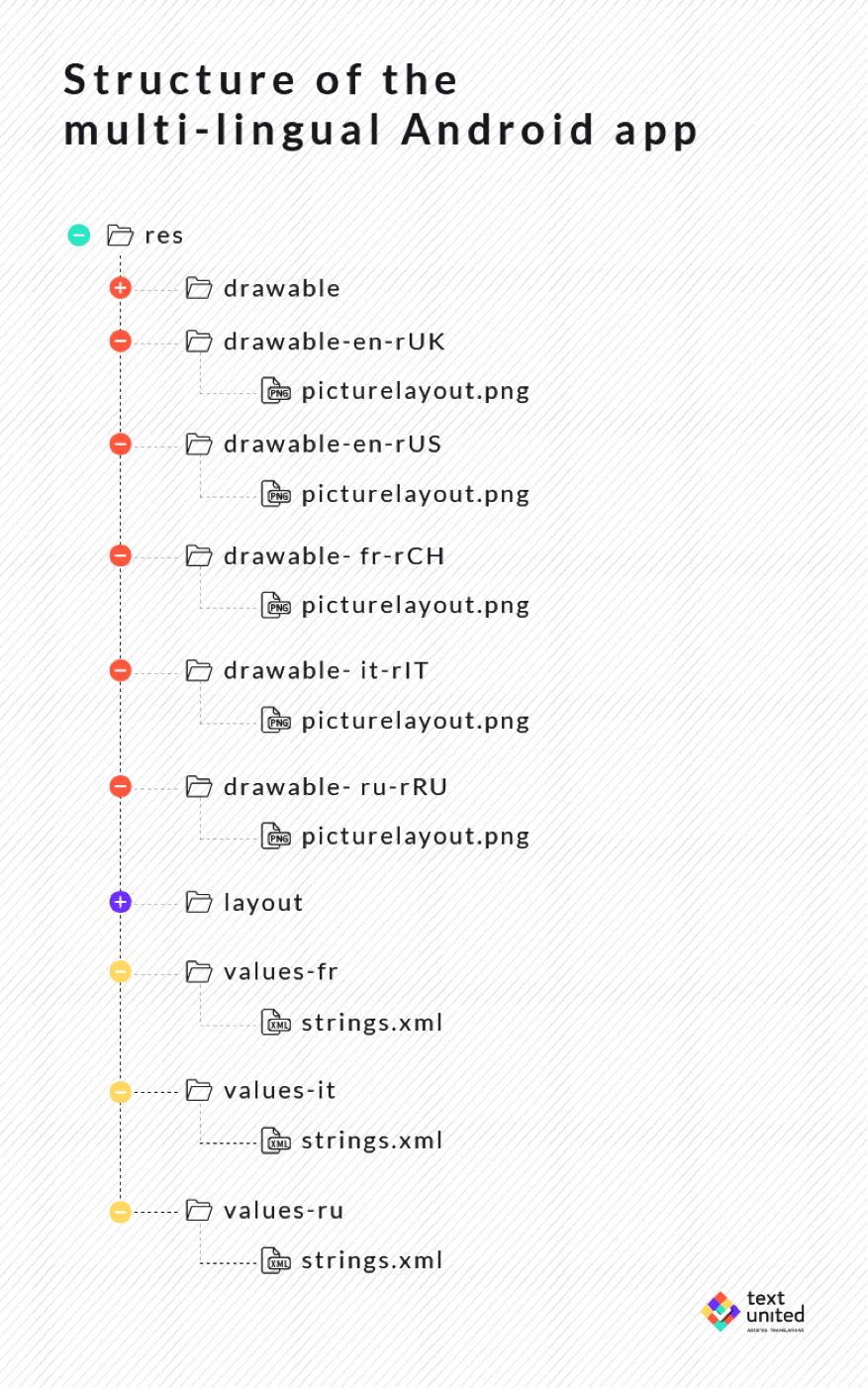 #3. Think About The Layout
When you translate from English to German or French, for example, the translated content can take up to 30% more space than the source languages. And for Arabic or Hebrew, your app will need an RTL (right to left) layout. Check out these resources for RTL support for Android and for iOS and read how to deal with RTL languages.
Keep your design flexible to accommodate these language differences. Make sure that your app allows for the expansion and contraction of texts. If you design your app with these considerations in mind, you should be able to use one layout for multiple languages instead of creating multiple layout alternatives (#i18n, hell to the yes!).
When it comes to mobile app localization, both Android and iOS provide a format for converting times, dates, and currencies. Be sure to check their localization guide as well and make use of what the system made available to you.
#4. Create Reference Files and Provide Context For Translators
Reference files will help translators to understand the material they're working on. Be sure to prepare quality reference material so translators will be able to understand the context of the source text.
At Text United, you can add reference files in the last step of the project, in the creation wizard. However, they can be added even when the translation task is already in progress. Additionally, reference images with additional context can be added to every segment in your project.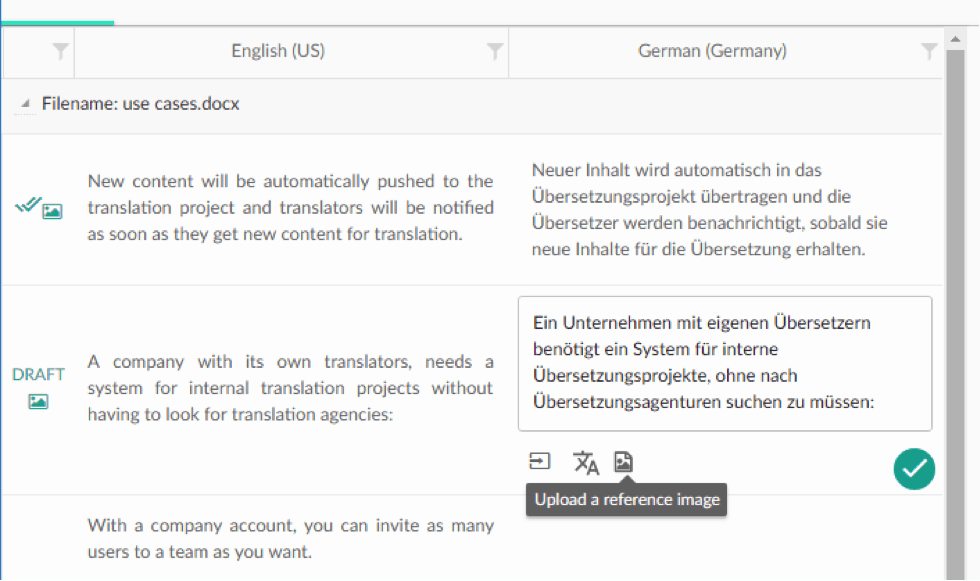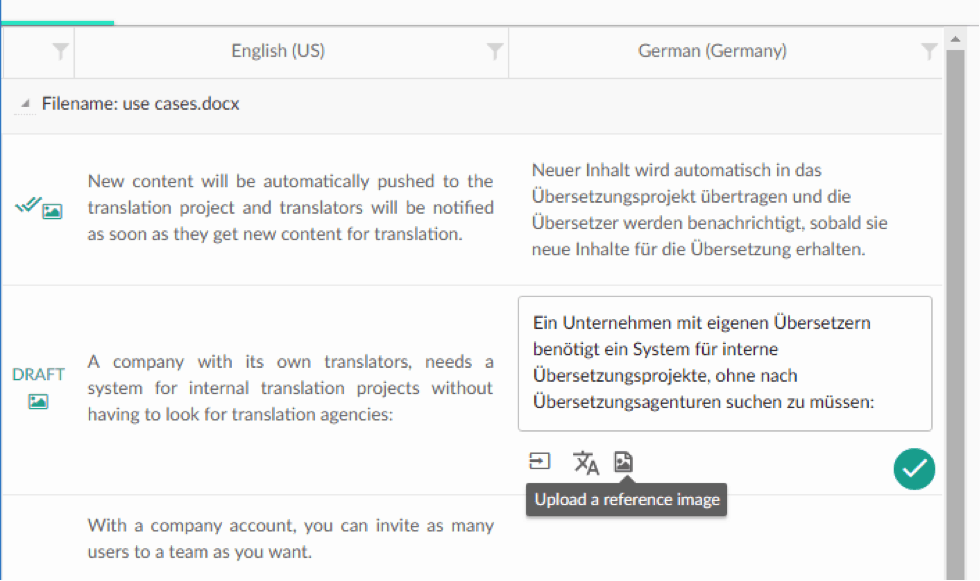 An image icon on the left will indicate that a reference image is available in the segment.
#5. Finish Your Project and Test the Localized Version of Your App
After the translation project is finished, you are able to complete your translation project. Everything that has been translated will be saved to your Translation Memory and is reusable for future projects! From here on you can download the translated resource files from Text United, or if you have set up a BitBucket or GitHub connection, you can sync the translated resources back to your repository.
Now you will be able to import those translated files back to your app and check for issues such as text wrapping, breaks in sentences, and how the overall layout will look like in the translated version. Almost done!
Don't forget about this one! A correct translation of your app's description and keywords is crucial for it to gain visibility and appeal to the local audiences. This is a part of your mobile app localization which should also include customized screenshots and image descriptions of your app to represent it in the targeted language. Google Play store enables even a video introduction of your app! If you decide to add it, remember that it should be tailored to fit the targeted region as well.
Ready To Go Global?