After we published an updated guide to our pricing, we received many questions about machine translation packages that we offer.
To resolve any doubts surrounding this matter and make it clear once and for all, we decided to publish this blog dedicated to machine translation packages from Text United!
Text United uses the Google Translate engine for machine translation. This means that machine translation quality will always keep improving! This engine is deeply integrated into the system and provides many possible workflows.
Most of the popular machine translation workflows include:
Translate files instantly: this method will translate whole files instantly without the need to confirm or edit segments
Pre-translate with machine translation: all the segments are translated with machine translation, and available for review and editing in the translation editor
Machine Translation + Human Review: your project is sent to Text United, pre-translated by machine translation and edited by a professional translator. This type of project is usually around 30% cheaper than full professional translation (read more about it here)
Use machine translation on demand: the button in the translation editor enables machine translation of individual segments on demand.
Machine Translation allowance
Each subscription plan comes with a monthly limit of words. Even with the free plan, there are a certain number of words available, and you don't have to subscribe in order to take advantage of machine translation.
You can simply buy individual machine translation packages, in the event that you used up the monthly limit, by selecting your chosen package and clicking on Buy More. The transaction is performed securely through Stripe: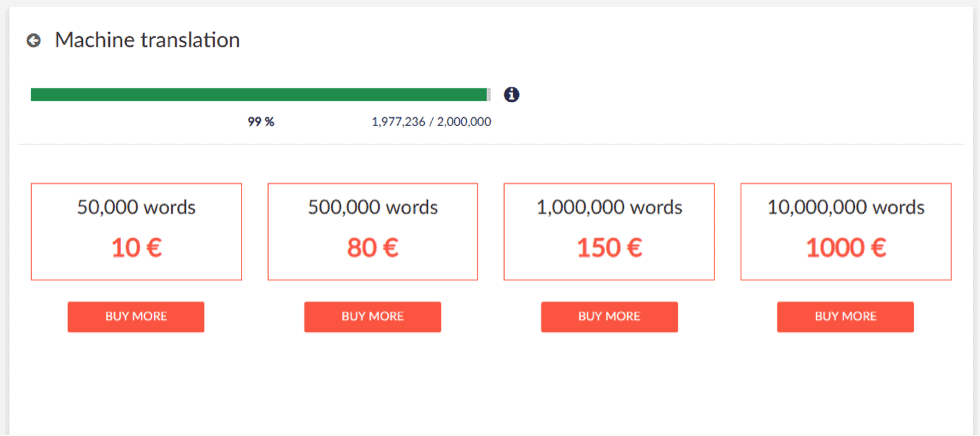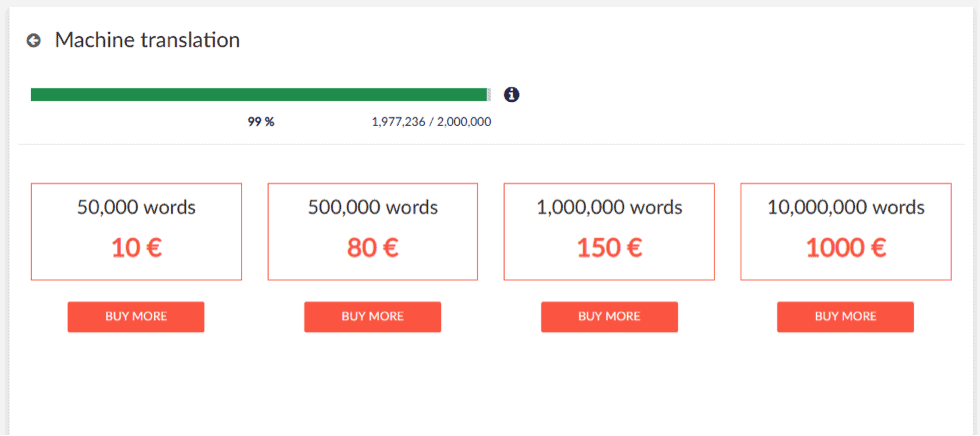 Advantages of Machine Translation packages
There are three main advantages of machine translation packages.
The first one is that if you are on the free plan, you can still take advantage of machine translation without any need to subscribe to Text United.
The second one is that you don't need to subscribe to a more expensive subscription plan if you need a one-off boost in machine translation allowance.
The third one is that it's not necessary to choose a subscription plan with a big MT allowance if you don't always need additional words for machine translation.
Each time you use machine translation to translate files or pre-translate projects, your MT allowance will be reduced by the number of words you have machine-translated. Paid projects that you order from Text United Professional Services are not included in that limit, of course.
Machine translation consumption can be monitored on the Machine Translation page. It shows how much words are left in your allowance. This page also contains 5 different packages to additionally increase your machine translation allowance.
Machine translation rocks!
Do you have any questions about machine translation at Text United? Are you hesitant to make a decision, not knowing which machine translation package will suit your business best? Or maybe you still don't know which translation approach you should choose? Feel free to reach out to us – we will gladly answer all your questions and help you choose the best solution for your business!