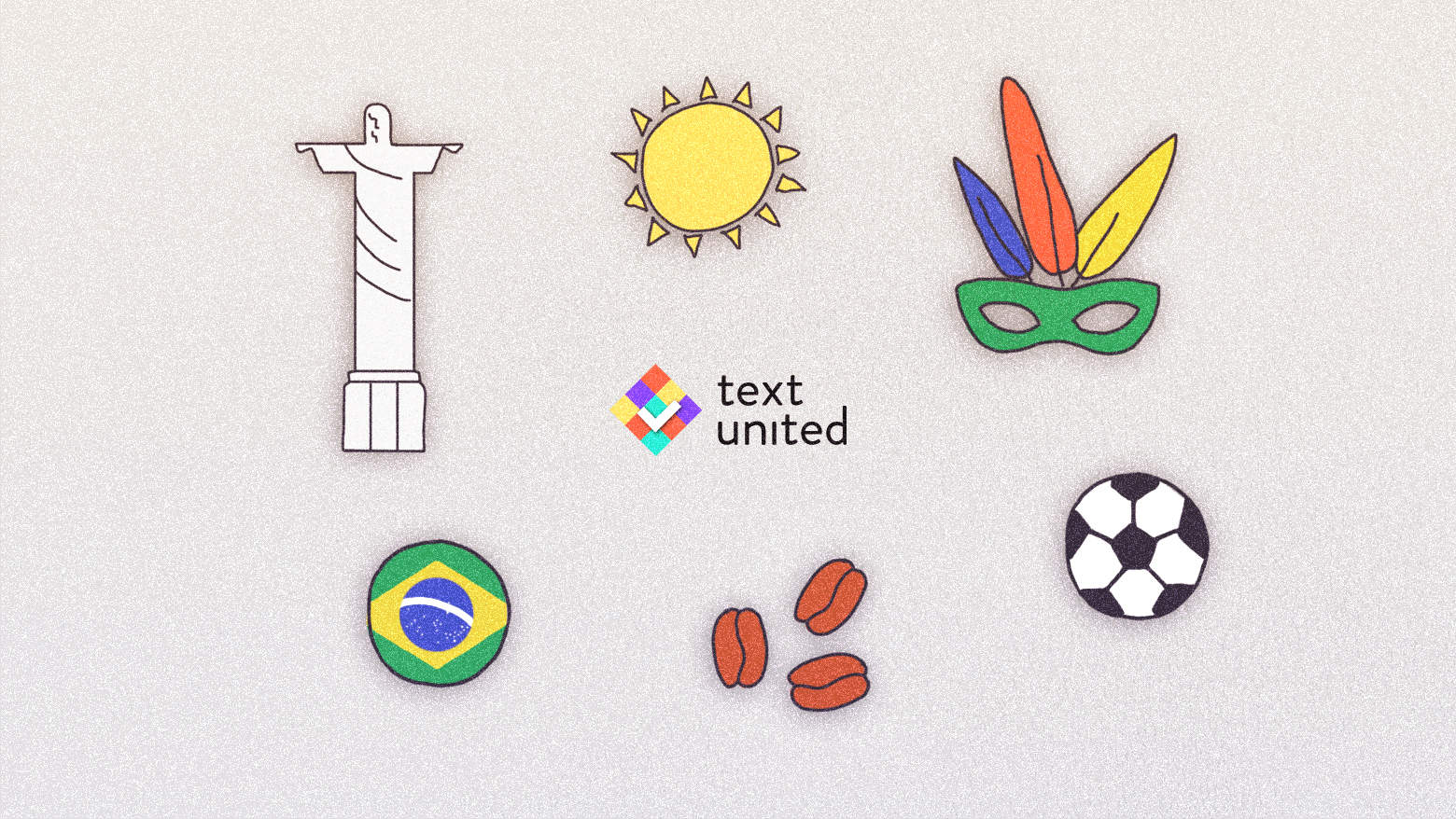 We regularly publish blogs about useful tips on how to make your localization plan work when entering the market of a specific country. Today we will cover one of the most widely spoken languages in the world, Portuguese, and talk about 5 things to know when localizing your business for Brazil.
Some introductory data
According to Statista, Brazil had 149 million internet users at the end of 2017, with the number bound to increase in the coming years. Globally, only China, India, and the US have more internet users than Brazil. It is also the world's 8th largest economy, so it definitely makes sense for your business to try and localize your content for this market, especially if you see visitors from Brazil on your English-only website in Analytics already.
The official language of Brazil is Portuguese, with 223 million speakers worldwide, most of them in Brazil. At the time of writing this article, only 2,9% of the global online content is in Portuguese. In total, 4,1% of global internet users speak Portuguese, and this number will increase in the future.
All in all, Portuguese is a global language, with a lot of potential and little online content available online. Brazil, with its 149 million internet users is a huge audience and maybe you already know that some of them might be interested in your product or services. It only makes sense for you to decide to fill that void and reach your audience in Brazil. What should you keep in mind?
#1. Speak Brazilian Portuguese!
As was concluded in a Common Sense Advisory survey, which also included Brazil, 72,4% of consumers surveyed were more likely to buy products in their native language.
It is extremely important that the website is localized into Portuguese. But remember that Portuguese spoken in Portugal differs from Portuguese spoken in Brazil.
#2. The number of online users
As of 2018, only 59% of users who speak Portuguese as their first language, were online. This means that there is still a large percentage (41%) which you will not be able to reach online. Compared to Germany's 90%, this is still relatively low.
When looking at the demographics and the numbers of users who buy online, Statista shows us that there is only a small number of online shopping users younger than 24.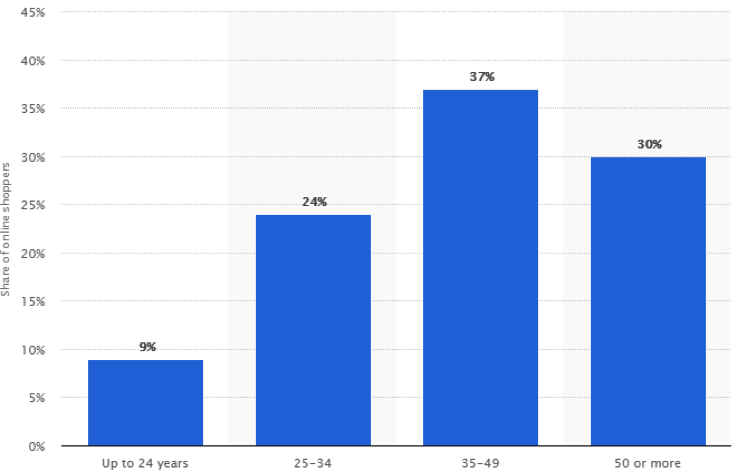 This means that e-commerce owners can see the big potential in the financially active users online over 25 who make the 61%!
#3. Online behavior
The most popular social network in Brazil is still Facebook, looking at unique visitors. Way behind on second place is LinkedIn, as you can see on the chart below.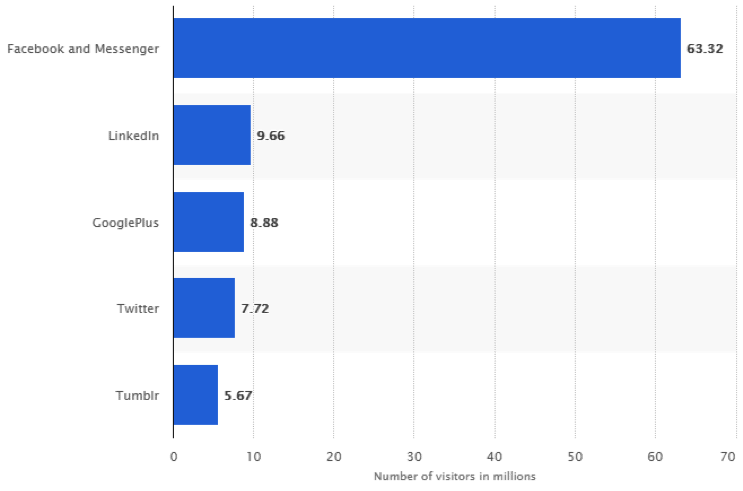 This means that it would be an excellent idea to localize these social media channels. With Facebook enjoying such popularity, you could also use it to help users log in to your website, besides providing support just for Google accounts. 
Since Facebook is so popular, it can be a cheap way of reaching a large number of users. Email marketing is also a popular option in Brazil, as GDPR is not an issue, at least at the moment.
 When looking at the most popular mobile apps in Brazil, WhatsApp is number one. It is followed closely by the Google products Google Play, Google Search, and YouTube.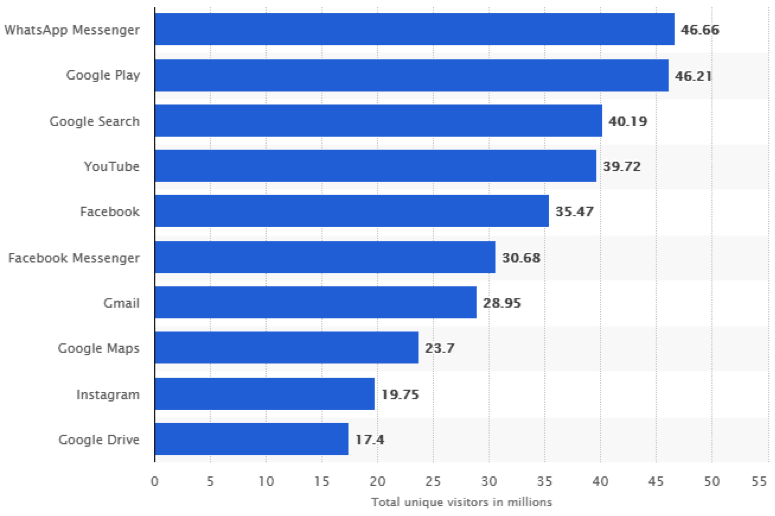 Android apps are generally much more popular (with over 90%), compared to iOS apps, so it would make little to no sense to localize your iOS app for the Brazilian market.
#4. What do users buy online?
According to Statista, online buyers in Brazil mostly spend money on fashion, followed by electronics and media. Fashion has a market volume of 5.482 million USD in 2019. This means good news for all the cool e-commerce introducing new trends in clothing!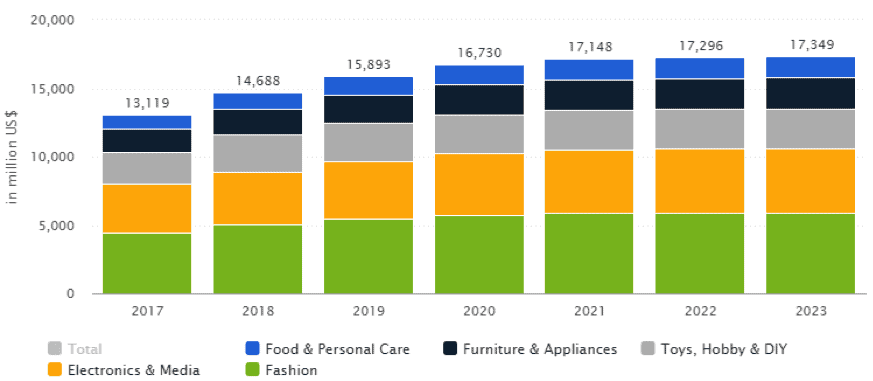 #5. Methods of payment
According to The Paypers, online payments in Brazil are dominated by credit cards, which are used for 69% of all online payments. The second popular option is Boleto Bancário, accounting for 24% of online purchases in Brazil.
Keeping all of this in mind, you can now decide on how do you want to approach your localization project and how can you access the Brazilian market. Whatever you decide, keep in mind that localization will need to take into account cultural specifics which we always point out to our clients.
If you have decided that you want to localize your content into Brazillian Portuguese reach out to us – we will gladly help in finding the best approach!
Do you need tips on localizing your business into different markets? Check out these blog posts:
5 Things To Focus On Before Entering The German Market
How To Localize Content For The Arabic Market?
5 Tips For Localizing Your Content Into Japanese
How To Effectively Translate Your Content From English to Spanish?
7 Things You Need To Consider When Localizing Digital Assets Into Chinese