Today, we are going to discuss the future of the Internet. This may sound dramatic at first, but we will mainly discuss the trends in languages used on the Internet.
Since its inception in the 1990s, the lingua franca of the Internet has always been English. Although not much has changed since the start, English has almost reached its peak and has very little room left for further expansion. 
This is a very important argument for what we will discuss today – namely the significance of having your website in English – and which languages you have to localize your business into in the upcoming years.
What are the top ten languages used on the Internet today? 
For the sake of this discussion, it is crucial to notice how the use of languages changes within a five-year span. In order to see these changes, we will analyze two separate sources. 
The first one, from 2013, is a report published by the British Council, titled Languages for the Future in which the British Council attempted to define which languages the UK needs most in the years to come, and why. The second one is the statistics from Internet World Stats on the top 10 languages used on the web dated to December 31, 2017.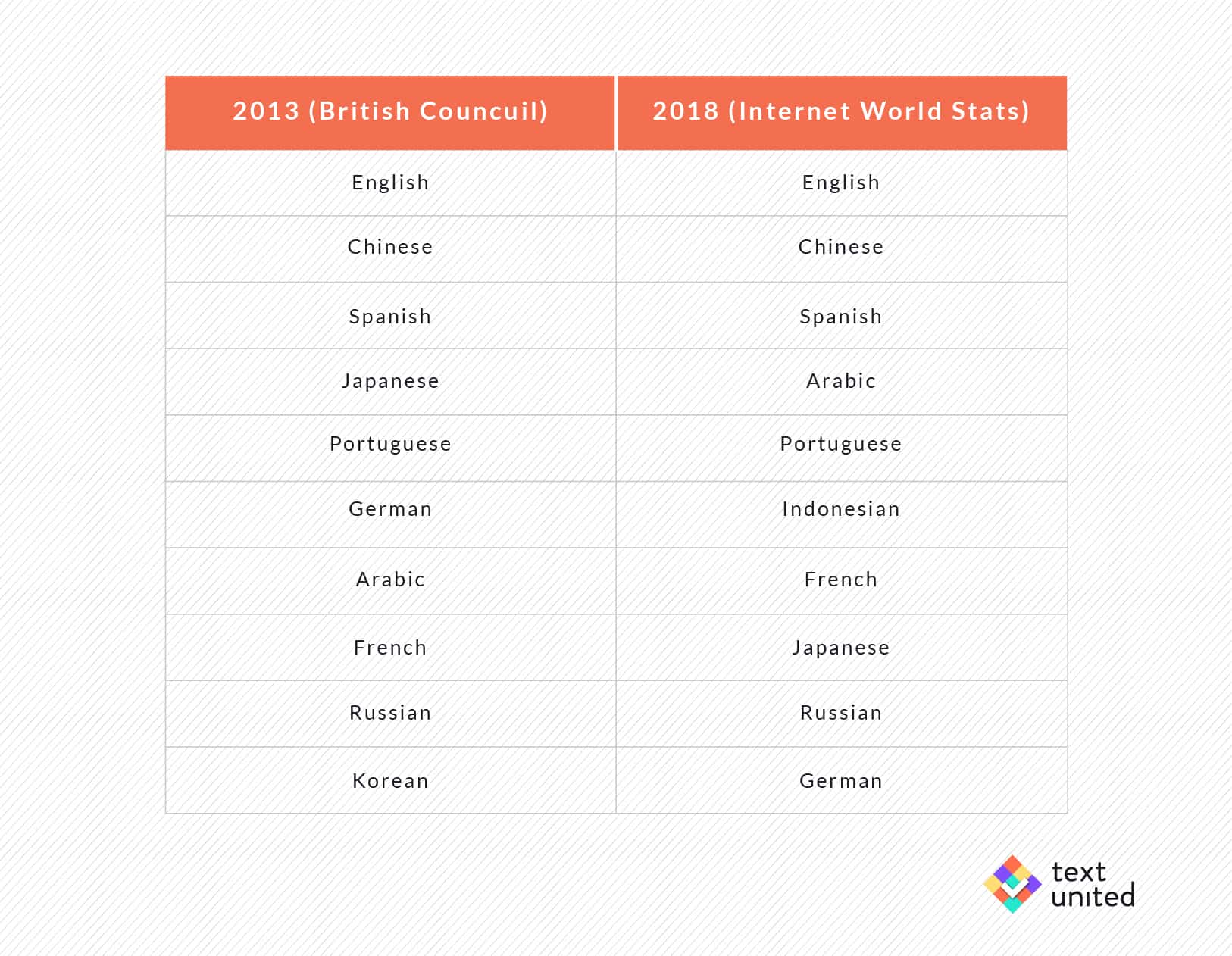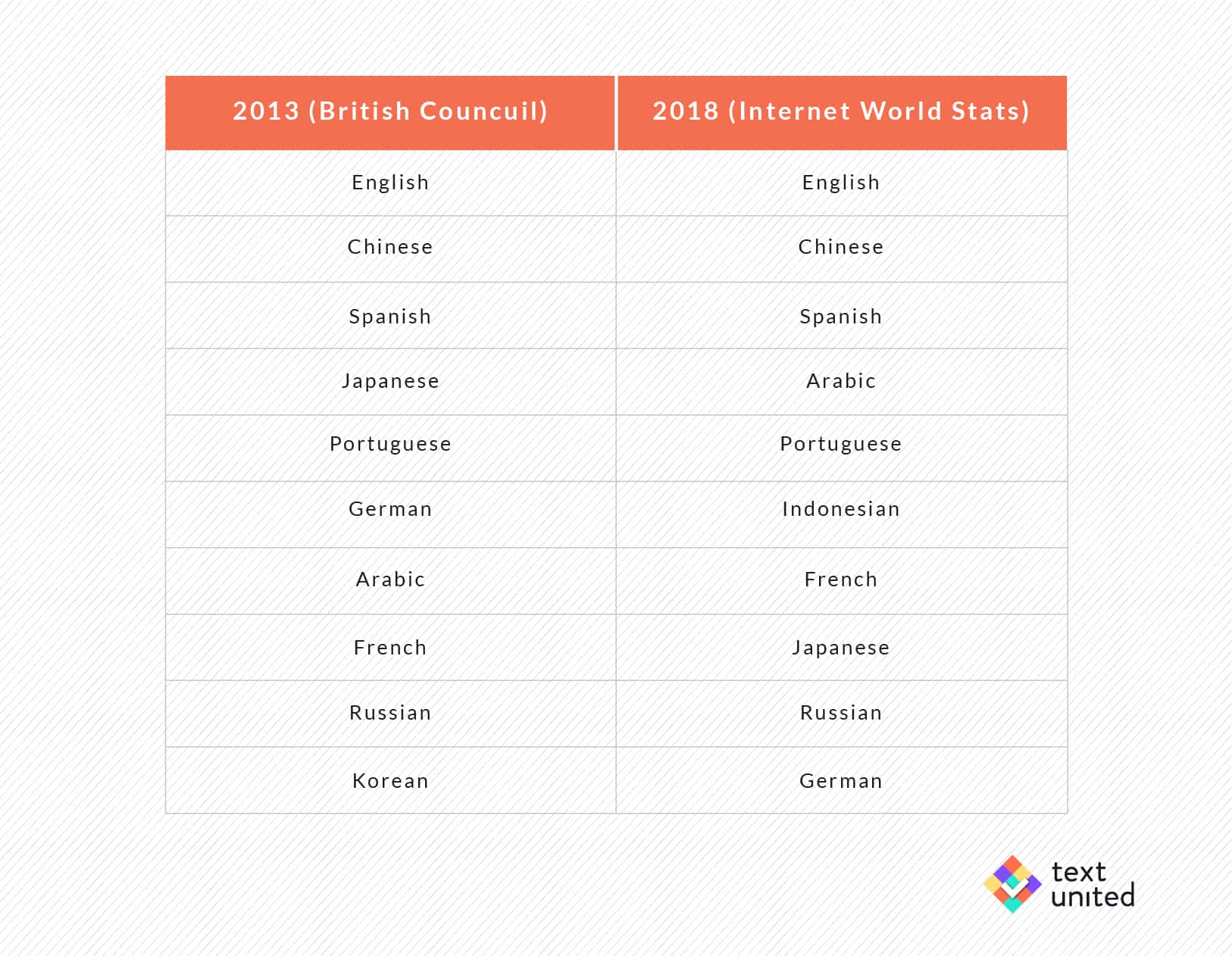 As you can see, language, even on the Internet, is a living and breathing thing. Although this is a rather short time frame, the list has changed drastically.
Japanese has dropped four places, to 8th place in 2018. Korean disappeared completely and was replaced by Indonesian on 6th place. Arabic claimed the 4th position in 2018, and German dropped to 10th place.
This makes you wonder – rightfully so – where we will be in a couple of years. Will German drop from the list, and will there be any changes at the top? While it is unlikely that English will lose its top spot (for now), we can us this to support the argument that English has hit a glass ceiling.
 Internet of languages
One more thing that's very important is the growth rate of the number of Internet users over the past 18 years. Let us compare this to the number of Internet users speaking these languages, the Internet penetration, and the percentage of the number of Internet users for each of these languages compared to the global number of Internet users.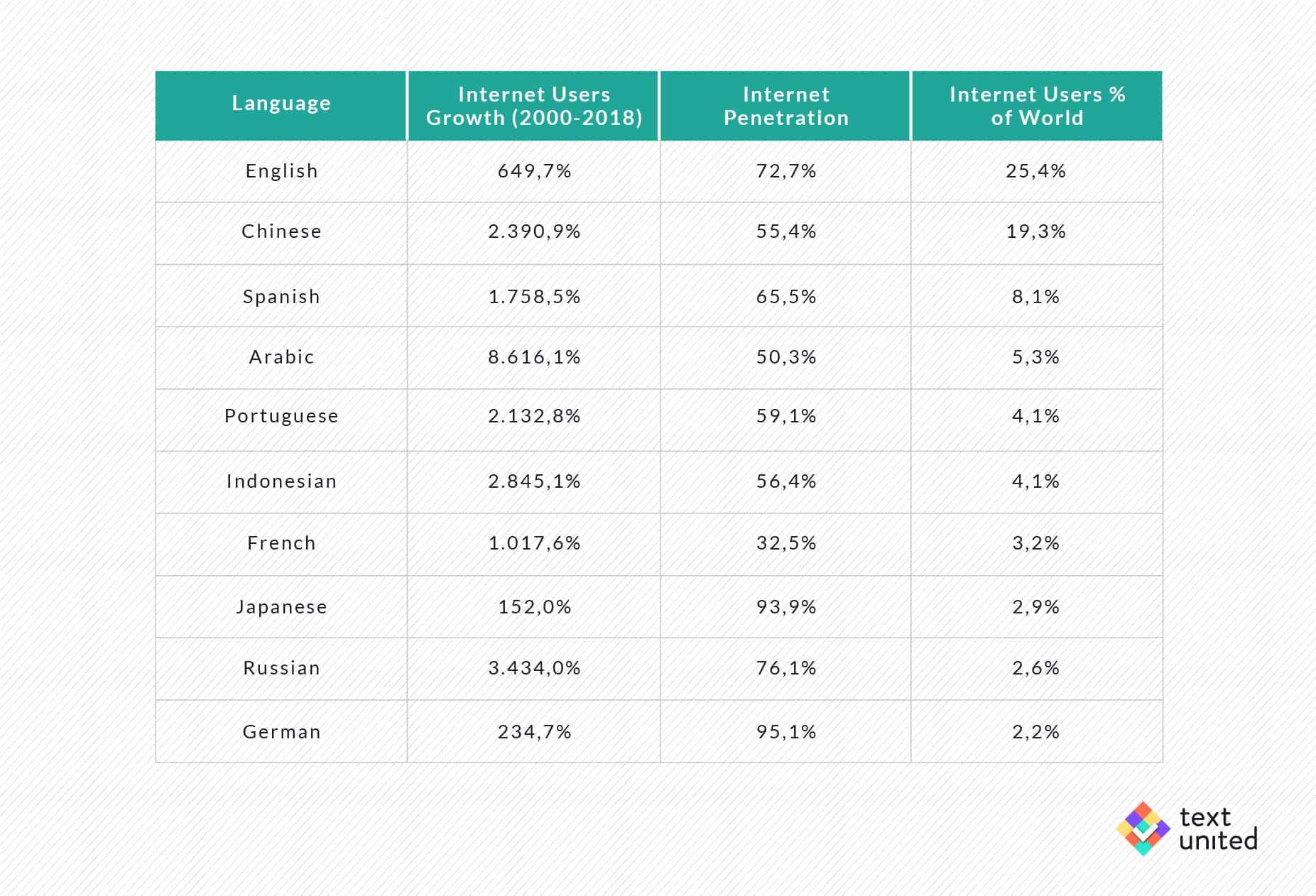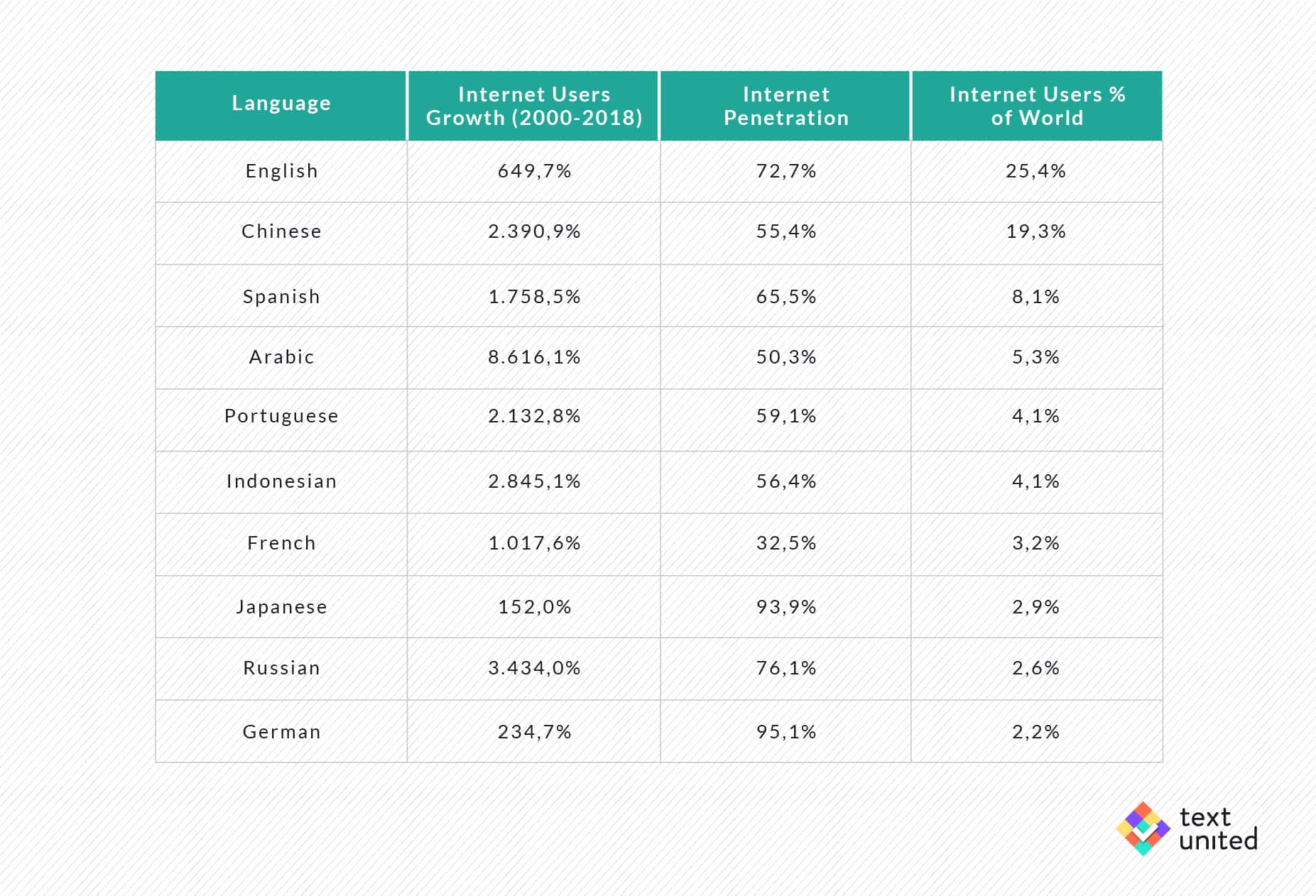 The languages with the smallest rates of growth in terms of the number of Internet users are Japanese, German, and English. It comes as no surprise that these are the three languages that also have the highest Internet penetration rates, excluding Russian.
Russian, following a huge increase in internet users (3,43 to 4.0 %) is now also likely to hit a glass ceiling, as has been the case with the three aforementioned languages.
The remaining seven languages have a high increase in the number of Internet users, but also lower Internet penetration rates. This means that they can still grow significantly in the years to come. This is especially true for Arabic, Chinese, and Indonesian.
Arabic saw a staggering 8,6 to 16.0% increase in the number of Internet users, but still only has an Internet penetration rate of 50,3 %. Indonesian and Chinese are in a similar position so you can expect the number of users to grow in these language areas, especially taking into account the high growth rate over the past nearly two decades.
Native speakers of the World Wide Web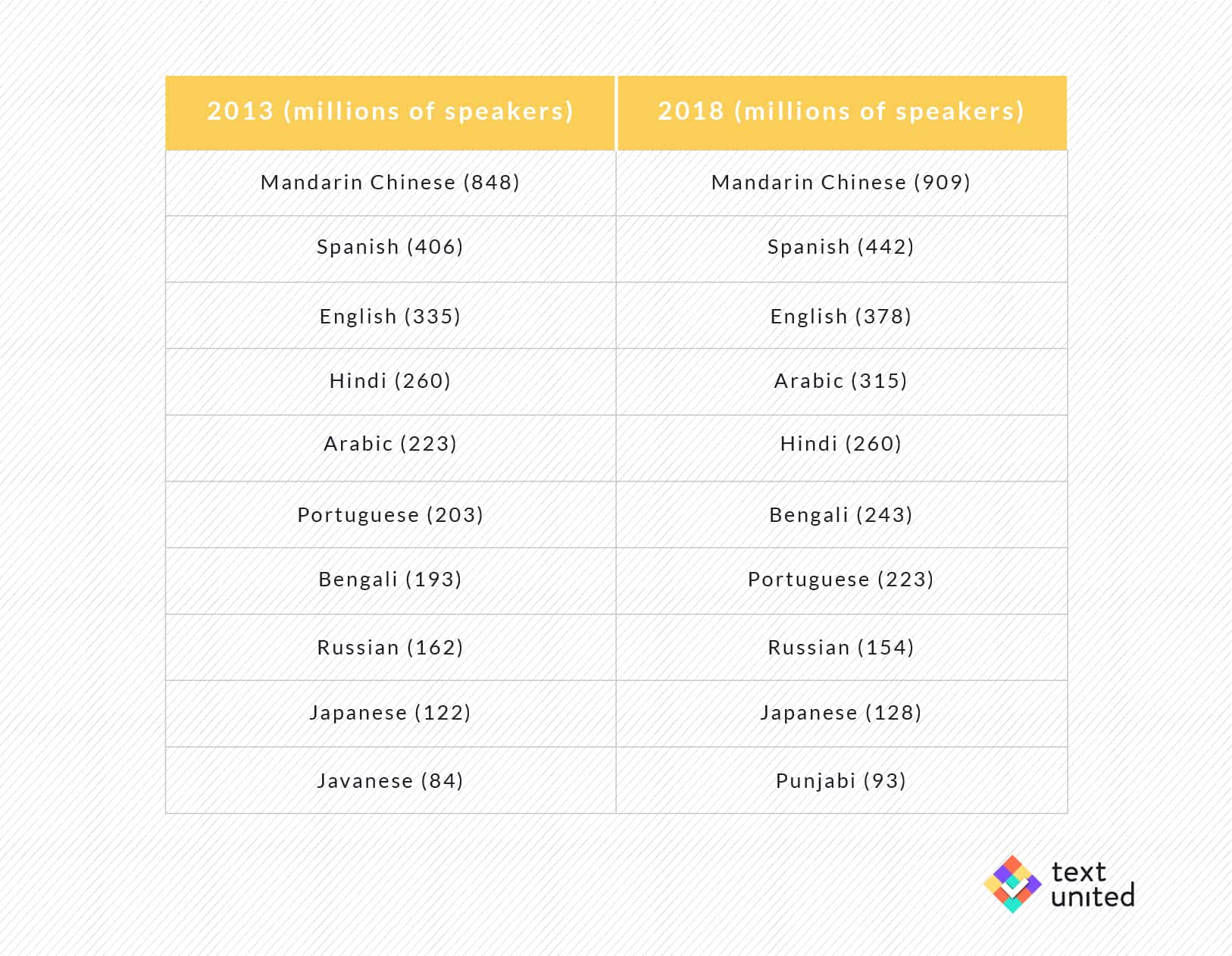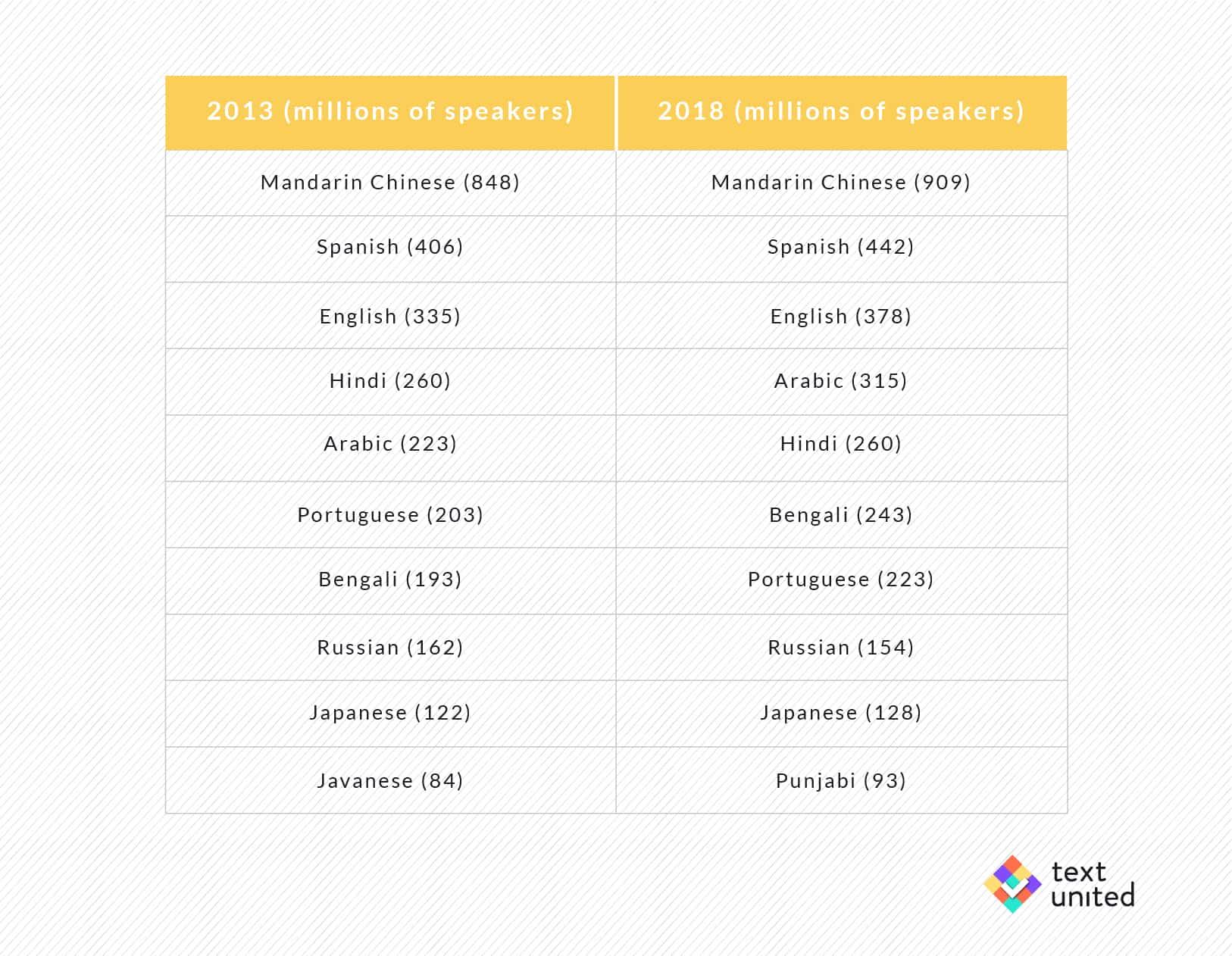 As you can see, even on this list, there were changes within such a short time period. Javanese dropped from the top 10 and was replaced by Punjabi. Arabic switched places with Hindi and is now the fourth most spoken language in the world when looking at native speakers alone.
The reason we are only looking at native speakers is the fact that most online users like to browse and buy on websites that use their native language. In fact, only 18% of people would buy products online in a foreign language, and 9 in 10 people in the EU said that, when given a choice of languages, they always visited a website in their own language, according to Eurobarometer's report.
The amount of content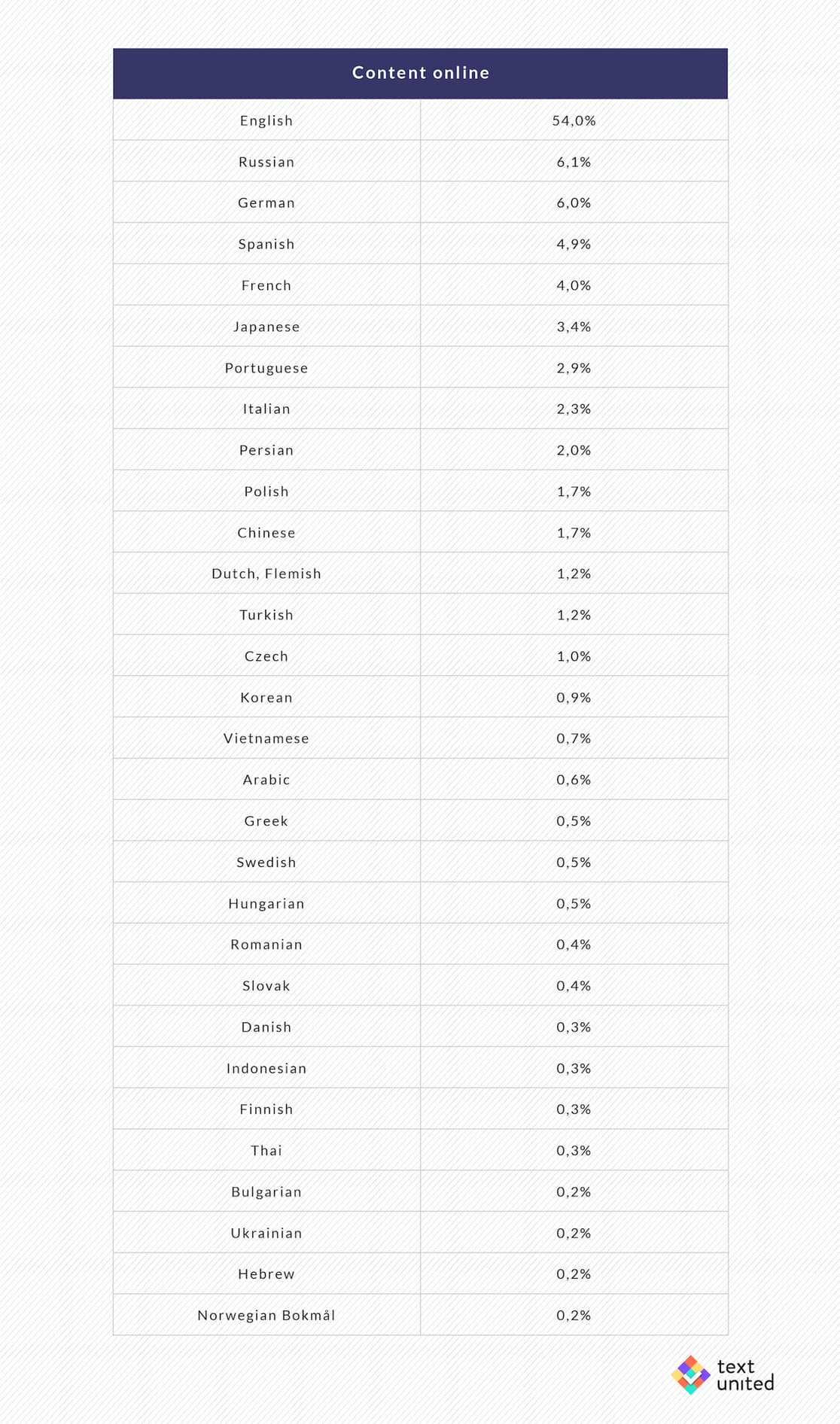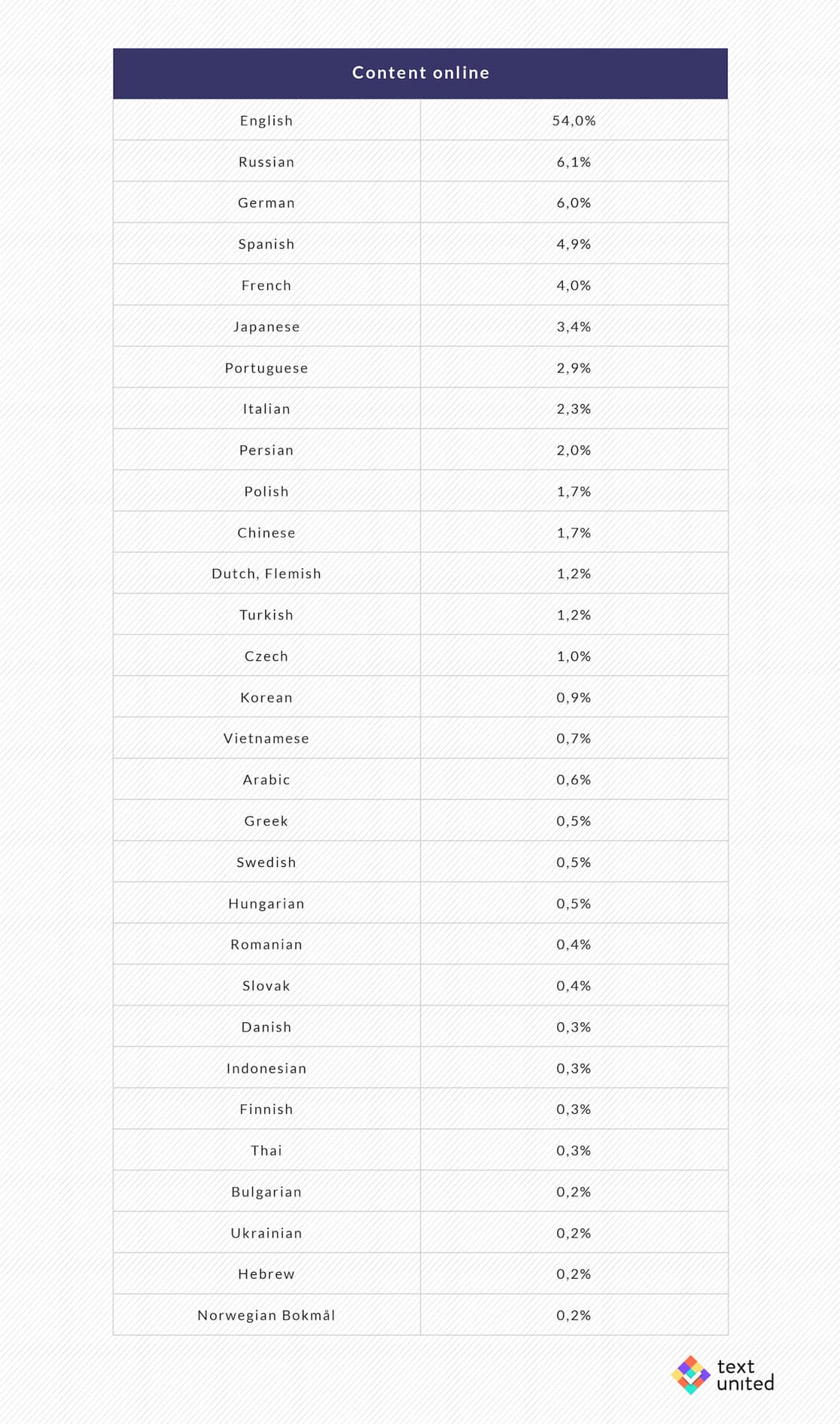 Chinese, with the highest number of first-language speakers in the world, and the second-largest number of Internet users is used on 1,7% of websites in the world. It shares 10th place with Polish.
Arabic, which is fourth in both the number of first-language speakers and the number of Internet users is used on 0,6% of websites. In 17th place, it's barely ahead of Greek and is below Czech and Dutch.
Languages such as Spanish, Portuguese and French score high on all the lists above, such as the number of users, growth rate, and the number of native speakers. None of these languages is used on a lot of websites, with 4,9% for Spanish, 2,9% for Portuguese, and 4,0% for French. Localizing your website into one of these languages is a smart move today and a good decision in the long-term.
Other specific languages, such as Chinese, Arabic, and Indonesian are the languages of tomorrow. They have an extremely high number of online users and native speakers, and they have impressive growth rates. As mentioned above, Chinese is used on 1,7% of the world's websites, Arabic is used on 0,6% of websites, and Indonesian is used on just 0,3% of websites. This means that there are huge numbers of people looking for content in their language, with very few websites actually providing that content.
Languages such as German, Russian, Japanese, and Italian, are safe languages to localize your business into for the next couple years to come, due to the high number of users.
This rounds up to the 10 languages that are the languages of the future. With a couple of additional languages, such as Polish, Turkish, Persian, and Dutch, you should cover 85-90% of all Internet users.
We have looked at a lot of numbers, but what does it all mean to you, when looking for the next language to localize into? Well, the answer is not black and white.
Conclusions and data-based decisions 
Of course, this is all statistical data. If you know that your business is very popular in Norway and your Analytics constantly shows you growing numbers from that country in the 'New Visitors' column, it makes more sense to localize your content into Norwegian than Chinese, at least for the time being. 
Whatever you decide, we can provide you with a very simple, yet powerful Translation Management System to handle all your localization needs. Regardless of whether you want to localize your files, website, web app, software, or all of the above, you can try our 30-day free trial and reach out for advice on how best to tackle the localization into the languages of your choice!