Technically, the in-country review or an internal translation review is a simple step in the translation process where the translated files are returned to an in-country reviewer (who should not only be a native speaker of the target language but also an expert in a specific field) in order to be reviewed and corrected accordingly.
Many companies understand that this process adds a tremendous amount of value to the translated content and that's why they see the internal translation review as, naturally, the final step of the translation project. Is this true? This is what we will analyze in today's blog.
Internal translation review: friend or foe?
Rumor has it, however, that an internal translation review, as much as it is useful and valuable for the outcome of the translation process, is also time-consuming, often causing delays and consequently, a lot of frustration. How come? We have a few possible explanations for that rumor.
Let's not forget that very often, people responsible for the translation project assign their internal in-country reviewer to it, completely sure that this final step will be a quick check-up of the translated content. They are completely unaware that their bilingual colleagues may not be necessarily the best translators and experts in a given field at the same time in the first place.
Secondly, an internal translation review is not simply a quick check-up of a translated content. An in-country reviewer must make sure that the translation represents your company in the local market and properly reflects all specific aspects and nuances of your products and services. All of a sudden, 'check a few of these files to make sure they are translated correctly' doesn't sound so lightly, right?
Add to that the fact that people assigned as ICRs to the translation projects usually have their own workload, too. There you go – the delay has been created and the frustration grows. Is there a way for an internal translation review to look differently? We also have an answer to this.
Internal translation review made as easy as it can get
Every advanced translation solution should offer a dedicated editor for in-country review tasks. This is the case here, at Text United, where the reviewing process is made extremely easy.
Workflow for a high-quality translation project will usually look like this:
The project manager creates the translation project
The translator works on the translation task
Proofreader reviews and corrects the translated content
The in-country reviewer reviews the translations and approves or rejects individual translated segments, and collaborates with the translator and proofreader to adjust the final changes
While the Project Manager has the options to preview and leave comments for each translated segment, the In-Country Reviewer has additional options to accept or reject translated segments. Both team members can also add reference images for each segment individually.
The project creator for internal localization projects will get the ICR task by default for each translation project that they create, unless specified otherwise in the Desktop app.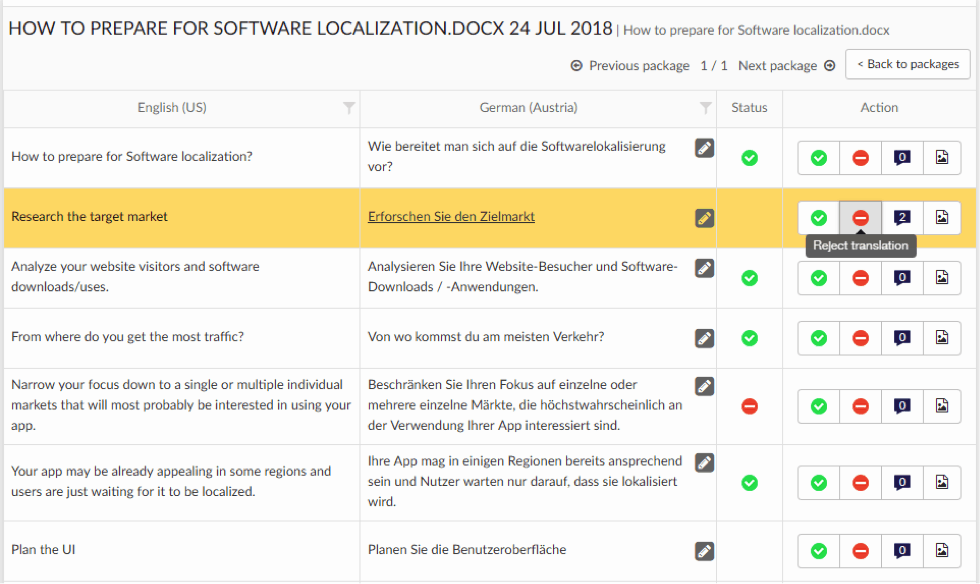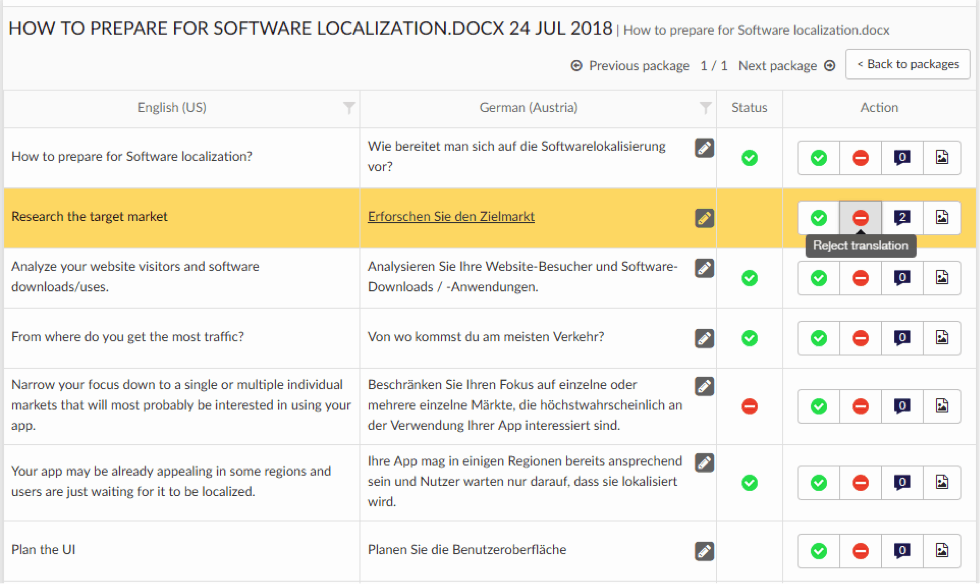 Translators will receive notification for each comment an ICR or Project manager makes. They can filter out approved or rejected segments in the translation editor and correct them according to the feedback from the reviewer, making the collaboration between the team members extremely straightforward and easy.
Now an internal translation review can finally be a quick check-up
If you want to about forget about delays due to internal translation review, speed up the translation process and make your ICRs happier, try our system for 14 days for free! If you have any questions, feel free to contact us as well – we will be glad to help!