What's Dropbox for? It's a modern workspace designed to reduce busywork-so you can focus on the things that matter – says Dropbox on their website. And it's true! You can imagine the world without Slack, Trello or Evernote… that would be an organizational mess, yes; but without Dropbox, the stuff could really start to go down.
It was one of the first popular platforms of this type, presenting a whole new mirage of possibilities when it comes to project management. Dropbox has it all: file storage advanced plans, team folder manager, account transfer tools and Dropbox paper that enables you to manage the project with your team. This tool has literally everything to manage a project in an effective way and this applies also to translation project management!
Till now, Dropbox is one of the most used collaborative platforms for translation files and it's not a surprise. We decided to add Text United to the mix that would result in empowered translation and made its deliverability and quality as easy to access as the files on the world's most popular cloud workspace. So we did!
A lot of our customers that need their marketing and promotional material on the go, keep all their translation files organized in folders in their Dropbox storage. Blame the popularity! Dropbox's system structure encourages to have separate folders for actual projects, and separate folders for target files.
We decided that we need to come up with an integration that will make the translation management even easier. We organized it in a way so that the translated versions of the files can be directly uploaded to the folder of choice, by entering the project details page, and clicking on the 'save to Dropbox' button. This way the translated content is available in his own cloud space for all of the devices!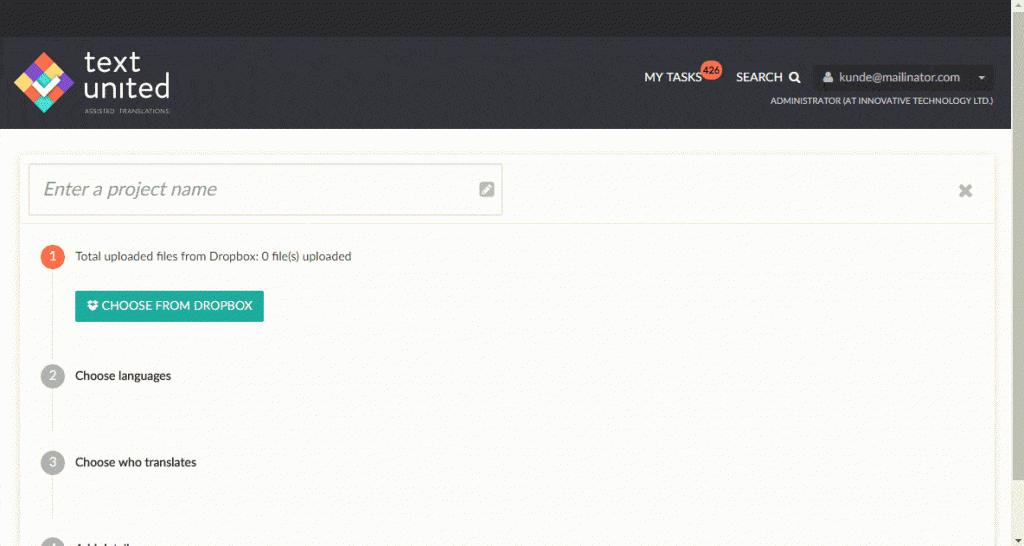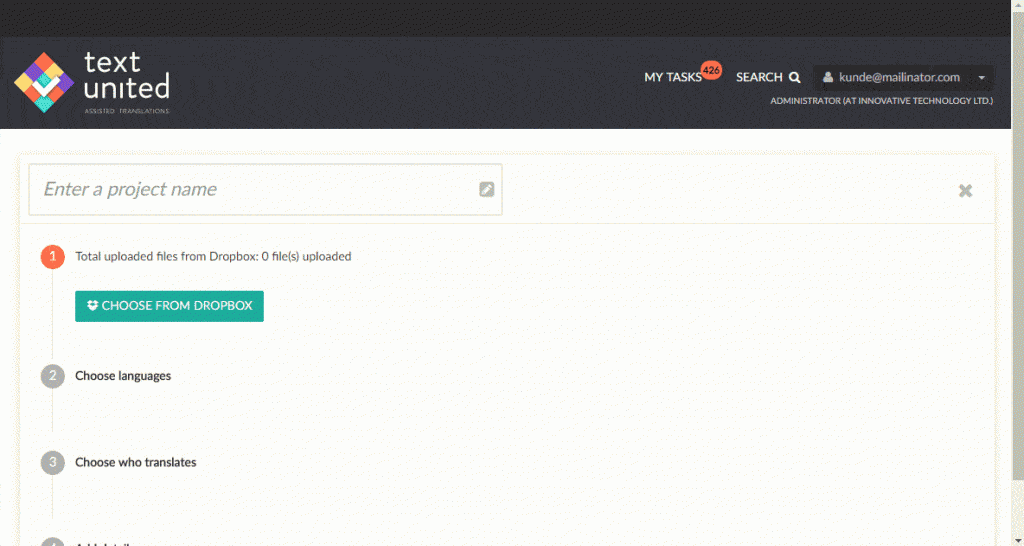 Isn't it neat?
Text United & Dropbox Integration That Feels Native
As we mentioned, it's no surprise why Dropbox is one of the most popular cloud storage services out there, at least not when you think about its user-friendliness and integration with so many online services. Text United integrates with Dropbox seamlessly, enabling users to create new translation projects with files that are stored in their cloud storage.
The best part is that projects that are created from Dropbox are no different than regular file upload projects! After choosing the 'Upload files from Dropbox' option, you just log in and choose the files you want to translate or send for professional translation:

After you selected the files for translation, you can choose from 4 types of localization projects. Depending on the quality level you will need for your translation, and your content type, the options are following:
Always remember that you don't need to limit yourself to the most popular options. What is the most important is to research before the project starts and analyse your content, trying to find the best translation approach.
Translated files can be synced back to your Dropbox cloud. After a project has been completed, just open the Project Details page. From here, you are able to download your translated files or save them directly to Dropbox.


Localization Managers Love The Simplicity
By using Dropbox & Text United Integration you can focus on getting the work done without managing the project on more than one platform. No matter how you choose to deal with your translation project –  our system allows you to freely navigate and manage your files within Dropbox and Text United.