It's now been more than a year since we introduced the Company Dictionary in Text United. This simple tool makes advanced terminology management an easy task.
Since terminology management is an advanced tool, it was until recently only accessible in the Text United desktop app. It is, however, accessible now in the web app as well. In this short article, we will present the most recent updates we made to this awesome tool.
To enter your Company Dictionary, simply search for any term, in the internal search engine: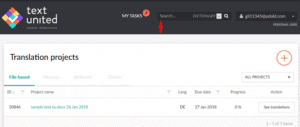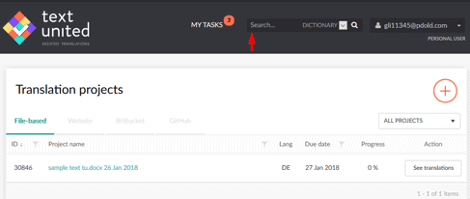 New improvments to

Company Dictionary
Restrictions for users
Text United has three types of accounts within a company: Administrator, Power User, and User.
Regular Users are not allowed to make changes to the terminology. They can only enter, search, and preview the terms in the Company Dictionary.
Power Users and Administrators have no restrictions in the Company Dictionary. They are able to add new terms, accept or reject translations, and add details to individual terms, such as pictures and descriptions.
Domain
The domain of a term is now shown in the company dictionary. It's also available as a preview for each term in the translation editor.
Set a term as Default
The "Default" button will mark a term as the default translation. In cases when multiple translations are available for one source term – translators will be able to recognize the default term which they are supposed to use in the translation project.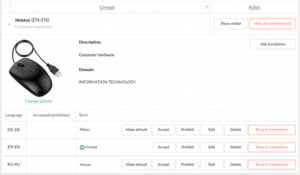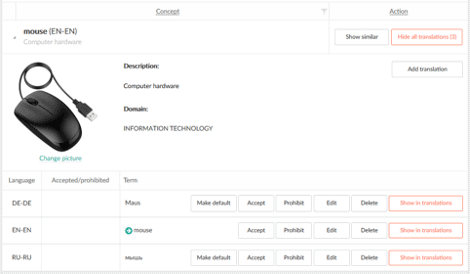 Preview details for Terminology Proposals
Your terminology repository will contain all terms merged from projects' glossaries (after projects' completion) and the ones you added or imported manually.
These terms are automatically added to your projects' glossary and will be displayed as proposals on the right side in the translation editor.
If a term contains additional details, you and your translators will be able to preview this information. This will help you to better understand the term and the context in which it will be used.