Nowadays, businesses have to cater to more and more global users and since more and more markets connect, the demand for website translation is growing rapidly.
Most companies use popular Content Management Systems to build their websites, so naturally, the first question they have in mind is – how to start with CMS translation?
In this blog, we provide an overview of the most popular CMSs and explain that today, CMS translation is made incredibly easy.
Top CMSs
WordPress is the absolute top open-source CMS with over 58% of CMS market share! It doesn't surprise us at all – it allows you to create a free, SEO-friendly website that can quickly help you grow your business.
Joomla is the second CMS on the podium with 5,7% of CMS market share. It's also an open-source CMS and it allows you to create all kinds of websites – from basic to really sophisticated.
Drupal is the third on the podium but it's definitely not the least! It stands out with its flexibility, scalability and being e-commerce ready. What confirms this? Pinterest, Nokia, Harvard University as well as NASA use Drupal as their CMS! Now, this is what we call a good company 😉
Shopify is one of the fastest-growing CMSs for e-commerce websites with over 600,000 online merchants using their platform!
Squarespace is a continuously growing CMS that includes a powerful website builder, a blogging platform and a hosting service. 
Wix enables you to build intuitive website interfaces with the help of artificial intelligence to simplify website design. It must work well because Wix users doubled since 2018!
Magento is one of the most popular e-commerce building platforms with 13% users of all websites using e-commerce technologies!
Prestashop stands out with their e-commerce solution that offers a super-easy setup, comprehensive product features and elegant themes for medium and large online stores.
CMS Translation
We have good news! It doesn't matter which CMS you choose – translating websites and e-commerce stores have never been easier. While in the past it would involve a lot of manual work, now CMS translation is made easy thanks to Website Translation feature by Text United.
The first step in setting up a website translation project is to scan the website. This is done usually in the background while only the homepage is added to the project by default. Scanning a website can take anywhere from a few minutes to a few hours depending on the number of pages your website contains.
Don't worry – it runs in the background if you don't select your pages right away, and you can start translating immediately after the project has been created.
Integration with CMSs
The so-called integration with various CMSs is always the same. All you have to do to integrate your CMS with Text United is to copy the code snippet and paste it into the head section of your website's HTML code. Your CMS will probably already have a dedicated HEAD and FOOTER editor in website settings, where you can paste your javascript code.
One of the most used CMSs (also mentioned above), WordPress has a dedicated editor to install scripts to your website. To proceed with your CMS translation, simply navigate to settings and open Header and Footer scripts to add the Text United code snippet.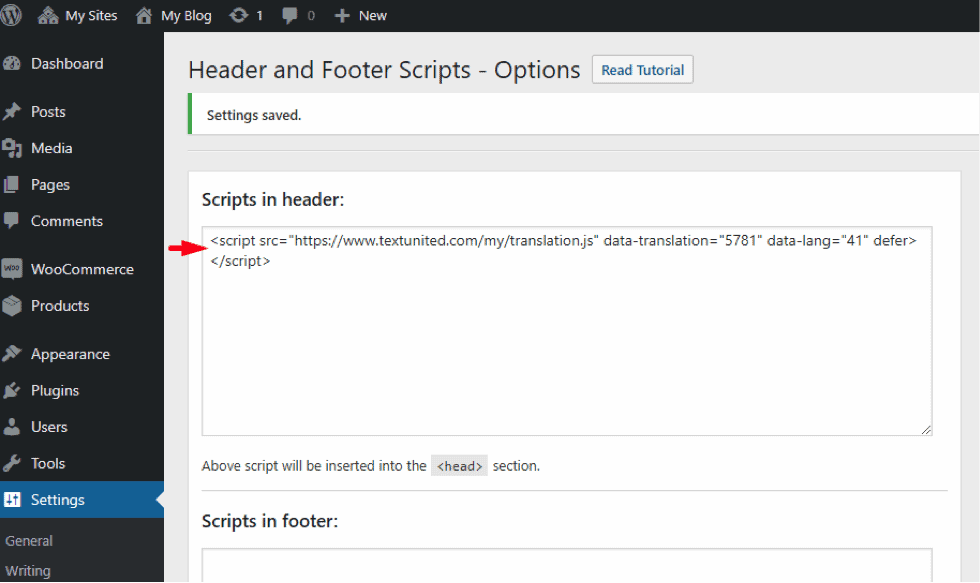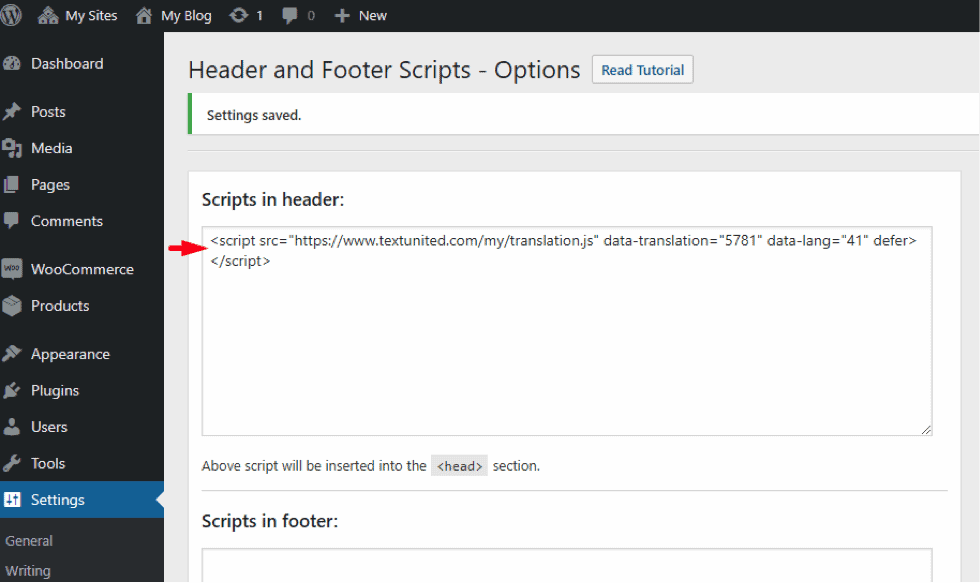 By pasting the code snippet into the HTML code of your homepage, the language selector on your website will become visible once the translation projects are published.
What about other CMSs such as Jimdo, Weebly, or WooCommerce? Good news again – it works the exact same way!
The integration also enables you to log in to the translation editor on demand and launch the process directly from your website. The script automatically recognizes new content on your website, too! You can sync it with the project and start translating immediately.
Translate your CMS with ease
If you have any doubts about integrating your CMS with Text United, feel free to contact us! We will gladly help you integrate our translation solution with your CMS, discuss the best translation approach for your content and answer all of your questions!