Modern dynamic websites use Content Management Systems. But CMSs are not static pages, but database websites for the content model, where you have the ability to continuously create and update your content. It sounds pretty amazing, but it also means that running a multilingual CMS website is a real challenge.That's why we decided to dig a bit deeper and create an analysis on how the most popular CMSs interact with paradygmates of translating them.
There are a few common touchpoints – if there is a base system working in English in default, there are certain extensions and plugins enabling the system to be translated and localized. Sometimes, it is a native solution, built in the CMS already. Sometimes there are external providers of that function. 

We work with both native and external solutions – our infrastructure has a powerful technology that enables the solutions to be even more extended.
We invite you to get knowledgeable and find out how you can integrate translation into your CMS!
Google Sites
Google Sites is a tool for building websites with a super easy UI. It falls under the collaborative category in G Suite, meaning that you can get other Google users to the website creation process too. This is what makes it so powerful and such valuable tool for teams. However, its biggest advantage is the simple website builder itself, which is very intuitive and easy to use. That being said, it's also stripped of a lot of more advanced features.
What about translation? Fortunately, the "embed" option allows you to insert your own code. That makes it possible for you to translate and publish your translated page with a third-party language provider, for example, Text United. How to do it? Simply insert the custom HTML element to your site and paste the code snippet there.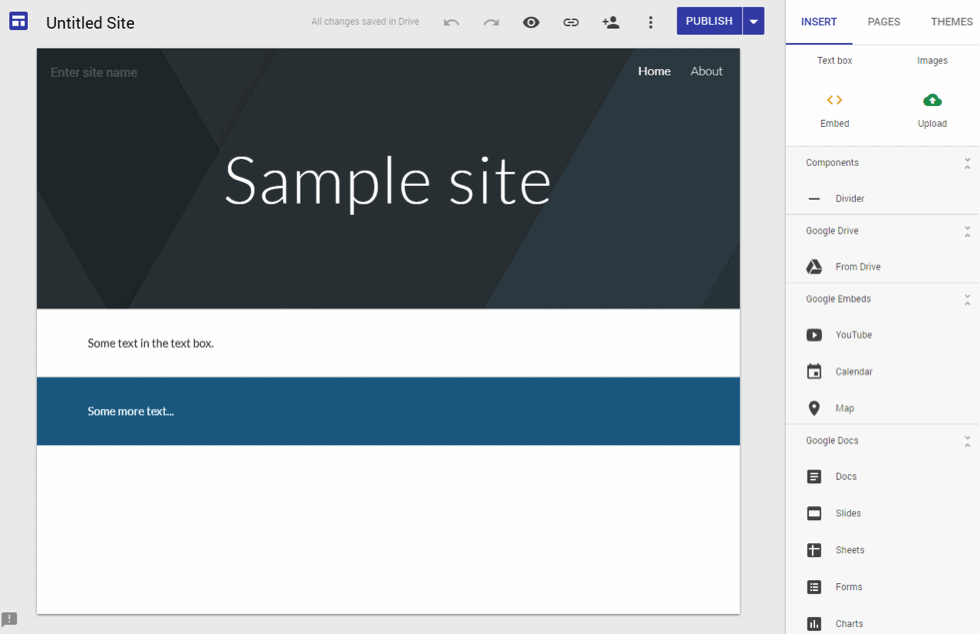 Adobe Experience Manager
Adobe Experience Manager is a versatile content management solution. In fact, you can use it for building websites, mobile apps and forms. It is also suited for enterprise-level businesses to easily publish and manage websites. Apart from that, it includes powerful features that allow businesses to develop and implement workflows, manage assets, launch marketing campaigns, and integrate an e-commerce platform, all in a central location. All of this is also integrated directly with Adobe's Marketing Cloud, so businesses can see exactly how well their apps are actually performing and integrate them with this existing marketing solutions. Wow.
However, there are some cons to it, too. This system may seem demanding since it's a feature-rich tool and it has a pretty steep learning curve. There is no free trial or developer version to test it and the setup seems complicated and not user-friendly. It may be considered less suited for small to medium-sized businesses simply because of the cost and initial setup time. Out of the box, it would need some heavy customization to cater to the business's needs. Additionally, it's built on Java-based technologies, so it is only easy to learn for someone coming from Java background.
AEM has integrations with third-party translation services, including Microsoft Translator pre-installed.
You can read the process of an integration here.
Sitecore
It's very visible that Sitecore's creators were enlightened with deep customer insight. Not only does it feature a CMS for your website, but it also provides comprehensive tools for marketers that enable them to have a glimpse of the visitors' needs. Thanks to that, they can deliver a more personalized experience —from the initial visit to post-purchase engagement.
The Sitecore CMS provides useful features to create and manage websites targeted for global markets. Even though it provides a straightforward way for handling localized content, designing a multilingual website in a way that is extensible and maintainable can be challenging in an advanced solution like Sitecore.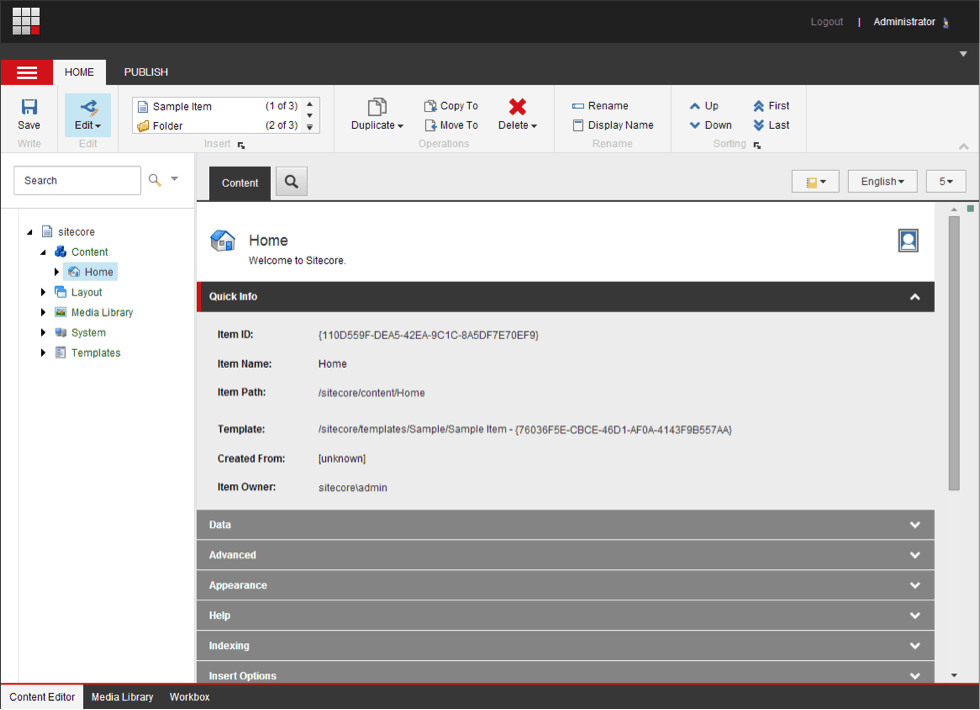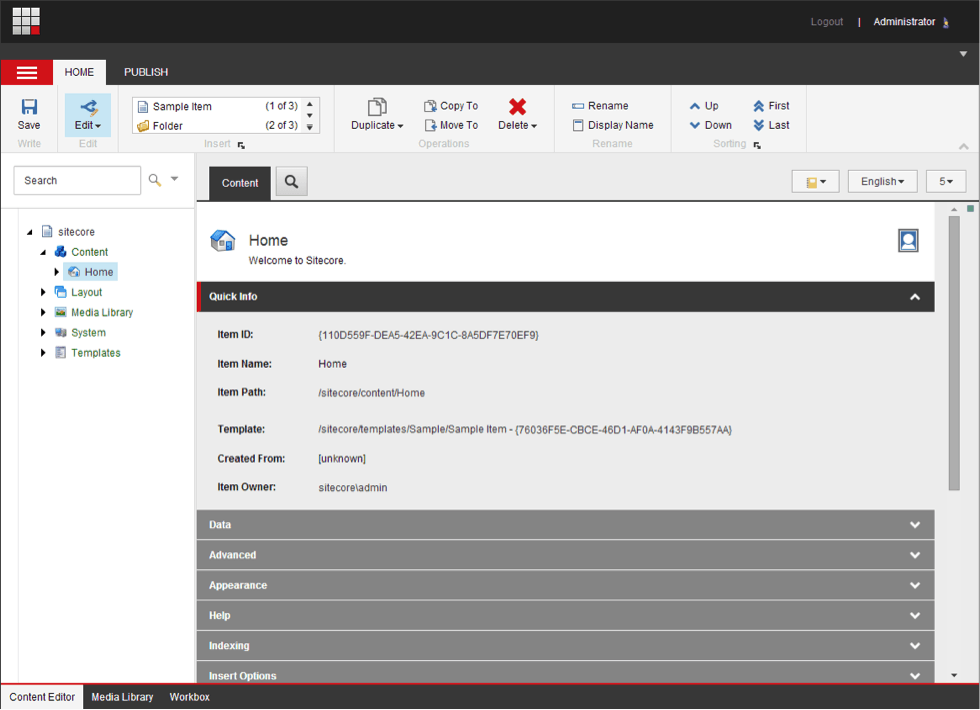 If you are looking for an easy solution when it comes to localizing Sitecore, Text United works with it as well as with any other CMS.
Weebly
Weebly is another drag and drop website editor and CMS tool that correctly prides itself to be simple and intuitive. Is it true also when it comes to its localization?
As easy as it is to use, Weebly's only native solution for building a multilingual website is to create a new subdomain and create duplicated page with a plugin. The plugin enables a language selector and displays only pages of a single language at a time. This is a paid app with the subscription starting at 2$/month.
Another solution is simply using third-party translation services recommended in their app store. At the time there are three of them (LocalizeInternet, Localizer and Bablic Translation) and all of them are paid plugins.
These plugins offer a TMS within your Weebly UI. By using these tools, the user can either translate by himself, use machine translation or hire a professional translator, and calculate cost estimate. How to use it? You just click directly on a sentence, edit and save it. It's a simple and elegant solution.

Our live editor is compatible with Weebly, too!
Squarespace
Their UI and website building tools are really intuitive and user-friendly. We can clearly see why Squarespace is so popular, with somewhere between 40-50 thousand users (unofficially, according to Quora). What's their suggested solution for maintaining multilingual sites?  If you're using regular pages, it's best to have the same design and content across all languages. Like this, you can duplicate these to avoid manually recreating page layouts. However, after duplicating each page, you have to translate the text into text blocks and image block captions.
Squarespace support for translation doesn't include automated processes. The users are rather tied to the simple UI, with the necessity to duplicate the pages, copy and paste the content and organize the process on their own. 'Their own' organization is, of course, translating the content on their own or its manual extraction for professional translation followed by manual insertion of everything back in place. Language translation services are not included, either.
They do mention, however, an integration with a third party translation service on their help landing page. It's done by inserting a script which is something similar to our Live Editor in advanced settings of your website, called code injection:


The best part – all of them will work impeccably with Text United!