Translation mistakes determine the translation quality and translation quality changes the way prospective clients perceive your business. And there are a lot of companies that make a whole lot of translation mistakes. Because listen up, my friends: as soon as the users see your sophisticated website translated in an unequally sophisticated way by Google Translate, they will be long gone and looking for some quality brand that put some effort into being fully accessible to them.
You've probably invested a whole lot in establishing your business, putting on a fancy website out there, and developing your software so it's, of course, the best among the competitors. Why would you skip the localization part?
Our shot while analyzing the subject was – maybe it's not that people do not see the importance of localization. Maybe it's because they don't know how to prepare for it properly? So here it is – a few hints on how to avoid translation mistakes. Read on!
#1. Plan Software Localization Ahead
Text embedded directly in the code is a bad idea for localization. Instead, you should create resource files for your software. These files will contain any strings including names, titles, messages, and other text the users will see when using the app. These external resource files are loaded by a library that uses a combination of language and country to identify the right string. Once you place your strings in resource files, these files can be translated and placed back in the appropriate locales.
#2. Separate Text From Images
It's a common practice for a website to contain banners and other various graphics with embedded text in them. This can lead to a lot of translation mistakes. The text needs to be editable in order to be processed and translated by any translation software or CAT tool. A good practice is to create separate files for a text that is contained inside an image file. These images will need to be recreated again using the translated text after the translation process is done. You can avoid DTP costs by doing this yourself.
#3. Always Use UTF-8 Encoding
Use the right encoding to avoid translation mistakes. Using the wrong encoding can break the translation or make the file unreadable in the CAT tool. In most cases, UTF-8 will be the best choice for the localization of your software. It supports most languages (61 to be precise) and 90.3% of all websites are encoded in UTF-8, too.
#4. Hard-Coded Units, Numbers and Dates
Not all languages and countries use the same currency, time and date formats, units such as kilograms or pounds, and so on. These may be subject to change in the translation process and hardcoded numbers should be avoided.
#5. Understand What You're Translating
It seems obvious, but it's not the same to translate a poster or a brochure and translating an application. When translating in a CAT tool, the translator cannot see the original file and how it looks, but it's easier to understand the context of what is being translated if it's for example marketing material in the form of a .docx file. It's easy to use reference material in these cases and open the original file to help the translator understand the context better.
But translating software requires more skill and understanding of what you're translating. Here's a simple example:
File, Insert and View are almost always translated for the German version of the software to Datei, Einfügen and Ansicht.


You could, however, translate it as File=Akte, Insert=Einlegen, and View=Ansehen which would be also a correct translation depending on the context but would probably create a bit of confusion for German-speaking users of the software since all German translated applications use "standardized" translations for software.
#6. Inform Yourself and Avoid The Struggle
Websites can be actually translated in-context, directly on top of the website, making it easier to understand the context and see live what elements in the layout are changing. Why would you do it in the traditional way? Text United website translation enables the translator to even edit the size and line spacing of the translation in case the translated text is "overflowing" from a box or field.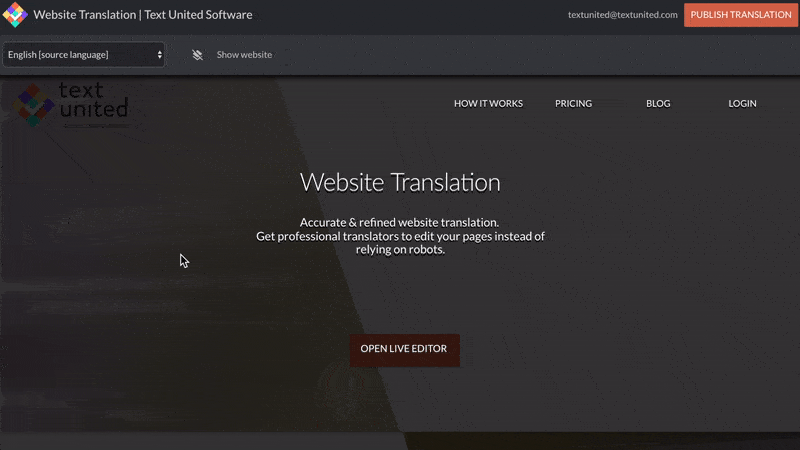 #7. Never Give Up! 💪