If you work with translation projects, what is the first thing that you value the most? I'm guessing that the majority of you answered in their minds that it isn't just one, but a few; effectiveness, quality and costs saving being on the top of the list. Considering the fact that managing a translation project like website translation can very quickly get challenging or even messy, checking these three boxes of your demand may be difficult without engaging a language service provider or an advanced translation platform.
Should you automate website translation?
If your company is lacking proper translation project management, there is no way you can speak to your new target audience AND keep translation quality high and the costs low. The answer to all your problems may be the automation of the translation process.
When you automate website translation, the process will still include a professional translator work, but it simply cuts all of the unnecessary 'touch points' that slow down the process but do not affect the quality. In this way, a typical translation project workflow is slightly changed, resulting in a quicker and more cost-effective translation. Automation may not be for everyone, but if you are struggling with website translation projects and your websites is frequently updated with new content, you should definitely consider this option. In this blog, you will read how to automate website translation.
A guide to website translation automation
Text United enables automatic connection of the new content from your website to the translation platform. You can sync the translation platform with sources of your web content, software code, marketing material, or technical documentation. Depending on the type of content and the language combination, you can opt for machine translation + human post-editing, which will hasten the process and reduce the costs of every new translation. Remember that it might also reduce the quality (although, it doesn't have to).
We like to keep it simple, so once you set up your website translation, all new content will be automatically sent to a depository. From there, every 24 hours, the collected new content will be sent to the translation platform. If you chose machine translation, the new content will automatically be translated and then, reviewed by a translator.
It is very easy to set your new content ready for translation and connect it to the system. Now, enough bragging and onto practice: What you're about to read is a short guide through the project creation stepper. We are sure that after reading our tutorial, you will know how to automate your website translation!
To connect your website with Text United, click on the Create a project button, and select Website Translation.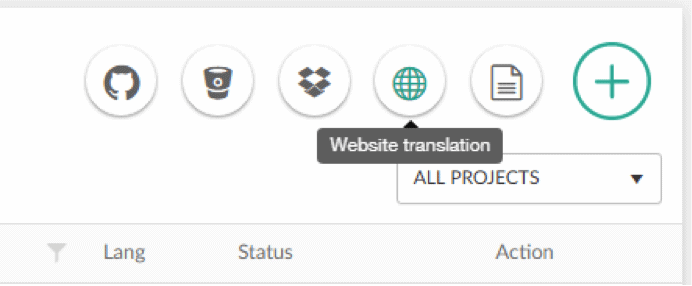 #1. Enter your website's URL and click SCAN
#2. Only your homepage will be included in the project by default, but keep in mind you can select all subpages you want from the Advanced options.
#3. Choose the desired language or multiple languages to translate your website into. Click Continue.
If you have your own translators, you can choose them in an option Me and my team. If you want to outsource the work, you can send the content to Text United professional translators as well!
Note that Machine translation is ON by default and your first page will be machine-translated. Once translators start editing these translations, the edited segments will be saved in your translation memory.
Synchronization makes website translation automation possible
After you've connected your website to Text United and set up a translation project, the synchronization process will automatically take place every 24 hours. Any new content that is discovered on existing pages will be pushed to your translation project. The website translation process at Text United comes with a script tag containing a Javascript code to add a language selector to your website. Remember that you will have to make sure to install the code snippet in order to make use of the automated sync process!
Additionally, users can manually sync the website if needed. Simply open your project details page and navigate to Settings.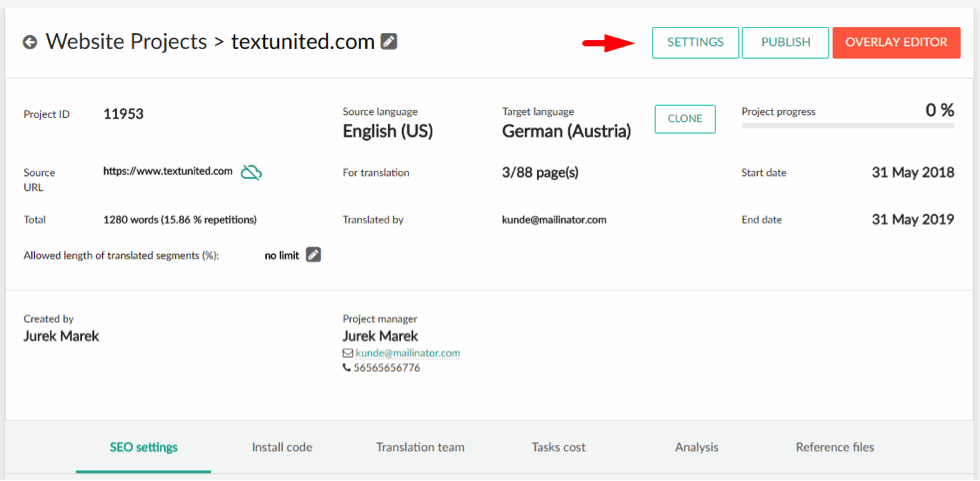 From here, you can rescan the website, add new pages to the project and sync existing pages as well.
#1. Rescan the website to discover new pages
#2. Select the pages you want to add to the project from the list
#3. Update project – This will sync your project with new pages. Previously selected pages will be synchronized as well and new content will be added to your project.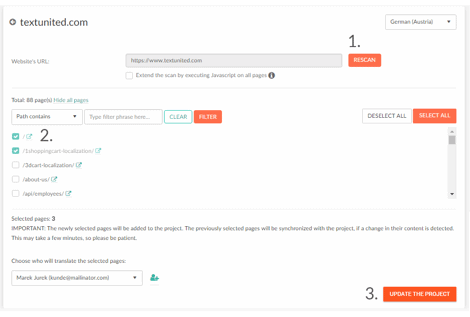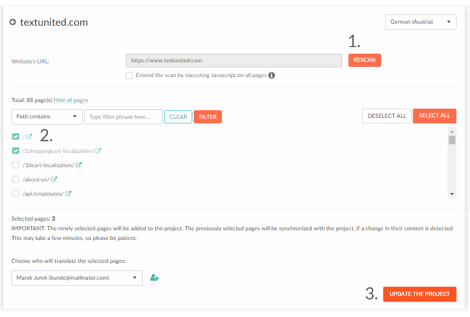 After you're done just install the code snippet and publish your translations.


To make your localized version of your website available to your visitors you will need to install the code snippet in the HEAD or BODY section of your HTML code.
The snippet will automatically scan your website for changes every 24 hours and push new content to the existing translation project. When the translated version is ready to go live, simply publish your translations and the language selector will appear on your website, making it possible for your visitors to switch to the desired target language.
If you feel that the translation of your website that you frequently update could be more efficient, automation might be for you!