If you have an app that works great as a product in your home market, your main goal is probably even more revenue and more users. A product that has every feature working impeccably and looking great enough to serve users sounds awesome, but how do you get to that bigger scale since you already hit the top numbers at home?
Go for app localization
It may sound too obvious, but yes, you go global. The numbers are here to confirm that theory: around 90% of European users claimed that they would always choose using a product in their native language and almost 73% confirmed that they are more likely to make a purchase when the service is offered in their mother tongue. The conclusion is clear: skyrocketing your app has a lot to do with ever-heated localization market.
Now, to the app localization itself: how do you prepare for it, how do you start, and finally, how do you execute localization? We've decided to explain how to do all of that, so you are 100% sure about what steps to follow for proper app localization. Let's start!
First of all, do your research! Where do you want to go with your app? We'd rather recommend not to Google 'five most popular languages in the world' and go with the flow, but rather get to know your stuff and think really strategically – as much as app localization is much easier now than it was before, it is still a process that needs to be properly organized and planned thoroughly.
You don't want to bleed your time and money to prepare for a market you will massively flop at. For a proper food for thought simply check your customer database! Maybe you already have foreign clients using your app in your source language? Check these groups, examine and pick the ones with the most potential.
The second step is to choose the approach based on your chosen markets. Generally, there are two. To find out which one fits for your product, you need to answer two questions:
1) Do you want to hit a bit wider audience with a product localized enough for the audience to understand, and then scale it up? Go for Minimum Viable Localization. It stands somewhere between the final and polished product, offering a healthy minimum that will still draw the users but will not ruin your pocket. It's a great option if you have a big market to hit on and you're on a budget.
2) Do you want to localize your app for a few markets but do it thoroughly? Go for Deep Localization. As opposed to MVL mentioned above, Deep Localization leaves you with highly polished localization of your product, offering tailored features and UI changes. Works well if you are sure which specific markets you want to conquer.
Think what could be the best choice for your app!
Captain Obvious strikes again! But seriously, the most important part of a high quality translation really are the translators. Pick a language service provider where you're able to organize your own project with in-house translators or to completely outsource the project. Remember, everything needs to be as flexible as you need it. And how these two approaches work?
1) In-House translation Project
Every advanced translation platform will weapon you with as a TMS for organizing your own translation projects. With an easy to use UI and powerful tools like Translation Memory, Machine translation, Terminology management – your translators will have everything they need to work efficiently and deliver a high-quality translation.
At Text United the platform enables the project manager to do the following:
– Create a project from your GitHub or BitBucket repository
– Assign different translators and proofreaders
– Review translations and collaborate
– Keep track of the progress
– Approve or reject translations or assign an In-country reviewer for the task
Seems neat, right?
2) Outsource to Text United
When creating a new localization project, you can choose between an in-house project or send your files to Text United. You get to choose the delivery time and our team will assign professional translators to your project. With outsourcing to Text United, everything is transparent. You will be able to:
– See a cost estimation for the project right away
– Request a quote (you will be able to accept or reject it with a click of a button)
– Keep track of the progress of your translation project
– Preview the translations
– Leave comments and collaborate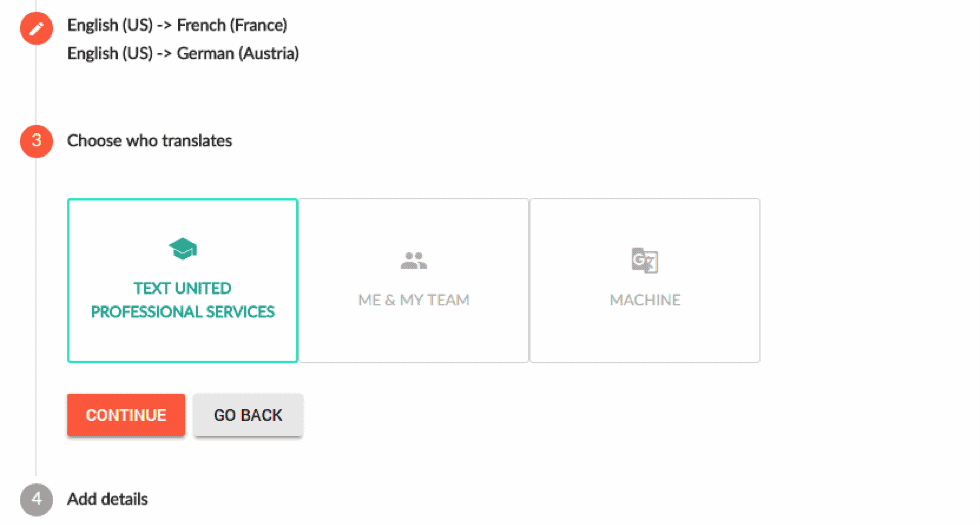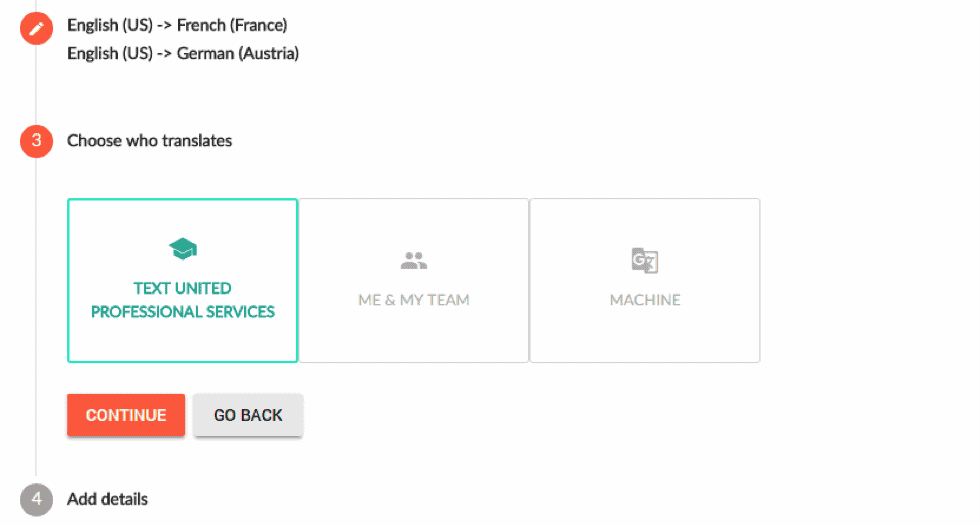 Everything you translate with Text United is saved to your Translation Memory. Future projects with similar content will be cheaper, and translators will finish the task faster.
#3. Go For App Internationalization
To support multiple languages, you will need to create a few adjustments to your app. This is exactly what's called internationalization (i18n). More specifically, it involves planning and implementing products and services so that they can easily be adapted to specific local languages and cultures.
At Text United, a general workflow for internationalization involves:
– Extracting strings and resource files from your app code. You have to separate textual content (translatable text) to a separate file. This will allow you to translate it and import the translated version back without touching your code.
– Making multiple resource files for each language.
– Naming and storing each file appropriately for each language.
– Extracting text from pictures into separate files. If you have the text saved in pictures, your graphic designers will have to recreate the same design in different languages with adjustments to different cultures.
When a user opens your app, the operating system will load the appropriate resource file that is related to the user's language settings.
#4. Prepare and Use Reference Materials
Reference files will help translators to understand the material they're working on. Be sure to prepare quality reference material so Translators will be able to understand the context of the source text. You don't want two buttons of your app to be translated as 'cancel', even though one of them is supposed to be 'discard', but it just translates to the same word in a given language. Been there, seen that!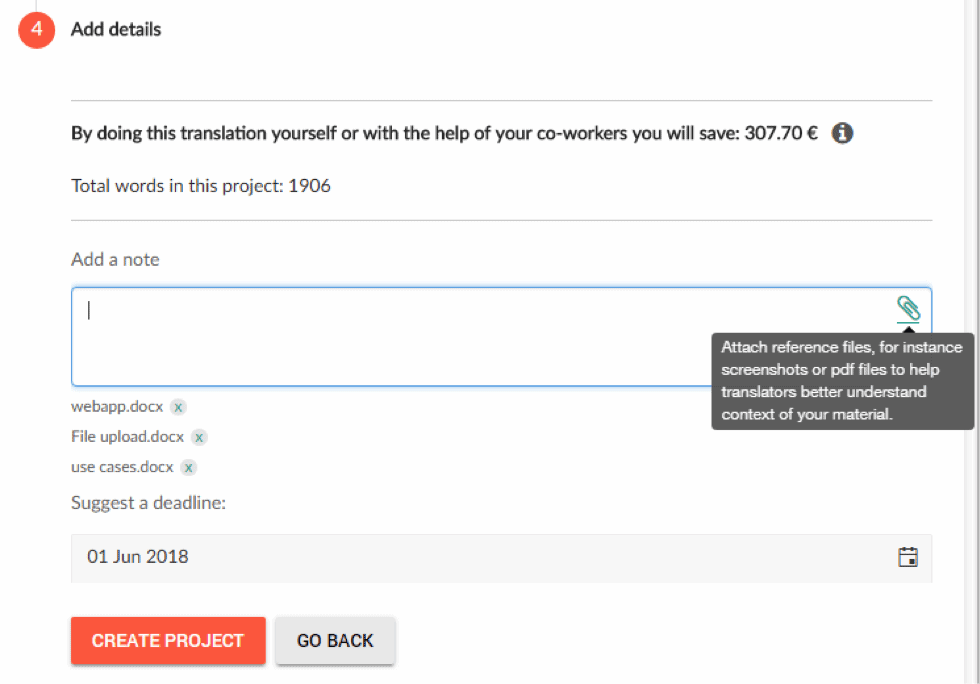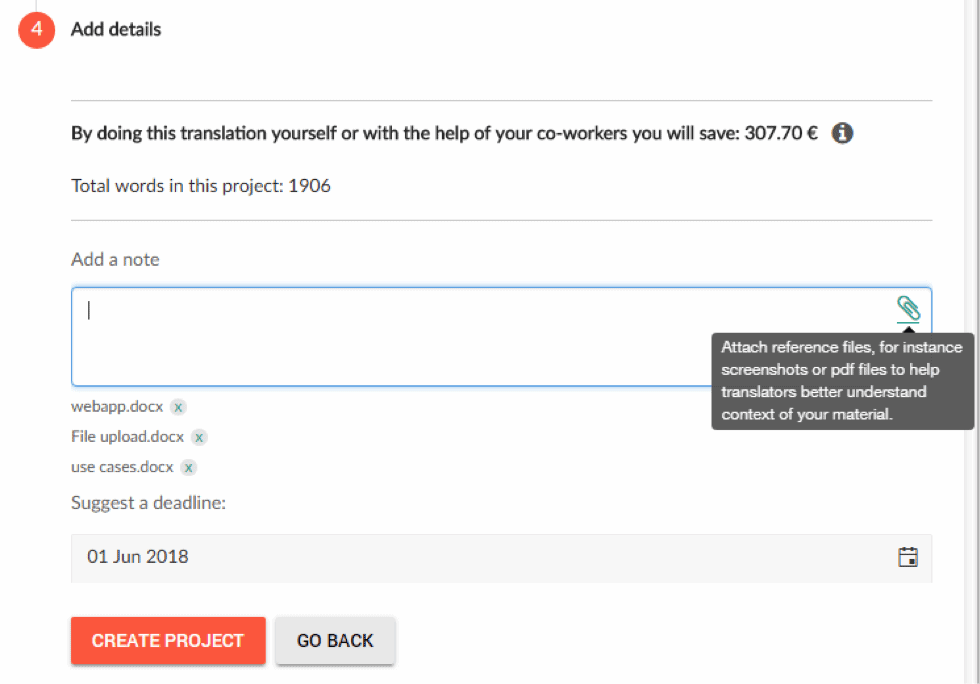 At Text United you can add reference files in the last step of the project, in the creation wizard. However, they can be added even when the translation task is already in progress. Translators are able to access the reference files on the translation project task page. Efficiency and communication go hand in hand!
Terminology materials are among the essentials. Most companies use a great number of industry-specific words which need to be accurately stored, shared and translated. Project managers will often have their preferences for terminology used in translation projects. To maintain a consistent terminology throughout your translations projects, use terminology management; especially if multiple translators are working on it.
At Text United, it's super easy to use. For each translation project, a Glossary that contains key terms in your source language is created automatically. You can provide translations in there or even import terms from a .csv file.
Additionally, if you migrated from another translation platform, a whole terminology repository can be imported to Text United as well.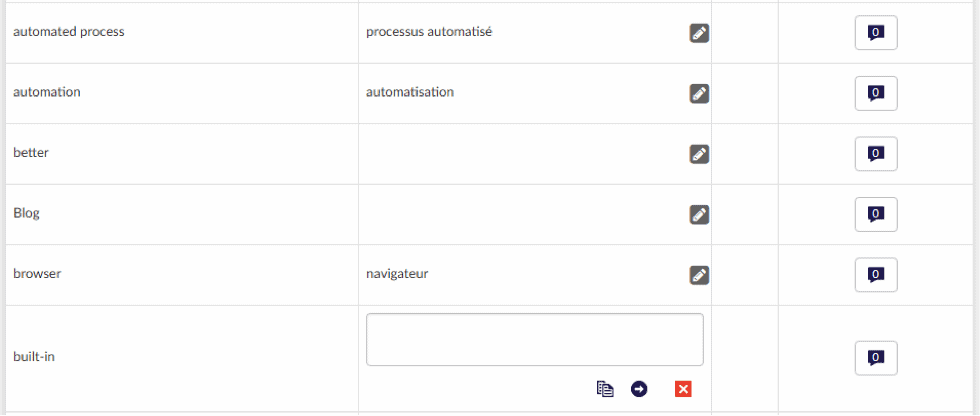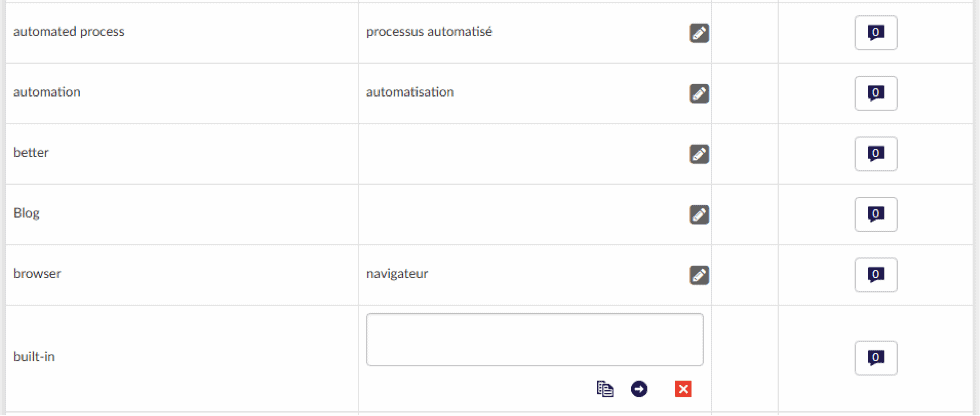 Once translated in the glossary, the terms will immediately show on the right side in the translation editor as terminology proposals.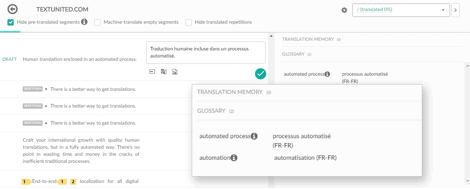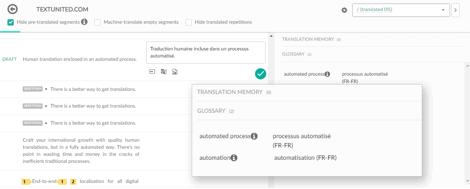 A proper translation management system or TMS is basically the automation of the whole translation process happening in front of your eyes. A TMS allows you to manage your translation project from beginning to the end, organize teams and keep track of the translation progress. Last, but not least, it eliminates repetitive and laborious manual tasks while enabling control, increasing collaboration and delivering greater efficiency. In short – a time, money and a bit of a life saver.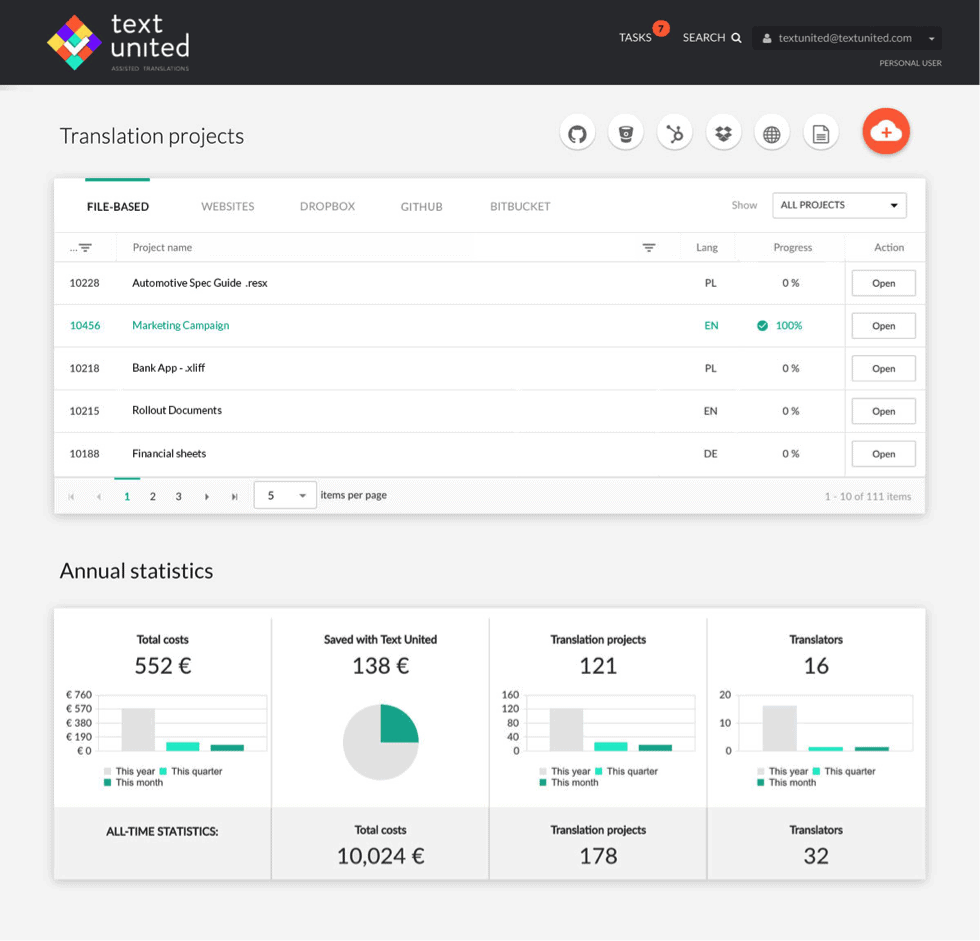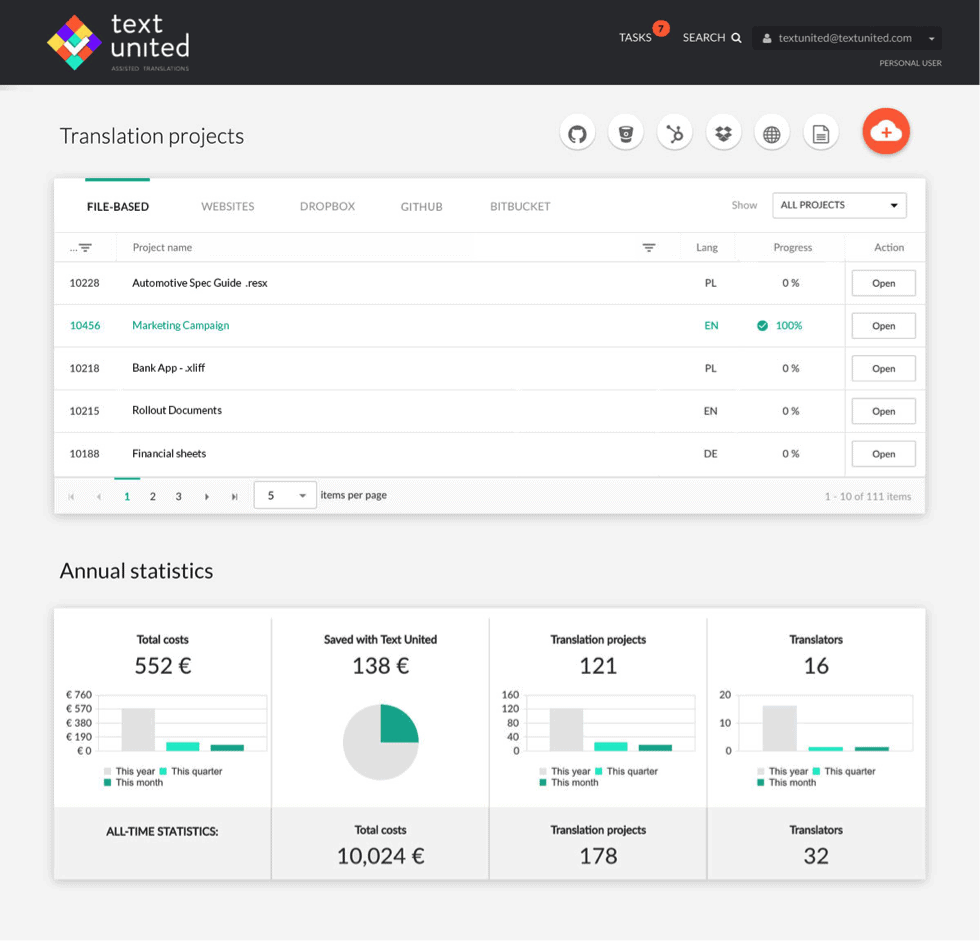 #7. Finish The Task
By localizing your app, you will reach new audiences and provide a better user experience for non-English speaking customers.
After the translation project is finished, you are able to complete your translation project in Text United. Everything that has been translated will be saved to your Translation Memory and is reusable for future projects.
#8. Enjoy The Global Launch!