The majority of marketers use a Content Management System to publish new Content. Some will rely on .html files and larger organizations, or those with technical affinity will enhance their site with versioning, using Github-based localization. But to understand the differences between these three approaches, we have to get into nerdy tech talk about how websites are actually made and then maintained. 
Over-the-air Translation
First, let's recall a TV ad of a painkiller. What happens there? Usually, they show a red, blinking dot suggesting a headache, and then "flow of energy" gushing towards it, turning it blue and removing it. What matters is that they're advertised as the stuff that targets and removes pain, while the reality of it is that it works holistically affecting the entire body. That's exactly how over-the-air translation works on a website!  You select which content to translate on the surface, but way more is happening under the hood.
Over-the-air translation will work on any website. It reads and copies content page by page (so you don't have to). As your website visitors request a translated version, it simply loads it up on top of the source material!
Pros:
Immediate Setup

No coding required

Works with every kind of website

Gets the job done fast

Anybody can manage the process

Provides a language selector for your site
 Cons: 

Works on surface-level content only (can't access database content)

Requires action to stay synced with the source content

Can't alter the website's code
File-Based Translation
Files with your content also contain this code and of course, it must be filtered out from such files. Like this, translators don't translate stuff like <section> tags. Computer-Aided Translation tools offer support to various file formats. If you know which file contains what content and have a tech team that will put the website back together after the files are sent back (and hopefully not have any broken code) then this is a great path to follow.
Pros:
Immaculate technical precision

Traditionally supported by most LSPs

Incredibly fast if executed along with a website architecture upgrade
Cons:
Not future-proof (adding a line of content breaks all translations)

Requires a lot of technical skills

Can't be executed without programming and website alteration

Won't work with some file formats
GitHub-Based Localization
Integrating versioning systems like GitHub or BitBucket with an LSP is part of Continuous Translation. The good news is that it will future-proof a file-based translation approach. Note that this will work only for websites that have a deployment cycle requiring a lead programmer to push out new content on a schedule (while at the same time keeping track of versions on GitHub or BitBucket). Text United has an out-of-the-box integration available for this setup so you can learn how it's done.
Pros:
Github-based localization is like file-based, but without the headaches of future-proofing

Automatically sees content changes and allows you to order fresh translations

Has the same "rhythm" that your website's deployment schedule
Cons:
Absolutely requires a developer to set it up

May get complicated if you're not experienced
A Hybrid, Maybe?
Of course, you probably thought that over-the-air translation beats any other approach. That's true when it comes to speed and ease of use, but it does fail if you want to cover 100% of the content. 
Good news? There is a hybrid approach! That's right – you can start with over-the-air, see if your customers like it, then if it's not enough, you can use file-based or versioned options to forward your localization. Each translation is stored in the Translation Memory built into Text United, so if you upload files with the same content, translations will already be available. Then, of course, you can hook this to your versioning system.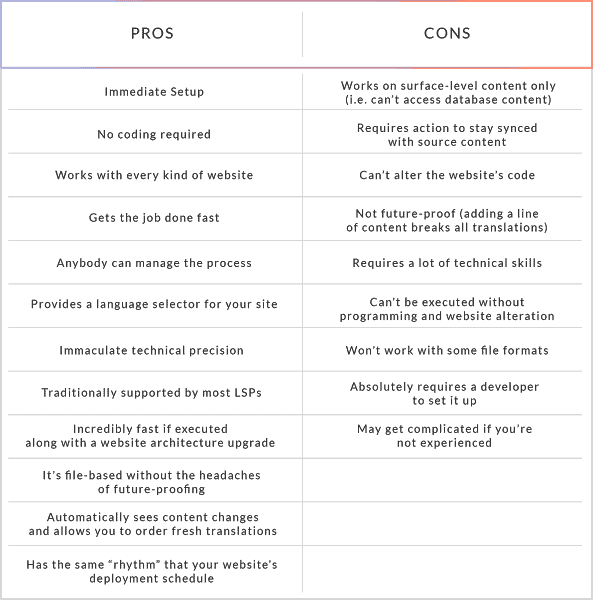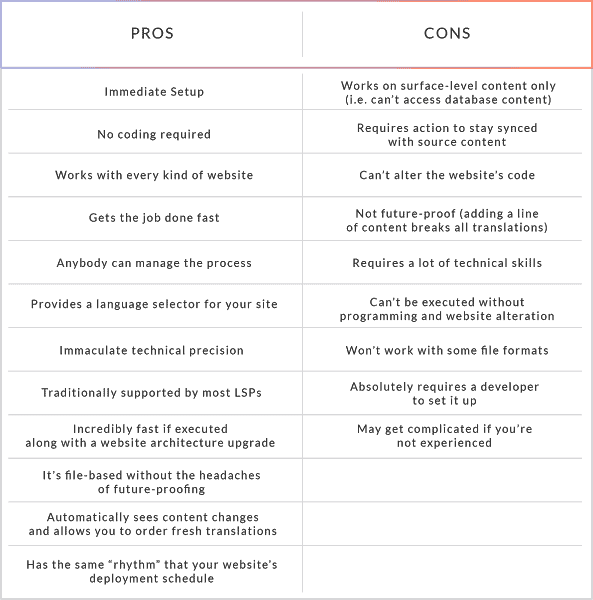 Startups can use this method to experiment, scale and upgrade while controlling their budgets. Global enterprises, on the other hand, can delve into professional setups right away.
It's Up To You To Choose!