Long gone are the times in which your business website or your e-commerce could be available only in English. Website translation is a must when you want to build a global customer base, multiply your revenue, and add that international shine to your brand. The equation is pretty simple: more users equals more leads. Now, all of this sounds brilliant, but planning website translation is an entirely different case. After you've done the research on languages, you want your website translation project to be effective, not lasting an eternity, and ideally, as cheap as possible. Is this kind of translation even an option? In our opinion, definitely yes.
For the people who are hungry for knowledge, yet still, don't have any idea about how to start with all this website translation stuff, we wrote an Ultimate Guide to Website Translation, Why Translating Your Website at All and How Much a Website Translation Should Cost pieces to help you start. From these articles, you'll find out that ideally, you should consider all the aspects of website translation even before the project kickoff, but it's not always the case. What are you supposed to do after your website is already translated and it seems that it's not ideal? You should think about at least 5 steps after the translation itself is complete. For all of you who have their website translated and either don't know what's next or feel underwhelmed with the results it has provided, we describe them below. Just keep on reading!
That may sound obvious, but translating your content will not be always sufficient enough. You will need to adjust your translated content to specific markets you're targeting, taking cultural aspects into consideration. If you are one of these people who have their content machine-translated, this one applies to you in particular.
Remember that localizing is much more than translating. It's creating different and localized versions of your content. It is also helpful for meeting country-specific regulations and laws. This will involve removing or editing certain sections of your website so it may sound exhausting, but at the same time it will provide better user experience, boost your SEO and sales. Remember about different currencies and time and date formats! Work with your content and it will pay you back sooner than you expect.
#2: Optimizing UI
You should keep your design flexible to accommodate differences in layout when the content is translated every-single-time. However, even if you did that, your website might still need some additional tweaking after you have translated it. When you translate from English to German or French, for example, the translated content can take up to 30% more space than the source languages. And for Arabic or Hebrew, your app will need a RTL (right to left) layout.
Boost your SEO by adding relevant keywords to each of the localized version of your website – keep in mind that keywords for each version will not be the same, but just translated. We are after the relevance here! Any website translated with an Advanced Translation Platform should be indexed by Google and other major search engines. At Text United, meta tags containing keywords and description of your website will also be extracted for translation. That's why you should take some time and localize them carefully.
Remember that search engines will be able to list the translated web pages in search results only if each page has a unique URL. Choose Subdomain or Subdirectory approach only when you know what type of configuration your website is actually using.
At Text United, these options can be accessed when you open your website translation Project:


#4: Code Snippet Installation and Translated Website Launch


Finally, when you worked through your localization and optimized your website's UI, you can publish your pimped-up version of it. At Text United, you'll need to navigate to Install Code section in your project settings. Copy the code snippet and paste it in the HEAD section of your website. This will install the language switch on your website. When you want to publish the translations, simply open the Overlay Editor and click on PUBLISH.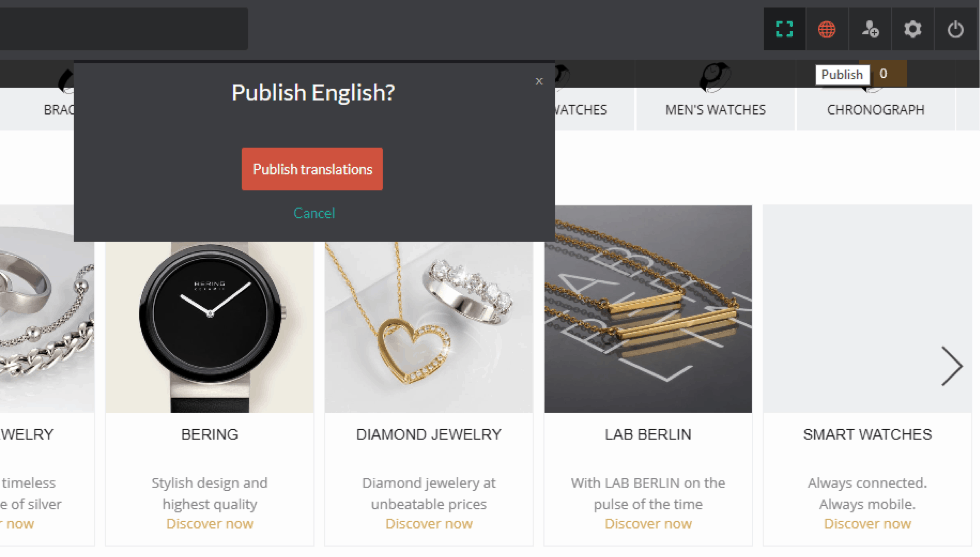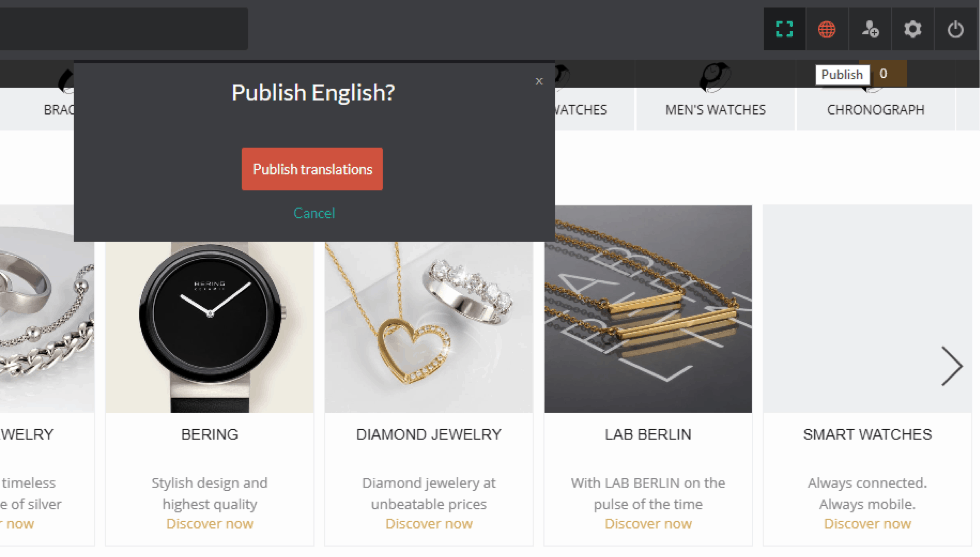 Voila! A localized version of your website will become available to your visitors immediately and start working for your brand.
Apart from your translated website or e-commerce, your brand needs to have a global presence online. Do some market research and I guarantee you that you will find a mine of ideas on Google and Quora that will help you to look at your buyer personas. Even by running a simple Google Analytics traffic report you can get a rough idea of referral traffic sources. See what types of sites you can fish out from these. When you already have that part done, identify tailored content for your new audience. Don't forget to manage your reviews, testimonials and marketing and sales material – localize them.
Last, but not least – your website, product, e-mails, social presence and documents are living organisms of the Internet. Don't waste the work you've done when you update your content. Instead, set up yourself for work within a modern continuous translation framework.
It's Never Too Late For Excellence!